The 50 players of the past 25 years who would have made the most NIL money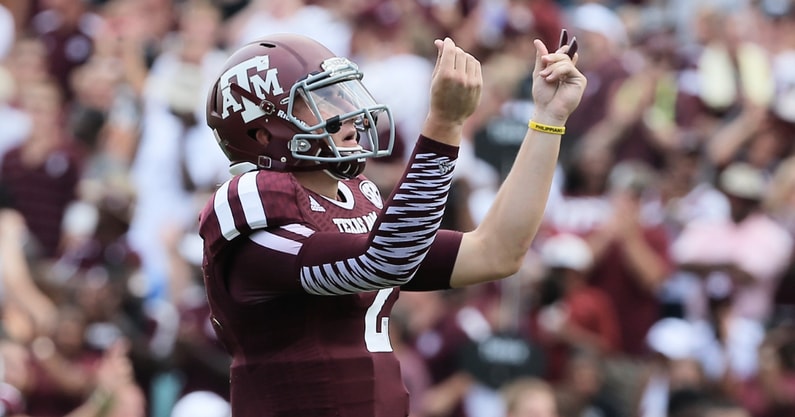 The Name, Image and Likeness era in college athletics is not even two months old, and it's not a surprise that the most lucrative endorsement deals are being secured by the most marketable, most accomplished athletes.
So, what if college athletes of the past had been permitted to monetize their NIL? Consider the past 25 years in college sports and think about the array of stars in the revenue-driving sports of football and men's and women's basketball. Who would have commanded the most compensation on the NIL market?
Some would have attracted brands on the national level; others would have been hometown heroes. The adage "After that winning play, he'll never have to buy a drink in that college town ever again" would have translated into real dollars and real deals with local businesses.
"There are a lot of kids who had amazing careers but didn't make it to the next level," said Jim Cavale, the founder and CEO of INFCLR, which supplies schools with compliance platforms for NIL activities. "I'm from Syracuse and I joke with 'G-Mac' (Gerry McNamara) all the time. Sure, Carmelo Anthony went on to the NBA to be Carmelo. 'G-Mac' hitting those six 3s in the first half of the (2003) national championship game made 'G-Mac' a legend forever in Syracuse."
On3 has attempted (hey, we know there will be disagreements; this is a subjective list) to rank the top 50 college athletes of the past 25 years who would have commanded the most dollars on the NIL market. No current athletes were considered, and only those who competed in football or men's and women's basketball are included. 
The names that follow should stir a lot of memories. Some enjoyed fame before they ever stepped foot on a campus. Others shined at the end of their college careers. And still others enjoyed the proverbial one shining moment.
Some athletes (such as UConn's Kemba Walker) didn't make the list because their finest college moment was their last chapter before heading to the pro ranks. Others (such as Marshall's Randy Moss) didn't make it because they accumulated too much baggage early in their careers to likely warrant strong interest from brands. 
1. Tim Tebow, Florida
Consider the on-field accomplishments — two national titles, a Heisman and a variety of SEC and NCAA records — and a rather unique skill set for a quarterback. Mix in all that competitiveness that oozed out between plays and in post-game news conferences. Keep in mind the Christian beliefs and his personal narrative. And wrap it all up in the phenomenon that is Tim Tebow, and you have the most marketable college athlete of the past quarter-century. Considering the partnerships that Tebow has secured during the past decade even without a noteworthy pro career, it's easy to envision how brands would have flocked to try to sign him to lucrative and creative endorsement deals while he was at the height of his fame in Gainesville. And he was in college for four years, too.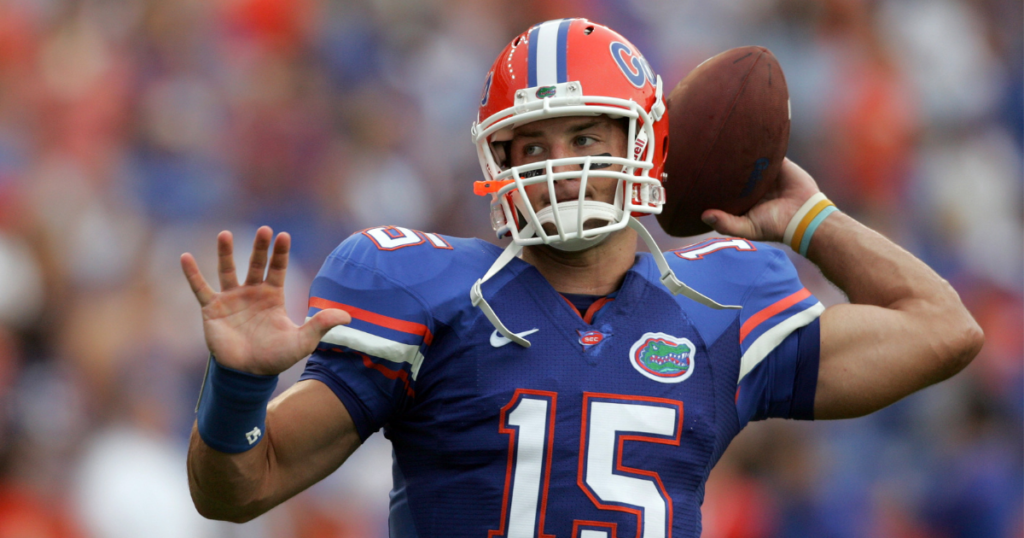 2. Reggie Bush, USC
When you watched Bush play in person, especially during the 2005 season, you knew it was possible, or even likely, that you were about to see something you'd never see before. It could be Bush leaping over would-be tacklers. It could be Bush zig-zagging through defenses. The word "elusive" doesn't do Bush justice. Writers would run out of superlatives. He led the nation with 222.3 all-purpose yards per game en route to winning the 2005 Heisma. That the honor was vacated because of sports agent inducements in violation of NCAA rules highlights just how coveted Bush would have been, especially in the southern California market.
3. Zion Williamson, Duke
Basketball players aren't supposed to be this big, this fast and this strong. Williamson was a unicorn, a generational college talent that rightly drew comparisons to Bo Jackson because of his physique and ability to do jaw-dropping feats. That he was simply too big and too fast for his Nike sneaker to contain (it came apart in a memorable game at Cameron Indoor Stadium) only enhanced his legend. He is the No. 1 reason college athletes needed to be permitted to monetize their NIL. Williamson was the face of the entire 2019 college basketball season. He is clearly the top-ranked basketball player for this type of list.
4. Peyton Manning, Tennessee
Few athletes have ever been more suited for commercials than Manning, who possesses a deft touch of humor and wit. He can laugh at himself. He can host "Saturday Night Live." He can pitch on behalf of a brand. And, oh, yeah, he could play a little bit, too. The college football world knew of Manning long before he arrived in Knoxville because of his surname. The line of endorsers for the newly inducted Pro Football Hall of Fame inductee would have been long, both because of his relevance as a player and for his personality and almost universal appeal.
5. Johnny Manziel, Texas A&M
In just two seasons at Texas A&M, Manziel was a must-watch marvel. The 29-24 victory over then-No. 1 Alabama in Tuscaloosa remains fresh in a lot of people's minds. He won both the Davey O'Brien Award and the Heisman as a redshirt freshman in 2012, setting expectations for 2013 remarkably high. Manziel would have attracted interest from scores of brands. And considering Manziel dabbled in the autograph signing space in 2013, chances are Manziel would have grabbed every single NIL opportunity.
6. Michael Vick, Virginia Tech
It is hard to overstate just how electrifying Vick was when he burst onto the scene as a redshirt freshman with the Hokies in 1999. In his first game, he scored three rushing touchdowns in just over one quarter of play. He took the term "dual-threat" quarterback to another level. With his speed and elusiveness, he was a touchdown threat every time he touched the ball, regardless of where he was on the field. He finished third in the Heisman voting and led the Hokies to a BCS national title game loss against Florida State that season, then played one more year of college football.
7. Ricky Williams, Texas
Williams always was a bit of an enigma, but he also was a workhorse for Texas during his four-year college career. He broke a slew of NCAA records at the time and rushed for 6,592 yards and 75 touchdowns. He was a two-time Doak Walker Award winner, and in 1998 the Associated Press named Williams the national player of the year. And forgive us: For some of the recreational drug endorsement deals that may have come his way, Williams likely would have taken the high road.
8. Vince Young, Texas
Young undoubtedly was the best player on the field at the Rose Bowl in one of the most iconic games in history in January 2006. But Young was a player of national consequence before he led Texas to the national championship over USC. His overall record as a starter at Texas was 30-2. He finished second to Bush in the 2005 Heisman voting. In elevating Texas football to grand heights, he gave Longhorns' fans a skewed image of what Texas football should be. Young was the reason Texas was dominant in that era.
9. Diana Taurasi, UConn
One of the greatest female basketball players in history, Taurasi earned the nickname "White Mamba." She was 139-8 at UConn. She helped the Huskies win three consecutive national titles. And she won the Naismith Award in 2003 and '04. At one point toward the end of her career, coach Geno Auriemma assessed his team's chances by bluntly stating: "We have Diana, and you don't."
10. Joakim Noah, Florida
Noah's appeal extends beyond the fact that his Florida team in 2006 and '07 became the first program since Duke in the early 1990s to repeat as national champs. No one has done it since, either. After winning the 2006 title, all five starters returned for Billy Donovan's team, a move that would be unfathomable these days. Noah is the son of former tennis player Yannick Noah. He's passionate and affable. Noah would have matched on-court success with persona, making him highly marketable for brands.
11. Vince Carter, North Carolina
Carter is arguably the greatest dunker who ever has lived. And his slam-dunking prowess was well-known and appreciated even when he was in high school in Daytona Beach, Fla. There just weren't the social media mechanisms around in the mid-1990s to send his video collections of dunks viral. He may not have been the next Jordan, but Carter had an attractive gravity-defying brand to showcase while he wore a Tar Heels uniform.
12. Matt Leinart, USC
From the moment Leinart threw his first college pass as a sophomore — a touchdown in a win against Auburn — he lived a charmed life, quarterbacking one of the best teams in history amid the bright lights of Los Angeles. He was a star on a team that more resembled a pro franchise, attracting celebrities to their practices. After winning the Heisman in 2004, Leinart finished third in the voting the next year behind Bush and Young. Regardless of pro potential, Leinart possessed all the ingredients to capitalize on his NIL to a remarkable degree.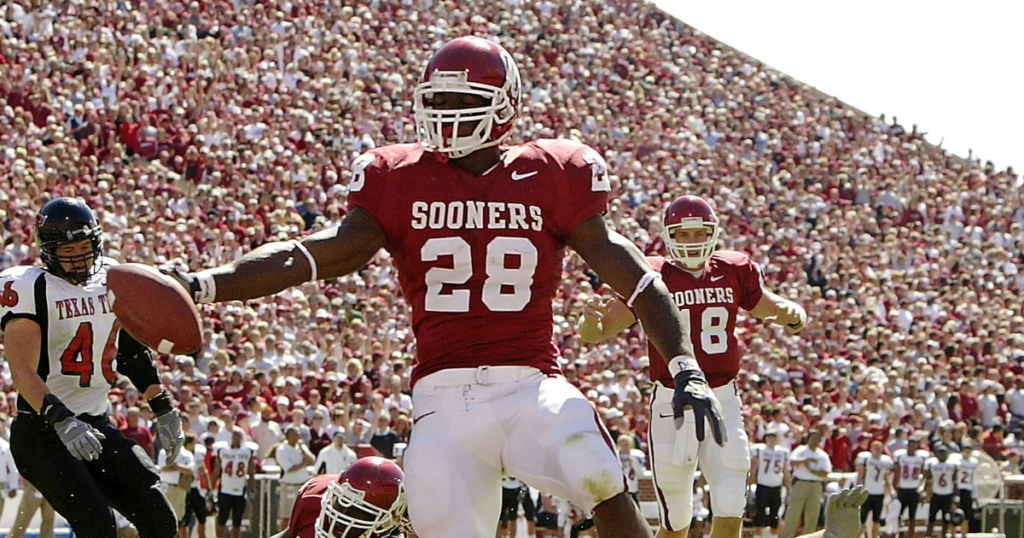 13. Adrian Peterson, Oklahoma
There still are folks deep in the heart of Texas still miffed that Peterson, a native of Palestine, Texas, spurned Texas schools and landed at Oklahoma. He set several freshman NCAA records on his way to rushing for 1,925 yards in 2004. Injuries hampered Peterson's rushing totals in his final two years, but the hype was there. The performance was there. And the endorsement deals would have been there, too.
14. Trevor Lawrence, Clemson
Lawrence long has been viewed as a generational quarterback talent. He helped Clemson win the national title as a freshman, beating Alabama in the championship. Lawrence closed his three-year Clemson career with an overall record of 34-2. He has unmistakable hair and almost unrivaled skill. The only things he didn't manage to get during his college career were the Heisman and NIL benefits, which became permissible a few months after he was selected No. 1 overall in the 2021 NFL Draft by the Jacksonville Jaguars.
15. Lamar Jackson, Louisville
Jackson was a dynamic college talent who has overcome doubts about whether he could play quarterback in the NFL. He set a school record for total touchdowns with eight in his first game as a sophomore. He became the youngest-ever recipient of the Heisman in 2016, as he was just shy of his 20th birthday. If there had been NIL in play, Jackson would have been able to cash in on the award during the 2017 season; he finished third in Heisman balloting that year.
16. Maya Moore, UConn
In her four-year career, Moore was 150-4 with the Huskies. Moore dominated the 2009 season, winning the Naismith Award and leading UConn to an unbeaten record and national championship. The following season, she led the Huskies to another 39-0 record and national title. While the Huskies fell short against Notre Dame in the Final Four during her senior year, Moore already had established herself as one of the most accomplished women's players in history.
17. Trae Young, Oklahoma
There were moments during the 2017-18 season when Young looked like Steph Curry 2.0. A guard short on stature and long on shooting range, there was no shot that Young wouldn't attempt. He became a favorite of ESPN's college basketball season. And his NBA career so far has only highlighted a marketable, captivating personality. At Oklahoma, Young had game, and he'd tell you he had game.
18. Sabrina Ionescu, Oregon
One of the handful of women's college basketball stars from the modern era who didn't emerge from Storrs, Conn., or Knoxville, Tenn. With the behemoth of Nike tethered to Oregon's athletic department, the sneaker company would have further bolstered Ionescu's brand and marketability, making her a household name across the country.
19. Tyrann Mathieu, LSU
When you're a defensive player in the conversation for the Heisman Trophy and carry the nickname "The Honey Badger," you're going to get a slew of endorsement deals. Tenacious, tough and undersized (at 5 feet 9), Mathieu backed down from no one. He was MVP of the 2011 SEC Championship Game, and became a Heisman finalist and won the Chuck Bednarik Award, given to the nation's best defensive player. Mathieu had plenty to monetize. But once Les Miles dismissed him from the team the next season, the flow of NIL money would have slowed, if not stopped altogether.
20. Sue Bird, UConn
After tearing her ACL early in her freshman season, Bird returned as a sophomore and led the Huskies to a 36-1 record and the 2000 national championship. Then as a senior, she culminated her career with a second national title, leading UConn to a 39-0 record while earning the Naismith Award as the top women's player. Bird is one of the key figures in UConn's dynasty.
21. Anthony Davis, Kentucky
Davis was a high school basketball phenom destined for an All-Star NBA career long before he arrived at Kentucky. During his freshman season in Lexington, under a bright spotlight and playing with other highly touted newcomers, Davis did nothing to disappoint. He capped his brief college career with a national title, showing the industry that the one-and-done model could be successful.
22. Candace Parker, Tennessee
I was in Oklahoma City in 2004 to see Parker win the high school All-American slam dunk contest over a field of male competitors. She was a star. That alone would have earned her an array of ways to monetize her NIL. In college, she became the first woman to dunk in an NCAA tournament game. She left Knoxville with two national titles and two national player of the year awards.
23. Jadeveon Clowney, South Carolina
The talented defensive end could immediately create moments that go viral. In the Outback Bowl on New Year's Day 2013, Clowney's hit on Michigan running back Vincent Smith became stuff of legend. It forced a fumble, which Clowney recovered. The play earned a 2013 ESPY award for best play. He played one more year of college ball after that and could have cashed in via NIL.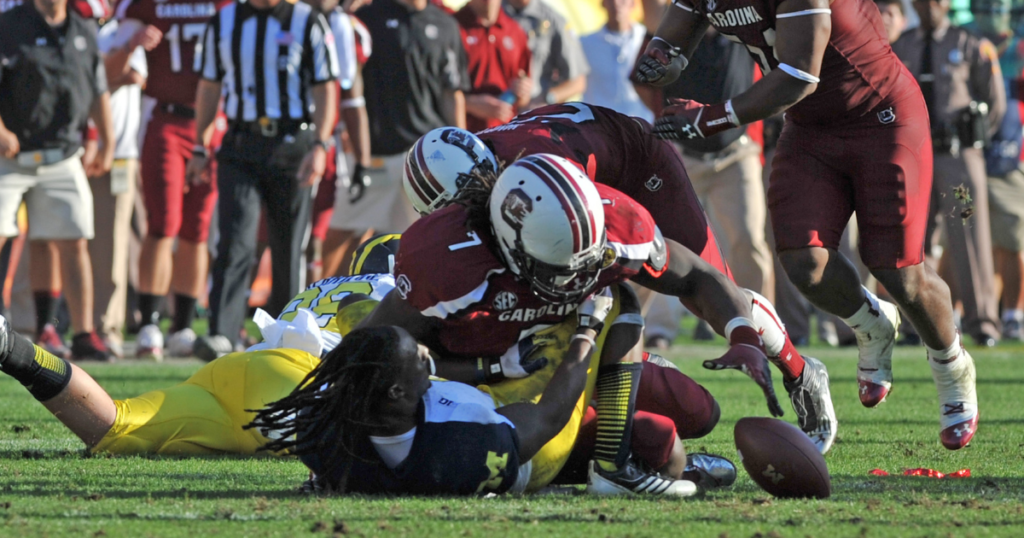 24. Kevin Durant, Texas
The sinewy Durant was on the national radar in recruiting circles long before he arrived at Stu Vetter's Montrose Christian program in Rockville, Md. A natural-born scorer, Durant could score 20-plus points in his sleep. Rick Barnes scored a major recruiting coup by luring Durant out of the DMV. His marketability may have been slightly obscured that 2006-07 season in college basketball because of the arrival of another highly touted phenom (Greg Oden) and because Florida's team was en route to earning back-to-back national titles.
25. Baker Mayfield, Oklahoma
Mayfield had it all: a compelling personal narrative having emerged on the national scene after starting as a walk-on at Texas Tech; an outspoken edge to his personality; and the ability to perform at the highest level in a blue-blood program. Brands undoubtedly would have preferred he shy away from the crotch grab in college. But with a little more polish (as we're seeing now with Mayfield in the NFL), he could distinguish himself in commercials because he's genuine.
26. Marcus Mariota, Oregon
In December 2013, Mariota announced he'd return for another season in Eugene, setting the stage for his Heisman-winning season. The first Hawaiian-born player to win the award, Mariota hauled in a slew of honors that season. He was highly marketable and would have benefited greatly from his university's close relationship with Nike.
27. Greg Oden, Ohio State
The cautionary tale of Oden, whose pro career sadly was derailed by a laundry list of injuries, has taken many turns. But he was as high-profile of a high school basketball prospect as we've seen in recent decades. He didn't always seem to relish the spotlight. But when healthy, he was a force in Columbus, leading Ohio State to a national title-game loss against Florida. From a defensive perspective, there were shades of Bill Russell in his game.
28. Tua Tagovailoa, Alabama
When Nick Saban replaced an ineffective Jalen Hurts with the Hawaii native for the second half of the 2018 national championship game against Georgia, a star was born. He threw the 41-yard game-winning touchdown pass in overtime. He set an NCAA FBS passer rating record the following season. The face of a star-studded Alabama team would have garnered NIL interest from plenty of brands before his college career was cut short in 2019 because of injury.
29. Kris Jenkins, Villanova
With apologies to Lorenzo Charles and Christian Laettner, Jenkins made arguably the biggest shot in the history of men's college basketball to beat North Carolina with a 3-point shot at the buzzer in the 2016 national title game. That he returned the next season would have opened up enormous possibilities on the NIL front. He authored the one shining moment that would have continued to pay dividends. 
30. Derrick Rose, Memphis
A spellbinding talent out of Chicago, Rose was a marvel during his lone season under John Calipari's watch. He should have finished the season with a national title if it weren't for the team's one weakness all season: free throws. Memphis-based FedEx may have secured Rose in a lucrative endorsement deal. The team featured a colorful cast of characters. Brands also may have thrown a bone to some of the Tigers' outsized personalities, such as Pierre Henderson-Niles.
31. Christian McCaffrey, Stanford
McCaffrey was such a unique talent at Stanford. A threat as a runner, pass-catcher and returner, he broke Barry Sanders' record of 3,250 all-purpose yards as a sophomore. He finished second to Alabama's Derrick Henry in the 2015 Heisman race. In 2016, he led the nation in all-purpose yards and would have naturally attracted brands on the NIL front.
32. Charles Woodson, Michigan
Desmond Howard feels like the quintessential Michigan player who would have benefited the most from NIL; his Heisman end zone pose was ideally suited for it. But Woodson wouldn't be far behind. He became the first primarily defensive player to win the Heisman in 1997, when he helped lead the Wolverines to an undefeated record and a share of the national title.
33. Sean Taylor, Miami
Taylor's tragic murder in 2007 denied NFL fans the chance to see the full pro potential of one of the game's most ferocious hitters. Taylor was a true game-changing talent, helping the Hurricanes win the 2001 national title. That Miami team is considered one of the best, most talented teams of the modern era. Several players on that team would have benefited mightily from NIL, Taylor chief among them. He embodied the Hurricanes' tenacity and aggressiveness.
34. Carmelo Anthony, Syracuse
There was a reason Anthony's matchup with fellow high schooler LeBron James attracted scouts and fans nationwide nearly two decades ago. Anthony was a phenom when he arrived at Syracuse and continued to improve throughout his freshman season. He would have capped a brief college career with a national title as well as NIL endorsements.
35. OJ Mayo, USC
There was a time when Mayo was one of the biggest names on the basketball recruiting circuit. He had been highly touted at least since he was in middle school and became a household name at Sonny Vaccaro's annual ABCD Camp each July. Problem was, he plateaued on the court and others surpassed him. And expectations were set far too high. It wouldn't have mattered all too much on the front end. Mayo committed to Tim Floyd at USC, and it's not a stretch to imagine him embracing a variety of ways to monetize his NIL while in the L.A. market.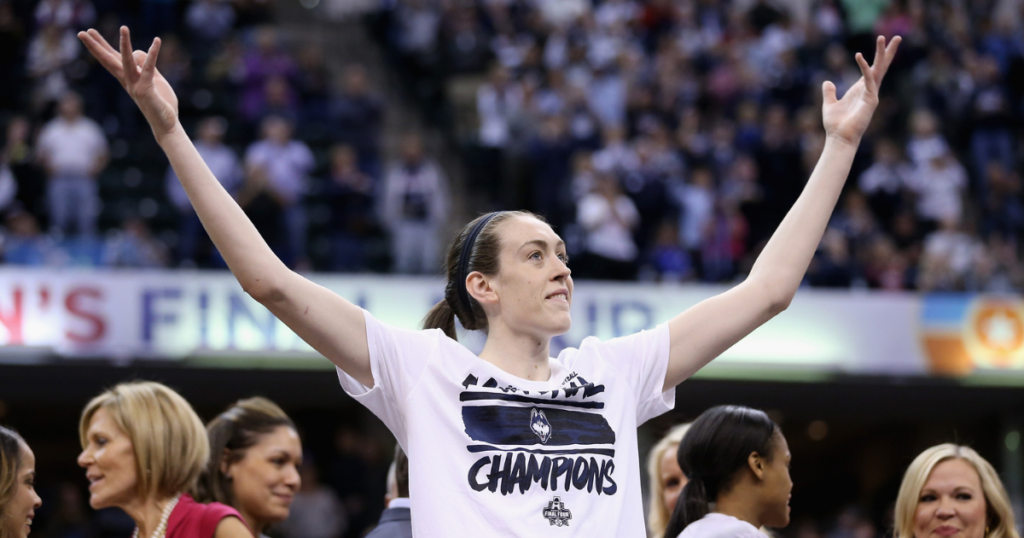 36. Breanna Stewart, UConn
You can't do much better than Stewart did in Storrs. She won four national championships, earned four Final Four Most Outstanding Player Awards and was a consensus three-time national player of the year. It's reasonable to make the case that she deserves higher placement on this list. 
37. JJ Redick, Duke
Redick was one of the more polarizing players on a long list of polarizing players at Duke. Blue Devil fans loved him; others (especially Maryland fans) loved to hate him and spew expletives his way during road games. He was the best 3-point shooter in the nation and had a little swagger to his game later in his career. One could imagine a creative marketing campaign with Redick and the next college talent on this list.
38. Adam Morrison, Gonzaga
Throughout the 2005-06 season, a national player of the year debate ensued — Morrison or Redick? Morrison was integral in helping the Zags shed the Cinderella label they wore when they first emerged as an NCAA tournament contender. Morrison entered the 2006 NCAA tourney as one of the faces of the event and finished as the face of the event, shedding tears on the court immediately after Gonzaga fell to UCLA in the Sweet 16.
39. Colt McCoy, Texas
For the quarterback of the Texas Longhorns, you couldn't make up a more perfect name. He came right out of central casting. Plus, McCoy played in Austin under coach Mack Brown when Texas was actually good. (I know, it's a while ago now.) To think McCoy, who led Texas to 45 wins during his tenure, wouldn't have scored big endorsement deals throughout the state is to underestimate the meaning of football in Texas.
40. Brittney Griner, Baylor
Griner stands 6-9 and wears a men's size 17 shoe. She was a three-time All-American who led Baylor to the national title as a junior in 2012. She averaged 22 points per game for her entire four-year career in Waco. By returning for her senior season after the 2012 undefeated season, Griner would have been well-positioned to unlock plenty of NIL opportunities.
41. Maurice Clarett, Ohio State
Before Clarett's star-crossed career took a turn downward, he rushed for 1,237 yards, then a school record for a freshman, and 18 touchdowns, helping to propel the Buckeyes to an unblemished record and the 2002 national title. He would have been well-advised to have scooped up all NIL earnings early, because once Clarett was dismissed from Ohio State and found himself in increasingly troubling behavior, those revenue streams would have dried up in a hurry.
42. Brady Quinn, Notre Dame
In addition to playing quarterback — and playing it well — for one of college football's most iconic brands, Quinn was photogenic. This also was an era where, while the Fighting Irish were contenders, the outspoken nature of then-coach Charlie Weis attracted even more attention to Quinn and the program. Notre Dame seemed to earn more respect for losing the famous "Bush Push" game to mighty USC in 2005 than it did for any of Weis' victories during his tenure. Quinn would have cashed in.
43. Jimmer Fredette, BYU
"Jimmer Mania" may have started in Provo, Utah, but when it took off, it really took off. Here was this somewhat diminutive player from update New York routinely making shots far beyond the 3-point line, long before Steph Curry made that feat popular in the NBA, and scoring at will even though every opponent knew what was coming. Fredette enjoyed somewhat of a cult following and could have parlayed that into NIL riches.
44. Tim Duncan, Wake Forest
Duncan clearly never has been one to toot his own horn or even dabble in self-praise. He has always let his on-court play speak loudest. It is hard to imagine that Duncan would have been enthused about needing to "build his brand." But his college résumé was superb. And his personal narrative, a swimmer from St. Croix, always has been compelling. Opportunities certainly would have been there for Duncan, who spent four years at Wake. The question is whether he would have embraced them.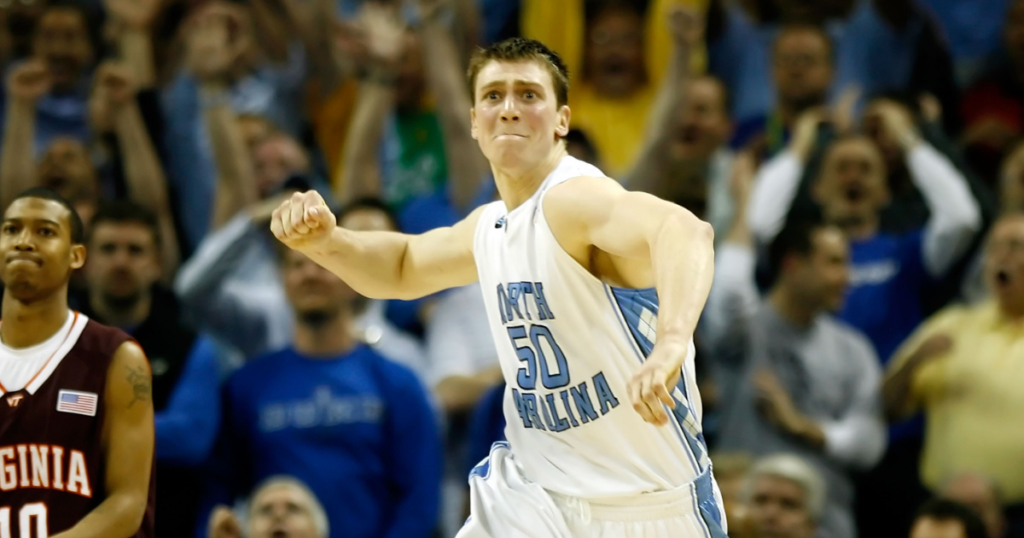 45. Tyler Hansbrough, North Carolina
Another four-year player, Hansbrough and his core of talented teammates returned for the 2008-09 season and, frankly, became one of the best teams of this century. Hansbrough was the face of the team. Regardless of his middling NBA potential, Hansbrough would have attracted brands. College basketball was more popular as a whole during his tenure and he starred for a legendary program.
46. Kyler Murray, Oklahoma
At first glance, Murray, as a quarterback at Oklahoma, looked highly marketable. A two-sport athlete (drafted by the Oakland Athletics) who was unbeatable as a high school football player in Allen, Texas. Oh, and he also stands 5-10. But you wonder if bouncing around — he started his college career at Texas A&M — may have slowed interest from marquee brands. By the time they may have jumped on the Murray bandwagon, his notable college career may have been closer to the end than the finish.
47. Chamique Holdsclaw, Tennessee
Holdsclaw's college résumé speaks for itself: a four-time All-American, a three-time national champion and a two-time Naismith Award winner. She finished her career with 3,025 points, and in 2000 received the Naismith Player of the Century Award for the 1990s.
48. Cam Newton, Auburn
Had his college career been longer, had controversy not followed him, Newton definitely would have been higher on the list. But he was like a comet at Auburn, reaching such rarefied heights so quickly. And then he was gone to the NFL. There may not have been time for brands to assess exactly what the true value was in deals with Newton.
49. Steph Curry, Davidson
Curry has become a dream for brands during his tenure with the Golden State Warriors. But the reason he is not higher on this list is because, despite his virtually unrivaled offensive repertoire at Davidson, he still operated in relative obscurity until the 2008 NCAA tournament. He returned to Davidson for one more season before turning pro.
50. Marshall Henderson, Ole Miss
Back in 2013, Henderson had a moment. He was the most polarizing player in college basketball. In March of that year, a newspaper columnist started his story by writing, "Has there ever been a more despised SEC basketball player than Marshall Henderson?" He led the SEC in scoring during the 2012-13 season and earned the league tournament MVP award. Henderson would taunt fans and opposing players. He also served a 25-day jail sentence for a failed drug test. Henderson's moment in the spotlight didn't last long. But he was a lightning rod for attention.