Aidan Shaw, 2022 4-star, discusses finalists as commitment nears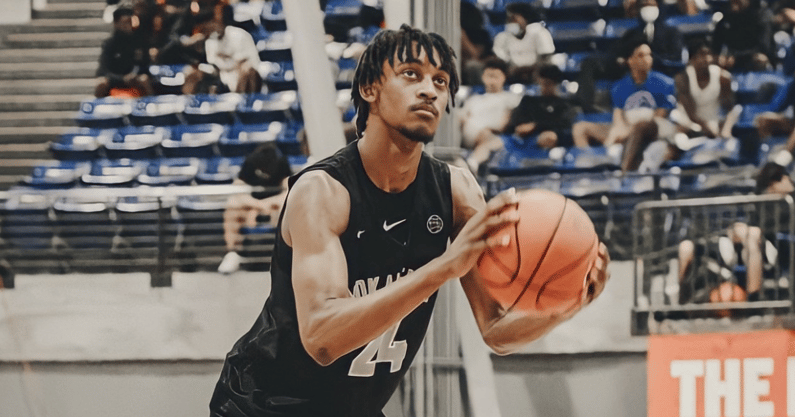 Aidan Shaw, a 6-foot-8 small forward out of Stilwell (Kan.) Blue Valley discusses with On3 where things stand as his recruitment comes down the final stretch.
Shaw will announce his college decision on his birthday, September 17th. In July, Shaw cut list of schools to six – Kansas, Oklahoma State, Iowa, Missouri, Maryland, and Arkansas.
Aidan Shaw visited each of the programs, besides Arkansas, in June. The Razorbacks did not receive a visit, thus, they are no longer being considered.
Shaw on Oklahoma State
Shaw visited the Oklahoma State Cowboys first.
"Overall, the visit was good," Shaw said. "They have a great campus. I could feel the coaches' chemistry with one another. Also, I got to see a little bit of the team. I didn't get to see a practice but I got to see some guys and see where they live. Overall, it was good. It would've been nice if I would've been able to see a practice but I got to see their playing style and stuff. It's a great program, obviously, they had Cade Cunningham. They have some good guys coming up there and some key returners as well. I think it's a good program."
Kansas had a family feel
Being from the state of Kansas, Shaw said the visit to Lawrence "was really a family environment. The coaches are really friendly. I like their weight coach, he's also their nutritionist. I got to see them practice and I enjoyed that. They have a nice campus as well. I like their playing style, you kinda just go."
Iowa's team chemistry stood out
"That visit was good," Shaw said. "I got to spend most of my time with the players. My host player was Keegan Murray. He was cool. I got to see their team chemistry because I got to spend time with them. They have another faster pace playing style, I kinda like that. Their coach is a great guy, he's cool. I had plenty of great conversations with him."
Relationships at Mizzou
"I really like the coaches there," Shaw said. "I have some good relationships with them… Coach Cuonzo (Martin) and Coach (Chris) Hollender, as well as the other coaches. They were great. I was with them the entire time. We went out to eat, and see the campus. I also got to go to Cuonzo's house and we ate dinner. It was great being up there, they really pushed NIL stuff… branding and stuff like that."
The fit at Maryland
"They were great," Shaw said. "I like their campus. The coaches, Danny Manning and Coach (Mark) Turgeon…they were good. Coach Turgeon appreciates playing style. We watched a lot of film. He told me how I'd fit into his offense. I got to see their practice, and their defensive style…defense is kind of my thing, so. They really went through and broke down their defense and I really liked that. I kinda recognized what they were doing, so that's what I liked about them."
What is Shaw looking for in a college?
"My goal is to make it the league," Shaw said. "So really player development but I also want somewhere that has a family environment. So I can really get along with the team. Team chemistry will get you a long way."