AP Top 25 poll released following Week 9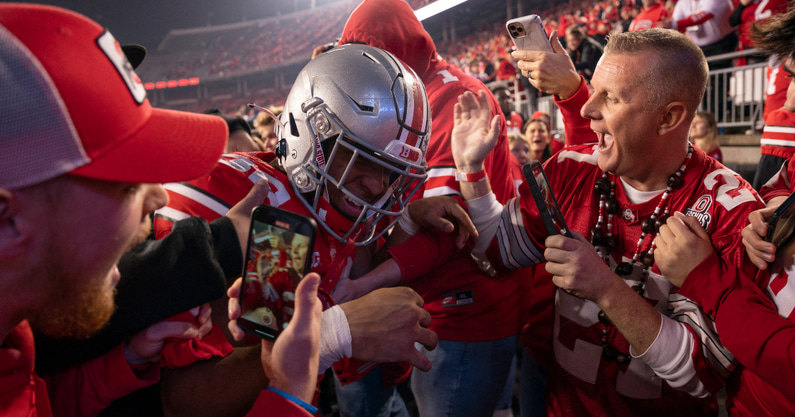 Kirby Smart and the Georgia Bulldogs in Week 9 proved once again why they should be considered college football's No. 1 team in the AP poll, as Georgia steamrolled the Florida Gators, 34-7.
The Bulldogs defense for the first time this season allowed over 300 yards of total offense. In fact, Georgia was out-gained by Florida on the day, as the Bulldogs tallied 354 yards of total offense and the Gators had 355. But it hardly mattered — Georgia's defense was still dominant, forcing three second-quarter turnovers. Junior linebacker Nolan Smith had a fumble recovery and an interception, and fellow junior linebacker Nakobe Dean had a pick-six. To no one's surprise, the Bulldogs held onto their No. 1 ranking in the latest AP poll.
As for the rest of the AP poll? There was plenty of movement this week after a number of college football top-25 showdowns provided the voting committee with some clarity. Most notably, Michigan-Michigan State — a game in which the undefeated Wolverines entered as the No. 6 team, and the undefeated Spartans entered as the No. 8 team — resulted in a come-from-behind victory for Michigan State, thanks to a career-defining performance from Kenneth Walker III. Walker rushed for 197 yards on 23 carries, including five touchdowns, moving Mel Tucker's team up to No. 5.
Staying in the Big Ten, both Penn State and Ohio State saw their rankings take a turn. The Buckeyes, playing host to then-No. 20 Penn State, turned in a 33-24 victory and fell back to No. 22. Penn State and Michigan weren't the only highly-ranked Big Ten teams to fall in the AP poll, either. In a horribly bland display of college football, Iowa punted four times and fumbled twice before it even notched a first down, and the Hawkeyes lost their No. 9 ranking with a 27-7 loss to Wisconsin.
Like Iowa, Ole Miss fell out of the AP top 10 after a 31-10 loss to Auburn, which moved to the No. 12 spot in college football, and Kentucky's fall from grace continued, as a 31-17 loss to Mississippi State dropped the Wildcats once again.
After an exciting slate of college football games, here's a look at the AP top 25 poll after Week 9.
AP Top 25 Poll after Week 9
Georgia (8-0)
Cincinnati (8-0)
Alabama (7-1)
Oklahoma (9-0)
Michigan State (8-0)
Ohio State (7-1)
Oregon (7-1)
Notre Dame (7-1)
Michigan (7-1)
Wake Forest (8-0)
Oklahoma State (7-1)
Auburn (6-2)
Texas A&M (6-2)
Baylor (7-1)
Ole Miss (6-2)
UTSA (8-0)
BYU (7-2)
Kentucky (6-2)
Iowa (6-2)
Houston (7-1)
Coastal Carolina (7-1)
Penn State (5-3)
SMU (7-1)
Louisiana-Lafayette (7-1)
Fresno State (7-2)
Others receiving AP votes: Pittsburgh, NC State, Wisconsin, Mississippi State, Arkansas, Minnesota, San Diego State, Appalachian State, Utah, Iowa State, Nevada