Armani Mighty's best basketball may be played in Chestnut Hill, and beyond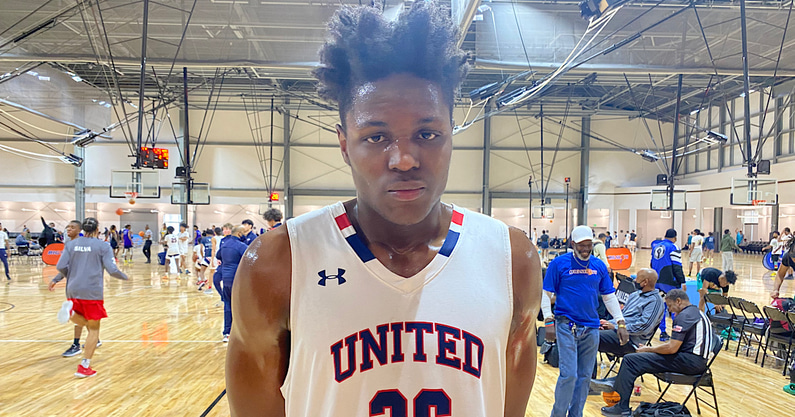 Armani Mighty's path to Boston College has taken him in a number of directions. Growing up, Mighty did not play basketball; early on in life, he played soccer in his home country of Jamaica. You can see the soccer upbringing in Mighty's basketball game now, with the footwork and the athleticism.
It was not until five years ago, when Mighty and his family moved from Jamaica to Toronto, Canada, that he even picked up a basketball. At first, it was because he had some size and it was too cold to go outside and play soccer. However, as Mighty continued to work at it, he started to find success.
Mighty's choice to play basketball makes sense; he has a natural basketball frame, currently standing 6-foot-10 and claiming a 7-foot-3 wingspan. But Mighty was not always this fluid athlete with vertical pop. As one would expect coming to basketball later in life, he had a learning curve. Luckily the movements came naturally to him, and Mighty has never been afraid of the work.
Prep Nationals
Big Shots Prep Nationals brought 96 high school programs together under one roof this past weekend. There I sat, courtside on court six, watching Armani Mighty block everything around the basket and dunk everything around the rim. I was alone with one other South Carolina-based scout who was bouncing back from court to court in the back part of the gym.
While Mighty is the No. 116 player in On3's 2022 ranking, he is still largely unknown within the basketball community. Despite playing this summer with the Canada Elite program on the Under Armour Circuit and choosing Boston College over offers from North Carolina, Marquette, and Providence, Mighty does not garner much interest yet.
On3 caught up with Mighty, playing for his Toronto (CAN) United Scholastic Academy team in the Big Shots Prep Nationals event. Here is his backstory.
Defense first
As you can imagine, Mighty's defense is ahead of his offense. Late to learning the game and being so physically gifted, Mighty earned his minutes with his ability to protect the rim and move his feet.
"I stay aggressive for my team," Mighty told On3. "I like playing defense, a lot of contests at the rim."
Mighty's high school coach Zach Fox agrees, "He is the glue to our defense. Armani is a high-motor guy, and he protects the rim at a high level."
There is a polite nature to Mighty when talking with him off the floor. We are speaking after a hard-fought win that saw United Scholastic Academy win 62-57. Mighty finished the game with 12 points, 14 rebounds, and six blocks. His five dunks in the game showed a ferocious presence, as did his rebounding and blocked shot numbers.
However, after the game, we spoke, and he was very accommodating, and everything was all 'yessir.' To this accord, Mighty jumped into a leadership role with this team. Also on United Scholastic Academy is one of Canada's top 2025 prospects, and Team Canada 16u members Efeosa Oliogu. While Mighty is a senior, the team construct is young.
"He is one of our older guys," Fox said. "We have a younger team, and he is great about keeping those guys in check. His role, his leadership, is vital to this team."
Mighty and Boston College
At the time of his commitment, Mighty was also strongly considering offers from North Carolina, Marquette, and Providence. Due to Canada's COVID restrictions, Mighty could not take visits before committing. He had to get to know the staffs primarily through Zoom calls and the phone.
Boston College made Mighty a priority. They set up group chats with other recruits and allowed Mighty to get a good feeling for the atmosphere they were building.
"Coach Chris Markwood and the head coach, Earl Grant were the coaches who recruited me," Mighty said. "I like the coaching staff; they are new there, I like their vision. I got along with the players on the team, and I talked with the other recruits who were coming. The players, the coaches, we can all develop together.
"I couldn't get a chance to go on visits because of the timing and COVID in Canada, but I knew I wanted to go to Boston College. I felt so comfortable with them."
Fox thinks the future is bright for Mighty as his best basketball is ahead of him, "Boston College will be getting a guy with high energy, a high motor, a leader. He is very athletic, and he wants to be good. He works."
Continued growth
Like most of the rest of the world, COVID shut down Canada for a long time. Mighty took it upon himself during this time to get better. He knew he had the physical tools, but he needed the strength.
Even today, putting on strength at Boston College will be a significant piece of Mighty's development. While he moves like a wing with the vertical explosion to play above the rim, his frame is slender. With Canada shut down, Mighty took the time to get into the weight room and get his diet right.
"During COVID, I was fortunate that my coaches at Canada Elite (a travel ball program on the Under Armour circuit) opened up a gym," Mighty said. "My main focus was putting on weight, lifting, and gaining weight. I stayed in the weight room a lot."
Mighty added some weight, and he saw muscles popping up on his frame. He was able to play with a strong base and core, absorb contact, and direct traffic as his team's backline of defense.
"He's a real worker," Fox said. "He has put in a lot into developing his body and his conditioning over the last couple of years. He also has developed his shot and his ball-handling, he's dedicated himself to the game, and it is showing."
How good can Mighty be?
"If he continues at the rate he is at, I see him as a professional," Fox said. "I can see him in the league if he keeps working. He has those kinds of tools."
There is a long way to go in Mighty's developmental curve. The natural tools are there. He has the length and athleticism you look for in a post player. Mighty has continued to get better each time out, from high school to travel ball and back to high school. Each season, Mighty adds something new to his game, both in skill and stature.
The basketball world is still getting to know Armani Mighty, but Armani Mighty is still getting to know himself. Soon enough, the ACC will be aware of the name.