Atlanta Falcons sign former USC wide receiver Drake London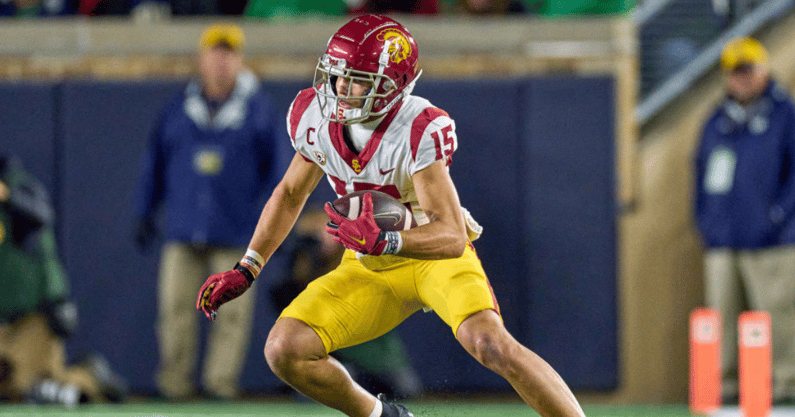 The Atlanta Falcons have signed No. 8 overall pick Drake London to a four-year, $21.5 million, fully-guaranteed deal, according to multiple reports. London now becomes the highest-paid rookie wide receiver that has singed his deal, trumping New York Jets wideout Garrett Wilson.
London is now the highest-selected USC wide receiver since 1996, which makes sense when you take into account his incredible eight-game stretch that saw him catch 88 passes for 1,084 yards and seven touchdowns. The 88 receptions tied Michael Crabtree for the most by a Power 5 receiver in his team's first eight games season, solidifying himself as one of the top receivers in this year's draft class.
Following the news of Calvin Ridley's one-year ban from the NFL, the Falcons knew they needed a plug-and-play type of receiver, and think they've found that in London.
The duo of London and tight end Kyle Pitts is a very intriguing pair of big receivers and the Falcons should be able to find plenty of ways to get them both involved in the offense. Pitts led the team in receptions and receiving yards last season, with 68 catches for 1,026 yards.
London reveals what he can add to Atlanta Falcons culture
The Atlanta Falcons' first-round pick from the 2022 NFL Draft, wide receiver Drake London is ready to help set the tone for the Falcons heading into the future. During his press conference to formally introduce him as a member of the team, London reveals what he can add to the Atlanta Falcons culture.
"I would say intensity," said London. "Would I consider myself a leader? Yes. But at the same time, I am a rookie. I have to go through all the ropes. Probably going to be carrying shoulder pads and helmets all the time, and you know rookie dinner and things like that. But I would definitely say in the future, I would like to be a leader."
The Moorpark, Calif. native was a high school star in both football and basketball. On the gridiron, London was ranked as the nation's No. 42 wide receiver and the No. 241 best overall prospect in the country in the 2019 recruiting class according to the On3 Consensus.
Atlanta has been looking to add weapons for Marcus Mariota and will be adding an elite pass catcher in London for the next four to five years. Between an injury and the 2020 season, London's game total is low for a three-year starter. However, he still finished with an impressive 2,153 yards and 15 touchdowns on 160 receptions in just 27 career games.