Bronny James inks deal for his own underwear collection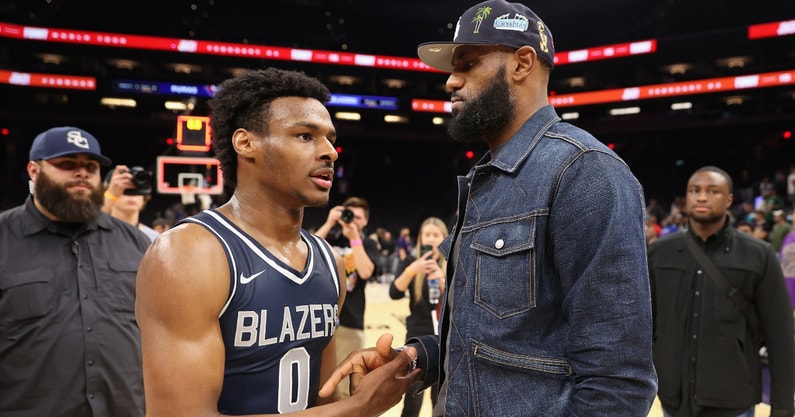 Bronny James' father, LeBron James, surpassed more than $1 billion in career earnings last summer. A significant part of it comes from his on-court salary, but the majority stems from endorsement deals. His endorsements with AT&T, Beats, Blaze Pizza, GMC, PepsiCo, Rimowa and Walmart bring in over $100 million annually alone. Not to mention his lifetime shoe and apparel deal with Nike — his first shoe deal in high school paid him $90 million over seven years.
And while times have changed from 2003, especially in regards to name, image and likeness, the apple doesn't fall far from the tree in the James family. Bronny has become the youngest athlete entrepreneur in the history of PSD Underwear, according to a story from TMZ Sports. The brand announced on Thursday that James had signed a partnership deal with the company. He joins Ja Morant, Deebo Samuel, Jimmy Butler, Tyler Herro, and Bubba Wallace as athletes who they've partnered with.
Bronny James has a massive On3 NIL Valuation
James is one of the better high school basketball prospects in the country in his own right — ranking No. 34 overall in the On3 2023 Top 150 — but he has also amassed a huge social media following.
His current On3 NIL Valuation stands at a whopping $5.1 million, given his huge followings on both Instagram and TikTok. Only three other high school athletes currently have NIL Valuations surpassing $1 million: Five-Star Plus+ quarterback Arch Manning, five-star combo guard Mikey Williams and one-armed basketball sensation Hansel Enmanuel.
One Instagram post from James has a value of $46,000, which would lend some credence to why a brand like PSD would want to team up. He will even get his own underwear collection, with signature pieces expected to be released this spring. His dad has become somewhat of a fashion icon in NBA circles in recent years. But as far as we know, he's never had his own underwear line. Bronny 1, LeBron 0.