Bryce James, son of LeBron, turning heads as 15-year-old prospect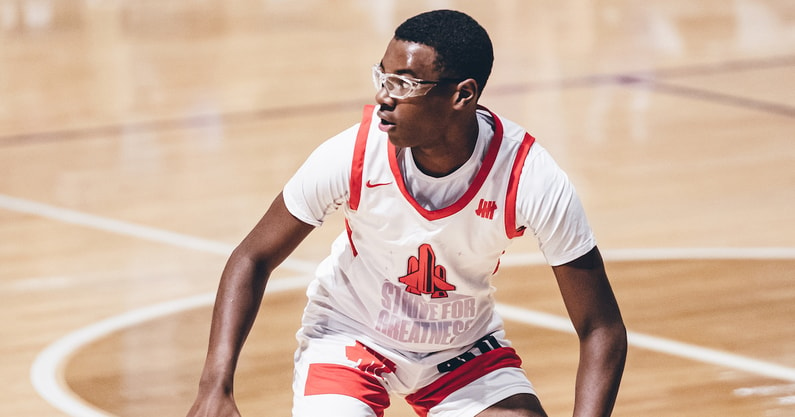 While much of the basketball world has focused on Bronny James, the first son of NBA superstar LeBron James, his younger brother has begun making a name for himself. Bryce James is just 15 years old, but like his older brother, has drawn significant attention as the son of one of the sport's all-time greats.
He recently impressed on the AAU circuit, playing with Strive For Greatness, the same program as his older brother. But what really caught the attention of basketball followers was a recent photo of the LeBron and Bryce standing together, in which the younger James appears to have hit a major growth spurt. At Nike's Peach Jam, he was listed on the SFG roster at 6'2. ESPN, in a recent in-game graphic, listed him as tall as 6'6.
The elder James also recently posted a photo of the three working out together in the Lakers' practice facility, with Bryce showing off his handles and mid-range jump shot, as well as his dad's signature tomahawk dunk style.
Like his older brother, Bryce James has quickly become a viral sensation in the basketball world. Recent highlights of him playing in Las Vegas drew millions of views on Twitter and YouTube.
As a prospect, still has lots of room to grow, being a Class of 2025 prospect. But he is sure to draw a crowd at Sierra Canyon High School, where Bronny has played for the past three years and him one. The program, which has also featured elite recruits like Amari Bailey and Isaiah Elohim, regularly sells out high schools gyms and plays on national television.
A big reason for that is the Jameses, who both have massive social media followings, particularly on Instagram. Bronny, with over 6 million followers, is the most valuable high school or athlete in the On3 NIL 100, boasting a valuation of more than $6.1 million. Bryce, meanwhile, has seen his notoriety skyrocket recently. He has amassed nearly 950,000 followers on Instagram and more than 1.2 million on TikTok.