Andrew Booth makes case for why he can be Day 1 starter for Minnesota Vikings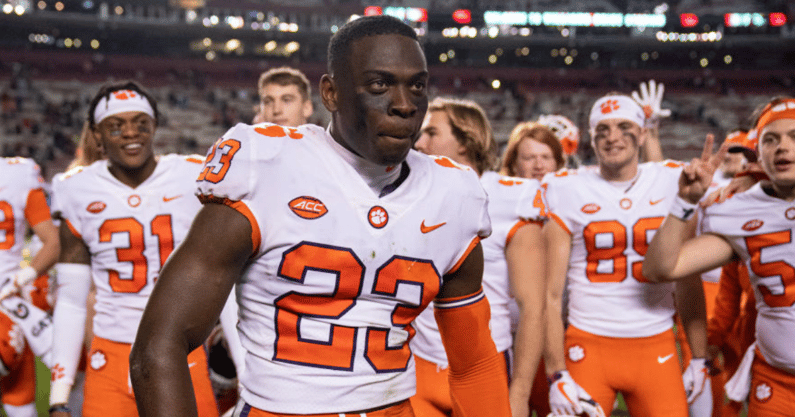 Former Clemson Tigers standout cornerback Andrew Booth isn't looking to spend any of his time in Minnesota on the bench after the Vikings selected him in the second round of the 2022 NFL Draft. He's looking to come in and claim his spot immediately, but knows he has to earn it first.
"Absolutely," Booth said. "… I'm gonna come in and I'm gonna work hard. That's just what is what it is. I'll come in, I'll do what I'm supposed to do, and that's that and then whatever happens after that happens. I'm gonna come in and do my thing, work hard and I'm gonna be the standard."
Booth was limited to just four games at Clemson in 2019 but would see action in ten games in 2020, totaling 27 tackles with three tackles for loss, one sack, two interceptions, four passes defended, and even returned one fumble for a touchdown. During his final season, he had 37 tackles, three tackles for loss, three interceptions, and five passes defended in 11 games. 
The former Clemson star said he's aware that his high draft status puts a target on his back, and he'll have to prove himself to him teammates and coaches this offseason to earn their respect.
"I plan on coming in working hard and earning that starting spot," he said.
The Vikings needed an upgrade in the secondary entering the draft, and Booth is looking to prove that he is what they needed. Booth does have his downside, though. After he was drafted, he let everyone know that injuries are nothing new to the former Tiger, as he has been battling through them dating back to his high school days.
"I haven't played healthy football since like high school," Booth said. "So the surgery I just had, that was something from before sophomore year and I got it fixed, and then it didn't really do well and I got it again recently. But yeah, to say the least I did play through injuries. That's why it's like – you kind of have a chip now."
Booth has since said the injuries have subsided, and he's ten times more healthy than he was playing at Clemson last season. That statement will be put to the test early and often throughout the Vikings' rookie minicamp this offseason.