College coaches lined up to see Ace Bailey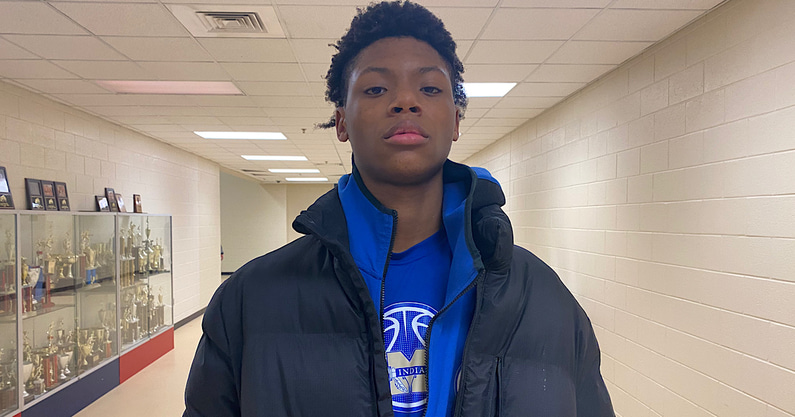 On Friday, the recruiting period opened, meaning college coaches from all levels, will travel all over the country to see the next wave of talent.
The recruiting period began on September 9th and will run through November 7th.
---
Ace Bailey, a 6-foot-9 forward in the class of 2024, is expected to have a host of programs at Powder Springs (Ga.) McEachern High over the next few days.
Kentucky, Auburn, Kansas, Alabama, Appalachian State, West Virginia, Georgia, Illinois, Cincinnati, South Carolina, LSU, Arkansas, and Indiana are all expected to be in to see the rising junior.
Currently, Ace Bailey is ranked 7th nationally in his class, according to the On3 Consensus, a complete and equally weighted industry-generated average that utilizes all four major recruiting media companies. He's also the No. 1 power forward in the country and No. 2 in the state of Georgia.
Bailey on his game, what he's looking for in a school
"I rebound, score, look for opportunities to help my team win," Bailey said to On3 in a previous interview. "I've gotten stronger since the summer, which has helped with my physicality. I am rebounding better and blocking more shots. I take stuff from Kevin Durant, his mid-game is unstoppable, and that is what I am working on right now."
What is Bailey looking for in a program?
"I'll be looking at how I bond with the team, the coaches," Bailey said. "I will be looking at the location, how my parents will fit in the area. I want to see how the team communicates with my family and me throughout the process."
Bailey comes from a basketball family.
"We are a basketball family, no doubt about it. My mom, Ramika McGee, went to West Virginia. My dad, Richard Bailey, went to U of H, my aunt, Venus Lacy, played in the WNBA. We are all like 6-foot-5 and above."
Scouting Summary
Airius Bailey is a lengthy and explosive forward prospect in the 2024 class. He has a lot of natural tools to work with, and it is easy to see why the college coaches are already lining to track his progress. At the same time, Bailey is far from a finished product, his ability to handle and shoot the ball in the half-court intrigues. What stood out the most in this game was the 13 rebounds he had. He played with a go-get-the-ball mentality, which translates while you sharpen everything else. With his bloodlines and athletic genes, make sure to earmark this name and look for Bailey to track as a national-level recruit. – On3's Jamie Shaw, National Recruiting Analyst