College football isn't going to be the way that it was, so bemoan and adjust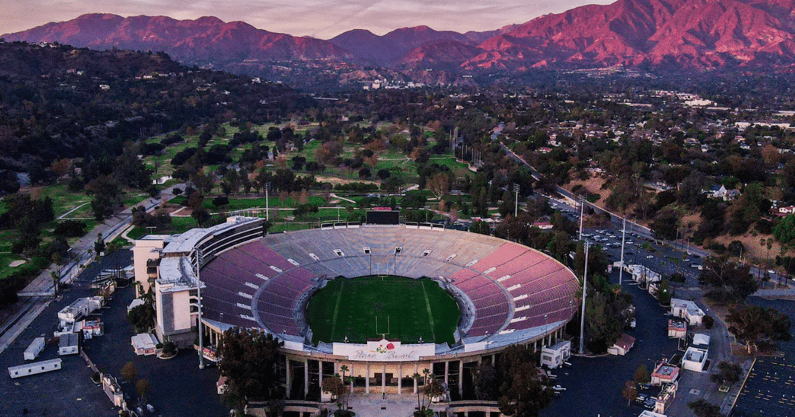 Pro golf has its knickers in a wad over the LIV Tour, which has used tools such as greed, greed and greed to threaten the status quo.
College athletics said, "Hold my beer."
USC and UCLA blew up the Pac-12 to chase money. You will be hard-pressed to find anyone outside of the two campuses, Fox or the Big Ten who is excited about the move.
California Gov. Gavin Newsom found out about it the way the rest of us did, which is interesting because as governor, he is an ex-officio member of the UCLA Board of Regents. So is university president Dr. Michael Drake. Bet that was a fun phone call!
"President Drake, the governor on line 1."
"Can you tell him I'm out? Of the country?"
While we await to see if Newsom tries to stop UCLA from leaving, the economic future of college football west of the Rockies teeters toward freefall.
At the other end of the spectrum are the athletes themselves. The NIL industry has taken everything we know about recruiting and turned it into an auction. The On3 300 is beginning to sound like the Fortune 500. The NCAA, which is to antitrust action what Vandy is to SEC football, is scared enough of lawsuits to refuse to regulate athletes' endorsement income.
Sure, athletes have the right to a money grab. They can be as craven as the adults who supervise them.
As coaches and administrators leave their July cocoons to re-enter the world of the 80-hour week, they aren't trying to defend their mess of a workplace. Even SEC commissioner Greg Sankey, who has it pretty sweet these days, said as much Monday at his league's Media Days. "It's never going to be the way that it was," Sankey said, "but it doesn't have to be the way that it is."
It's never going to be the way that it was. I suppose we knew that when Texas and Oklahoma abandoned the Big 12 for the SEC, or when Nebraska left the Big 12 for the Big Ten, or when West Virginia left the Big East for the Big 12, or when the Big East died, or when the Big East was born.
Change has been a constant in college athletics. Sankey is co-chair of the NCAA Division I Transformation Committee, which by definition means, as he said, "We cannot go on as we are."
Off the field, coaches are begging for relief from the 12-month recruiting calendar, a frenetic pace brought on by the transfer portal. On the field, we talk about the pendulum swinging from offense to defense and back again. Of late it has swung so far toward offense that it's hard to imagine it will ever come back. It will. Remember Alabama coach Nick Saban decrying the up-tempo spread offense, asking, "Is this what we want football to be?"
That was a decade ago. Saban saw where college football was going, bemoaned it, and adjusted. Nobody plays that style more effectively than the Crimson Tide. Since Saban asked the question, Alabama has won four national championships.
Maybe we all need to bemoan and adjust. We mourn what we are losing. We mourn what we have lost. A lot of gripping rivalries have died over three decades of realignment, many more than have been created. Add to the list of the doomed USC-Stanford, Cal-UCLA and vice-versa, four great conference rivalries with a "Condemned" notice tacked to their front door.
"For those to be dismantled for money is kind of a shame," Ole Miss coach Lane Kiffin said Monday. Kiffin is the coach who rented a Rolls-Royce last spring to help him woo athletes.
CLICK HERE to subscribe to the On3 YouTube channel
Kiffin won two national championship rings as a Trojans assistant. You may remember he also served as their coach. He knows USC tradition. Those rivalries are just so much urban renewal, plowed under to make way for the new. Dodger Stadium, site of the All-Star Game on Tuesday night, stands on land that once held a vibrant Mexican-American neighborhood. The city of Los Angeles used eminent domain to empty the neighborhood and all but gave the Dodgers the land.
Sixty-plus years later, Dodger Stadium is the third-oldest park in Major League Baseball. It is venerated for its, yes, tradition. When the Dodgers moved west, baseball adjusted. Brooklyn didn't.
There may be a lesson in that. College football will adjust. Some schools and their fans won't, leaving behind a trove of tradition abandoned for lucre. It's not much of a trade.