If 'we had to really break it to fix it' – well, college sports is broken, but can it be fixed?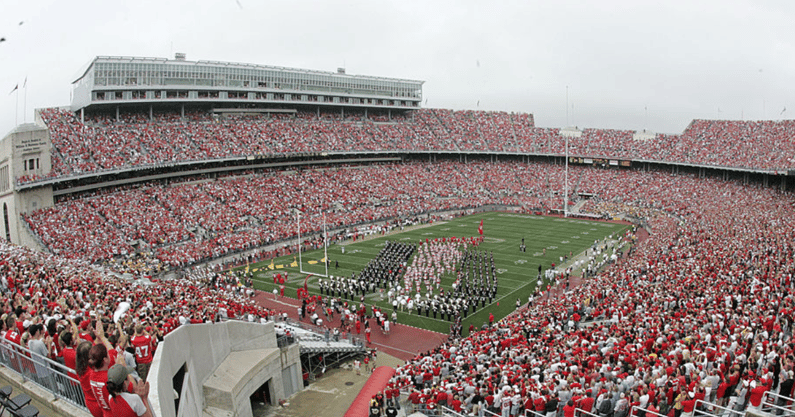 In theory, you have to have rules. Society agrees to drive on the right side on the road. Football agrees that a field is 100 yards long. America agrees that Dolly Parton is a national treasure (OK, not a rule, but no less true).
College sports right now needs rules. The NCAA as arbiter is an abandoned building, waiting to be condemned. College sports has moved on from the beliefs of its Founding Fathers, beliefs that sustained the enterprise for more than a century. When the Fighting Irish athletic director, a pillar of the establishment if ever one existed, says, "Somebody tell me the positive value of amateurism," you know the old order is dead.
"Did anybody ever argue the babysitter had a better experience if he or she didn't get paid?" Jack Swarbrick continued.
College athletics has been a bastardized form of amateurism for decades. Someone decided a long time ago that bartering tuition, books, room and board for the ability to throw a back-shoulder fade passed amateur muster, a decision of convenience, if not principle.
The Olympic movement abandoned its insistence on amateurism a generation ago. The NCAA has been slower on the uptake.
"I don't believe the NCAA can be reformed," Swarbrick said. "I think it's too broken."
And now that the traditional collegiate athletic model collapsed, administrators have walked away from the rubble. Enforce regulations against using NIL in recruiting? Create a calendar for the transfer portal? Not so far.
"I could sit here and talk for hours about why I think we're in the position we're in," TCU coach Sonny Dykes said. "I think we all learned something that was a lesson we should have learned when we were about 10 – that you can't thumb your nose at people. You can't just say, 'Hey, we're college football. We're the NCAA. We don't care what you have to say.' …
"We just dismissed the players. At the end of the day, I think it's pretty evident they're the most important part of this. Always have been. Always will be. The fact that we didn't grasp that sooner, as a sport and maybe as an association, is worrisome. The courts had to step in and dictate, force college football to do what it should have done a long time ago."
'All the changes, you worry about where the game is headed'
The courts stepped in to signal to college athletics that players must be compensated beyond the value of a scholarship and the several hundred dollars a month they received as "cost of attendance." But judges are not administrators. Judges are not deciding the difference between an NIL deal and an outright payment for play.
Right now, neither is anyone else. Coaches accustomed to knowing where the sidelines and hashmarks are painted feel as if college football is being staged on an unmarked field.
"When you make small changes [and] you can't anticipate what the change forces, you lose control," Georgia coach Kirby Smart said. " 'OK, we're going to experiment, and this is live.' It ain't an experiment anymore. It's real, and it's happening fast. All the changes, you worry about where the game is headed."
Stanford coach David Shaw, who measures his words like a British tailor, called the current atmosphere "messy." He doesn't want messy. He doesn't want to be depicted as against the players making money. He isn't.
"I am in favor of structure and consistent rules and codes of conduct on all parties that hopefully will come back to make more sense of the college sports world," Shaw said.
NIL started out as a stopgap between the NCAA model and outright payment. It included a quid pro quo – the athlete performs a service for an outside entity, which pays him or her in kind. Instead, the stopgap became the bridge to professionalism. The NCAA rule specifically forbids the use of NIL as a recruiting tool. The marketplace surmised the NCAA's want of teeth, and started bidding
"I don't think there's a lot of question around the country as far as that going on, regardless of what anybody says," Shaw said, finishing with a laugh. "If you want to keep a secret, don't tell a bunch of 17- to 20-year-olds."
Dykes, like Shaw, is the son of a college coach.
"I get both sides of it. I get, 'You guys are making all of this money off of them,' too," Dykes said. "There's some place in the middle. I don't think we did a very good job of finding that middle ground. … There's a way to do it where it benefits everybody. Instead of trying so hard just to protect the way it's always been, let's figure out the best way to protect the players and the institution."
There needs to be more than one option
Walking NIL back to its original intent is a pipe dream, given that the desire to win has been a two-touchdown favorite over the NCAA Manual for decades. There is more talk of the FBS splitting into two camps – the schools that want to operate more like a professional entity, and the schools that want to stick with a more traditional college model.
"If you want to play in the premier league, you got to put in $50 million a year," Dykes said. "You'll have a salary cap of $50 million. You decide how you want to break it up. The players get paid."
Swarbrick described the two models as the opposite ends of a spectrum. At one end, he sees universities licensing their names to a "franchise," a choice no different for the athlete then the minor leagues. At the other, he sees players receiving academic credit for playing, a national policy for missing class – in general, a more 20th-century model.
"This isn't some attempt at advocacy that one model's better than the other," Swarbrick said. "We're just not prepared, all of us, to pursue the same one. We need to have the two options available. Let schools decide which way they want to go."
We are a long way from these models becoming realities. Dykes marveled at how the NFL sets regulations and the member teams live by them. But a new way is coming. It may be a coincidence that a number of well-respected coaches are stepping aside. I doubt it. I don't think they want any part of it.
College athletics is watching an exodus of intelligence, experience, and reason. In the past month, Duke's Mike Krzyzewski and Villanova's Jay Wright have retired from the basketball sideline. Football has lost coaches well-respected by their peers.
"(Virginia coach) Bronco Mendenhall, I got a lot of respect for him," Smart said. "Good guy, smart guy. I don't know. You see him walking away. (Georgia offensive line coach) Matt Luke walking away. Guys are just walking away. The passion of coaching kids that love the game; it was less about that and more about managing personalities. I think that takes its toll on you as a coach."
Seismic change is upon us. Seismic change breaks a lot of crockery on its way from old to new.
"The only reason I feel at all sanguine," Swarbrick said, "is I think we had to really break it to fix it."
College athletics is hoping that the need to root for laundry will survive the arrival of million-dollar quarterbacks and campus-hopping linebackers. A multibillion-dollar industry depends on it.