Cooper Flagg or Cameron Boozer; The conversation for No. 1 in 2025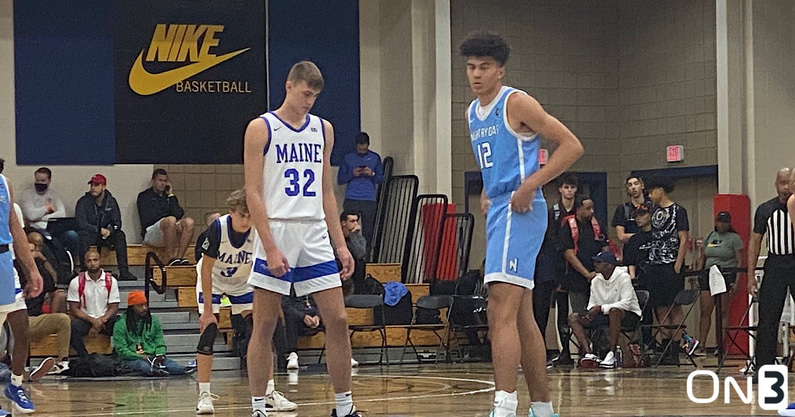 On3 is releasing its first look at the 2025 rankings on Wednesday. This is an exciting class, one that has talent at the top and depth throughout. However, there is one obvious question that jumps out; is Cooper Flagg or Cameron Boozer No. 1 in the class?
While the top four, in my mind, are pretty solidified, the top two will be a fascinating topic of discussion in this class until they graduate.
On3 looks at the tale of the tape, and I want to hear from you. Comment who you think should be the No. 1 player in the 2025 class come Wednesday.
6-7 F Cooper Flagg | Montverde (FL) Academy
Cooper Flagg is a lengthy, 6-foot-7 wing forward who has a projectable frame and a lot of pop. He moves in a very fluid way while having natural timing both at the rim and in the passing lanes. The most common archetype comparison I have heard is former Utah Jazz wing Andrei Kirilenko.
Now, I want to pause here to remind the reader the Kirilenko comparison is merely an archetype. A visual to aid to help with how Flagg plays the game.
Synergy charted six games that Flagg played on Nike's 15u EYBL Circuit this summer with his ME United team. In those games, he averaged 22.5 points, 8.5 rebounds, 4.2 assists, and 4.7 blocks. He had a 51.0 effective field goal percentage and shot 82.4 percent from the free-throw line on 5.7 attempts per game.
The interesting part about Flagg's game is that he does not have to grow anymore to be what he is. His fluidity and the way he moves, combine with his size, there are no 'if's' with how he projects. Looking forward, for Flagg, it is all about tightening what he has and putting on weight.
Flagg is also a December 2006 birthday. He is younger for his class and will not turn 18 until December of his senior year. Flagg was one of the three youngest players on the u17 USA Men's National Team this summer.
Flagg played 19.6 minutes per game, fifth most for the gold-medal winning squad. At around a year and a half younger than the team's average player age, he led the team in rebounds (10.0), steals (2.4), and blocks (2.9). Flagg also averaged 9.3 points and shot 42.9 percent from three in his seven games in Spain.
6-7 F Cameron Boozer | Miami (FL) Columbus
Cameron Boozer is the son of former NBA All-Star Carlos Boozer. He has a developed frame with long arms and an advanced skill set. He sees the game at a high level, and no movement is wasted on the floor.
Synergy charted 13 of Boozer's games this summer on Nike's 15u EYBL Circuit for the Nightrydas program. In these games, Boozer averaged 22.5 points, 12.2 rebounds, and 4.2 assists. He also shot 68.9 effective field goal percentage and 76.0 percent from the free-throw line.
It should also be noted that Boozer's Nightrydas team won both head-to-head matchups against Flagg's ME United team. The second matchup was in Peach Jam bracket play, where Nightrydas won, 79-36.
While Boozer's tweener 4/3 skill set would be better served at 6-foot-10, there is no denying the competitive nature he possesses. Boozer is a July 2007 birthday, so he will graduate high school at 17 years old. Boozer's production is unquestioned, and he won both head-to-head matchups convincingly.