Davin Cosby down to 4 schools, sets commitment date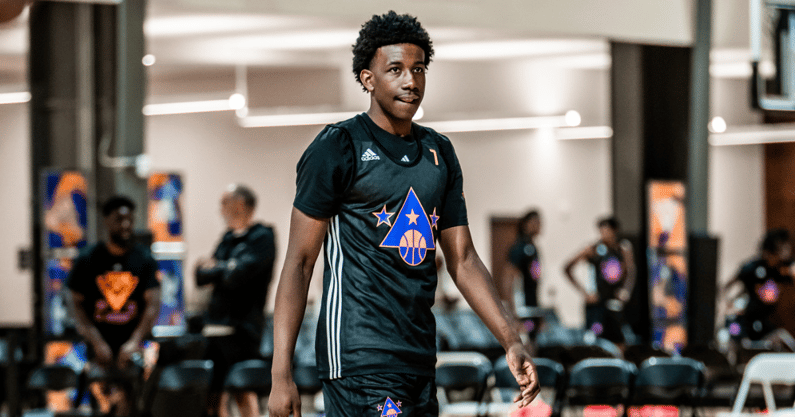 Raleigh (N.C.) Word of God Christian four-star recruit Davin Casby has set his commitment date for Saturday, September 24th at 4:00 PM ET. The 6-foot-5 shooting guard will decide between NC State, Alabama, Virginia, and Wake Forest.
The Richmond, Virginia native also received offers from LSU, Tennessee, USC, Maryland, and others.
Cosby is the No. 96 overall prospect in the 2023 class, according to the On3 Consensus, the average ranking from all four major recruiting media companies. He's also the No. 21 shooting guard and the No. 5 player in the state of North Carolina.
Davin Cosby discusses finalists
In a previous interview with On3, Cosby discussed each of his final schools.
NC State: "When I took my first unofficial there, I wasn't planning on taking another official. After hearing Coach (Kevin) Keatts out, how genuine of a guy he is. I want to spend time with the team, feel them out, and see how they are as a program."
Alabama: "It's a huge campus, first of all. The students on campus are all about the basketball team. Walking around campus, they will let you know they want you to come and who you are. Coach (Nate) Oats is a good guy. It's not just football over there, and they are winning."
Virginia: "Their weight room was impressive. But I would say what stood out the most was they are actually a family. Like they are one there for real like their campus is all basketball and football – but mostly basketball. They lose five seniors and want me to come in ready to play."
Wake Forest: "I got a good feel for their play style and how hard they practice. They have good facilities there and a family environment with the coaches and the players too. They want me to come in and play a major role. If I go there, I have a chance to come in and start."
"I would say I have the best relationship with Coach (Antoine) Pettway at Alabama and Coach (Brooks) Savage and (Steve) Forbes at Wake Forest," Davin Cosby said to On3's Jamie Shaw. "They contact me the most, and they all have a funny character; they just fit in with me."