Del Jones is becoming one of the more intriguing 2024 PGs in the DMV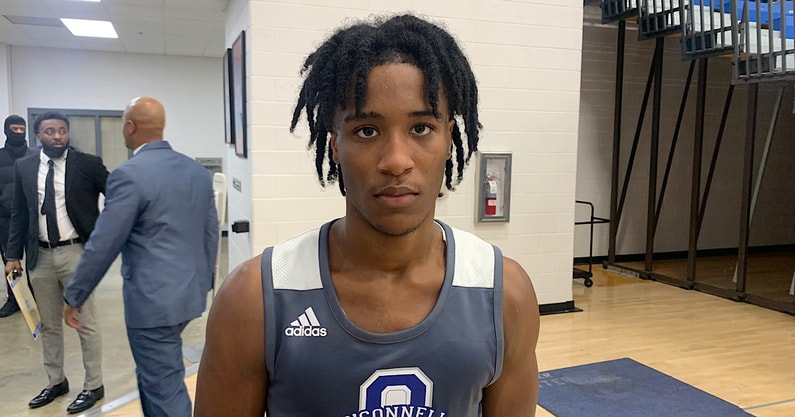 Arlington (Va.) Bishop O'Connell sophomore Del Jones has started to make a name for himself in recruiting circles. At 6-foot-2, Jones is one of the most intriguing young point guard prospects along the Eastern Seaboard.
"I'm a true point guard," Jones told On3 Sports. "I can get into the paint very well and find others when I get downhill. I've developed into more of a point guard, playing my role on the team to make sure we are all looking our best. With the way I get downhill and my change of pace I heard I play like Kemba Walker."
While his recruitment is just getting started, college programs are taking notice. Del Jones spoke exclusively with On3 Sports about his recruitment.
Jones talks offers
"South Carolina, NC State, Ohio, and Southeastern Louisiana are my offers right now," Jones said.
NC State: "I talked with the head coach, Kevin Keatts some. I am going to set up a visit for this summer. I want to find out more about them."
South Carolina: "When coach Bruce Shingler was there, I talked with him and the head coach, Frank Martin. They would tell me how they need a paint-touch guard in that class."
"Texas has been in contact with us," Jones said. "UConn, Xavier, James Madison, VCU have all been in contact with my coaches about me. They all want to see me this summer, see how much I progressed."
Jones' take
"I have not been on any visits yet. I'm going to set some up this summer. Get on some campuses and start learning about these schools. I want to go to a place where the coach will let me go and play my game. Get into the paint and facilitate for my teammates."
On3's take
Del Jones is a long-armed, quick-on-quick point guard. He has an uncanny ability to touch the paint, getting where he wants off the bounce. As he continues to work on his jump shot, the decision-making is coming around. The natural tools are abundant with Jones, and he is getting better each time out. Tuck this name away and check back periodically; it could be something special if it all comes together.