Four-star Dennis Parker down to 5 schools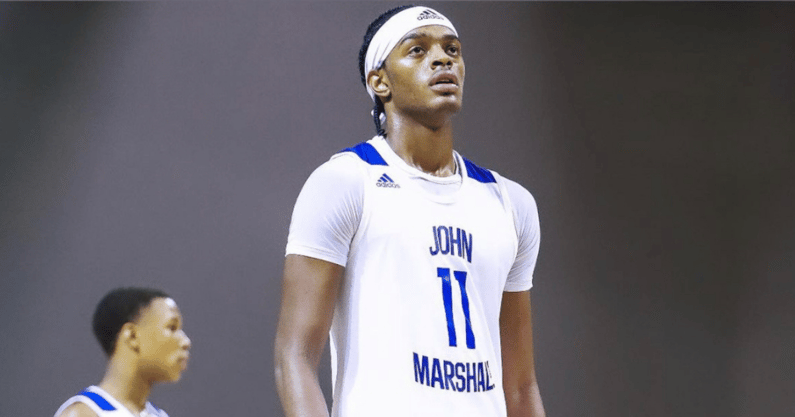 Richmond (Va.) John Marshall four-star recruit Dennis Parker tells On3 he's down to five schools: Georgetown, Missouri, NC State, Oklahoma State, and USC.
Marshall, a 6-foot-7 class of 2023 small forward, has made official visits so far to NC State, Georgetown, and Oklahoma State. He will officially visit Missouri this weekend.
Along with his five finalists, Parker also received offers from Maryland, Georgia Tech, Vanderbilt, Kansas, and others.
Parker is the No. 87 overall prospect in the 2023 class, according to the On3 Consensus, the average ranking from all four major recruiting media companies. He's also the No. 17 small forward and the No. 2 player in the state of Virginia. On3's evaluators are higher on Parker, ranking him 59th overall in the class.
Parker talks schools involved
In a previous interview with On3's Jamie Shaw, Dennis Parker discussed a handful of the programs involved in his recruitment.
Georgetown: "Coach (Kevin) Nickelberry and coach Pat (Ewing) are some really good guys. They have a good plan for me. I trust any plan that has me going to the next level. They run a lot of sets that we run at John Marshall. A lot of ball screens, flare actions, down screens, and stuff like that. There are a lot of similarities between us and their school."
Missouri: "Coach Dennis Gates and coach CY Young are some good people. They were at Florida State before, and now they're at Mizzou and putting the full-court press on their recruiting."
NC State: "The best part was, once again, the plan. They are going to support me in my dreams. I'm all in on whoever I go to. I had never been to Raleigh, and it was actually pretty nice. Coach Keatts kind of models my game of a little bit like Dereon Seabron. They space the floor, set screens, and just go downhill from there."
Oklahoma State: "I got closer with coach (Mike) Boynton. It was really interesting. I got to hang with Avery Anderson, one of their best players. He was just telling me about how college basketball works. My favorite part was hooping with the guys. It went really well. It was fun. They are very competitive."
Scouting Summary
Parker has a great frame and a competitive nature. He has always been a very good defender, using his length for a lot of deflections as a team defender. He can move his feet on the perimeter and switch down a line up with his length. This season Parker vastly improved his shot creation. He has a nice mid-range and mid-post game. He has turned what used to be a question-mark, three-point shooting, into a weapon now. Parker is an above-average, but below-elite, athlete. His father was a football player and Parker gets some of his competitive nature from him. He battled with injuries early in his career, but the 6-foot-7 wing took big strides this high school season. Won a state championship. – On3's Jamie Shaw, National Recruiting Analyst