4-star SF Derrion Reid recaps official visits; adds Alabama, Kansas, Florida State conversation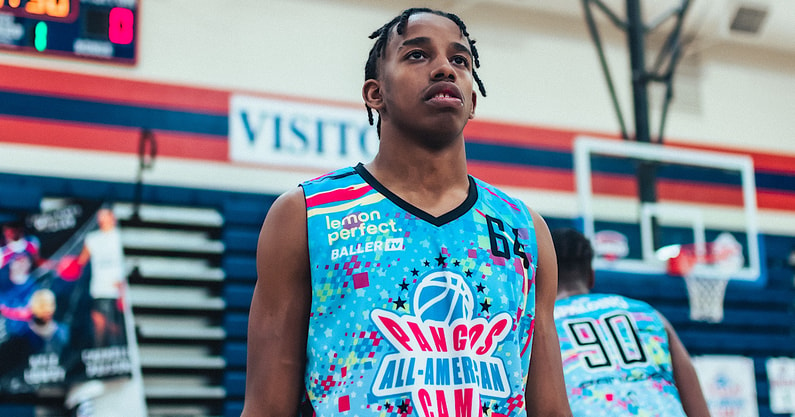 Derrion Reid is the No. 17 player in the updated 2024 On3 Industry Ranking. The 6-foot-6 wing from Grovetown (GA) High averaged 14.8 points, 6.4 rebounds, and 2.2 assists on 57.1 percent shooting for his Team Thad team during Nike's Peach Jam.
"It's been a mindset thing for me," Reid told On3. "My confidence has grown so much knowing that my coaches have trust in me. Everything has grown from there, getting bigger and strong. My coaches keep it real with me. I watch a lot of Jayson Tatum. LeBron (James) is my favorite player. Their face-up game and versatility. I watch a lot of their footwork; that's a big thing I've been working on."
On3 caught up with four-star Derrion Reid after a recent live viewing to talk about his recruitment.
Reid talks visits
"I've taken official visits to Mississippi State, Kansas State, and Georgia so far," Reid said.
Kansas State: "The coaches. They have a great spirit about them. Coach (Jerome) Tang's personality is like no other. The coaches' connections with their players really stood out for me on that visit. They're all really connected; it is for real like a family over there."
Georgia: "They treat their players well there, the coaches have a close relationship with the players, they talk to them about things other than basketball too. That stood out to me."
Mississippi State: "They're offering an ability for me to come in and make an immediate impact on the program and the game. I know I can go over there and get better, keep improving my game."
Reid talks recruitment
"I don't have any other official visits set yet," Reid said. "But I'm talking with Alabama, Kansas, Florida State, and some others about setting some visits,"
Alabama: "The head coach, Nate Oats, lets his players play. He gives the confidence and the freedom to go out and make plays."
Kansas: "I have a good connection with Coach (Bill) Self and the coaches there. They've developed some wings to be pros, and they let them rock out."
Florida State: "They have had a lot of pros on the wing, and they are working to get back to where they were. I have been building a good connection with Coach (Leonard) Hamilton."
"There aren't really any schools that haven't offered me that are talking to me right now," Reid said.
In his words
"I'm looking for a family environment," Reid said. "A place where I'm comfortable to be myself and a place where I can fit in and get better. I want to play in the league so development will be big for me. But that and the connection that I have with the coaches will be the biggest things."