Did Trey Parker give me the best all-star game performance I've ever seen?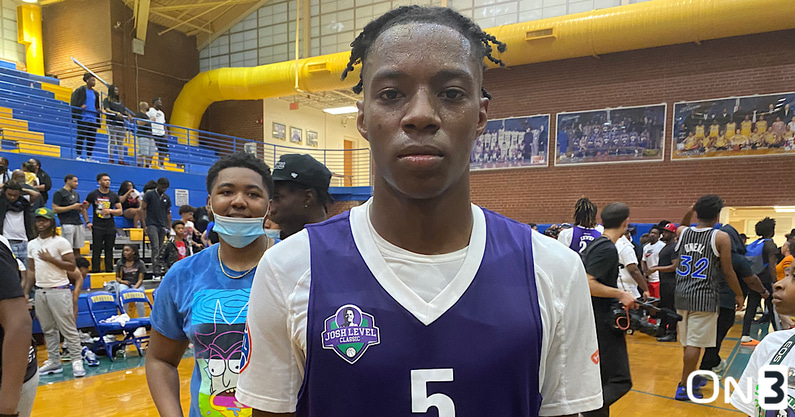 It is a bold statement, I understand that. A statement like, the best prep all-star game performance covers a lot of ground. He finished with 28 points, but it was the way Trey Parker scored those 28 that had everyone on the edge of their seats. Whether it was the 35-footers or the spinning, eastbay layups, each field goal made seemed to top the last. The entirety of Parker's performance at the 7th annual Josh Level Classic left me walking out of Greensboro (NC) Dudley High thinking I may have just watched the best high school all-star game performance I have ever seen.
Sure, 'the best' is an entirely subjective statement. But let me go through my background on this. I was one of the creators of the North Carolina, South Carolina, and Virginia Top 80 camps. Camps that brought the best players from each respective state together to compete under one roof. Also, DMV Elite 80, Carolina Challenge, McDonald's All-American Game, NBPA Top 100 camp, Iverson Classic, all of these all-star type camps included, I have frequented. I have seen countless pros in these settings over the past nine or ten years.
What makes Trey Parker's performance on Saturday so different. It was the showmanship. Sure, all-star games can get sloppy; the defense becomes lax, whistles are swallowed, and offensive sets are forgotten. But Parker mixed in skill with flair to perform many things most in the stands had not seen before.
Parker's buzz started quickly
It was the dunk contest. Of course, if you know Parker, you know he would be in this and would probably win. Over the past year, Parker has become viral for some of his in-game dunks. A recent post on my Instagram page went viral with over 13 million views.
Parker threw it off the back wall for his first-round dunk – behind the goal – caught it off the bounce, cocked it back, and viciously threw it down. The crowd's interest was piqued. Judges gave the dunk a near-perfect score, enough to advance to round two.
Round two is where Parker tore the roof off the building. He lined up on the right hash mark. The judge gave him the signal to go. Parker took two steps and leaped high in the air, just outside the three-point line. He put the ball between his legs, left hand to right hand, and threw it in the air. It was a self-alley-oop. Parker then took two more steps, caught the ball before hitting the ground, and did a 360-degree dunk. The crowd went crazy. Everyone in the stands stood, mouths open, hitting their buddies in the shoulder with part amazement and part confusion. It was a dunk (watch here) no one had seen before.
Parker is the younger brother of Kwe Parker. A top-100 prospect from the 2016 class who signed with Tennessee out of high school. Kwe was a noted dunker as well.
Trey Parker went on to win the dunk contest in the final round, going head to head with 2023 No. 1 prospect G.G. Jackson. This excitement brought the crowd to a frenzy, anticipating the actual game.
The Josh Level Classic
I don't want to go this entire piece without mentioning the meaning behind the Josh Level Classic. Josh Level was a North Carolina-based basketball player; wildly popular and well known.
This part is copied and pasted from the Smile 4 Josh website to ensure I get the facts right and it's told the way the family wants.
February 19th, 2013, was a life-changing day for many people in both the basketball community and the triad area of North Carolina. Coach inserted his best lineup to make a run at their opponent, and they began to make a comeback. The coach could see his team getting fatigued, so he called a timeout for rest. As they came to the bench, Josh seemed disoriented. Seconds later, Josh fell to the floor. His teammates rushed to him, and he said he was alright. He tried to lift himself with one arm onto the bench, but he lost his strength, fell back to the floor, and began to have seizures. Josh Level passed away.
The Smile 4 Josh Foundation formed in Level's honor. Its mission is to transform the lives of inner-city youth with community events, athletics, and mentorships, as well as raise awareness of cardiac health risk in high school student-athletes through education and advocacy. Through the Foundation, they created the Josh Level Classic.
The game
Twenty players put on jerseys; most of them carried mid to high major offers. Some of the players were even ranked among the top-20 players in the country. Parker, a well-known player, is unranked by three of the four major scouting services. On3 is the only service to have a national number by his name, ranking him No. 98 in the 2023 class.
Parker suited up in April wth Boo Williams and played on the EYBL. In those games, he averaged 16.2 points, 3.0 assists and shot 55-percent from the field and 47-percent from three. That scorching hot play continued in this setting.
On this night, Parker had a handful of viral moments. He knocked down six threes in the game. Each three came from a varying distance. They were off the bounce, off the catch, all from different angles and spots on the floor. He finished in transition and attacked the paint off the bounce, finishing high above the rim in traffic. His dunks, acrobatics, and handle were an absolute show from start to finish.
In this setting, each player only plays half the game as both teams had ten players. They stop the game each quarter to sub five players on and five off. Parker finished with a very loud 28 points. A 28 points that made onlookers excited and kept the crowd walking out the door with a euphoric feeling. Even casual onlookers who had never seen or heard of Trey Parker before walked away wanting pictures.
Trey Parker's performance
The final horn sounded, and the crowd flooded the court. Parker had adults, kids, and teenagers alike clamoring to get an autograph or a picture. Parker obliged and stood there with each of them.
Twenty-eight points, six threes, a handful of assists, some ridiculously viral moments, and a crowd filled with people who had smiles on their faces and stories to tell.
Maybe I am a prisoner of the moment. That is possible; but if I put my scouting hat aside and put on my fan suit, Parker's performance gave me a sense of excitement, and ultimately, as a fan, that is what you want from a prep all-star game.