Former LSU defender Eli Ricks reveals top-four transfer portal options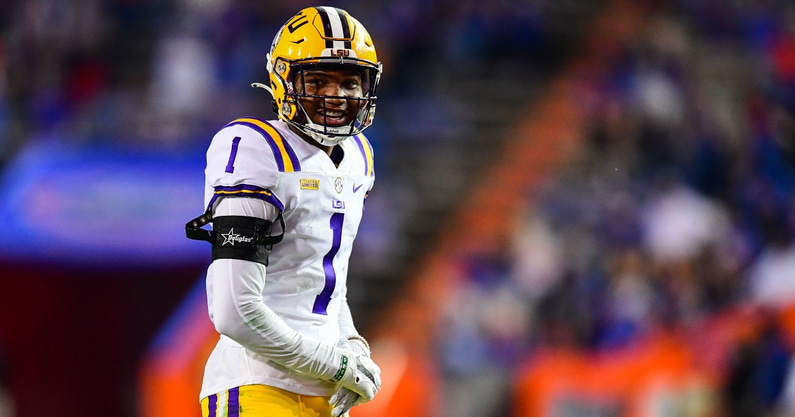 When LSU cornerback Eli Ricks entered the transfer portal, he instantly become the best available name on the market. The former On3 Consensus five-star will have top programs chasing after him.
In an interview with Greg Biggins of 247Sports, Ricks explained why he decided to leave the LSU program. He said Ed Orgeron, who will be leaving at the end of the season, has always been his "guy."
"Ed Orgeron was the main reason why I committed to LSU out of high school," Ricks said. "He's my guy, that's the coach I've known since I was 10 years old. I first met him at a USC camp and we had an instant connection and a great relationship ever since."
From there, the cornerback went on to list the four schools he has the most interest in. Two reside within the SEC in the Alabama Crimson Tide and the Georgia Bulldogs. The other is the hometown USC Trojans, with the final being the Ohio State Buckeyes.
Beginning with Alabama, where Ricks says he used to talk to Alabama on a daily basis before signing with LSU. He called Nick Saban a "great coach" but never made it to Tuscaloosa to visit. To understand what the city is like, he's been talking to a good family friend and current Crimson Tide quarterback Bryce Young.
Getting talent from SEC rivals would be nothing new for Saban, landing linebacker Henry To'oto'o from Tennessee before the season. Ricks would be a welcomed addition to the defensive back room.
Next up, Ohio State is the school Ricks said finished second in his initial recruitment. Now Jacksonville Jaguars head coach Urban Meyer was his main recruiter at the time but communication with defensive coordinator Kerry Combs has been consistent.
"They're a winning program and that's important to me. I like coach Day and he was one of the guys I talked with back in high school too. He's a great coach and there's a lot of things about Ohio State that stand out. I'm very close with CJ Stroud and I've talked with him, Chris Olave, and Garrett Wilson. Me and CJ played on the same pop warner team when we were seven years old and we've been close ever since."
Ricks admits while USC is home, their location will not play a major factor in his transfer destination. He said he is close with defensive backs coach and current interim head coach Donte Williams, who was the first to offer the cornerback a scholarship while at Nebraska. He said Williams is a good coach and Ricks is "comfortable" with him.
Finally, Georgia has the attention of Ricks thanks to how well their defense has played this season. He has not yet talked to head coach Kirby Smart but will be in communication after the SEC Championship game.
"Their defensive line is so good that the corners don't get a lot of action but I think I would fit in really well there," Ricks said. "I've talked with the coaches and the DB coach specifically about how they would use me and my role in the defense."
A decision will come sometime in mid-December, with Ricks hoping to enroll at his school of choice in January. He said winning a championship is important and he's "tired" of watching the playoffs from home.