4-star Elijah Crawford sets first two official visits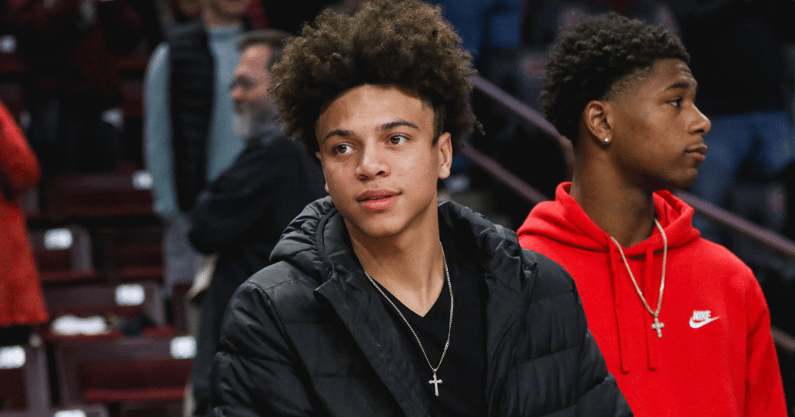 Elijah Crawford, a four-star guard, has set his first two official visit dates. The 6-foot-2 guard will visit Boston College on June 11 and South Carolina on June 25.
Crawford, who is originally from Augusta, Georgia, and currently plays at Legacy Early College (SC), ranks as the No. 87 player in the 2024 On3 150. On3's evaluators are higher on Crawford than the industry. He is No. 171 in the 2024 On3 Industry Ranking, the equally weighted average from all four major recruiting sites.
Crawford started this Spring playing with The Skills Factory on Nike's EYBL Circuit. The On3 four-star has since moved to the Team Thad program on the same circuit. Through the Spring, is averaging 10.6 points, 2.2 assists, and 1.0 steals per game while shooting 45.7 percent from the field.
On3 spoke with Elijah Crawford in March to break down his thoughts on the South Carolina and Boston College programs.
Crawford talks South Carolina
South Carolina: "Coach (Lamont Paris), I mean, he lets his guards play. It is a spread offense, and he lets his guards do what they can do, and he doesn't hold them back from that. Me and Coach Paris have a good relationship. I talk with most of their staff, Coach Paris, Coach (Tim) Buckley, and Coach (Eddie) Shannon; it's all spread out. I'll hear from them a lot, multiple times a week.
"I think I fit in with how they play, that spread offense. I mean, I do what they do, and they have the freedom to let me do it. It would work out."
Crawford talks Boston College
Boston College: "They like that I'm a dog. I'm going to play defense, and hustle, do everything I can to win, and he says he wants that mentality on his team. Coach (Earl) Grant just came down to see me last week. We talk a good bit. I talk a lot with Coach Corey (McCrae) on staff too.
"In the ACC, I feel like the pace of play is a little slower than, say, the athleticism in the SEC. I like what I've seen from Boston College; they have sets for their guards and play tough."
In Crawford's words
"I want to go somewhere I can develop," Crawford told On3 previously. "Get to be the best player I can be, get in there and get out, ready for the next level. Playing on the ball or off the ball doesn't really matter to me, but the style of play will matter. I want to go to a program and play for a coach that is going to let his guards rock. Give them the freedom to make plays."