Ranking the Elite 11 Finalists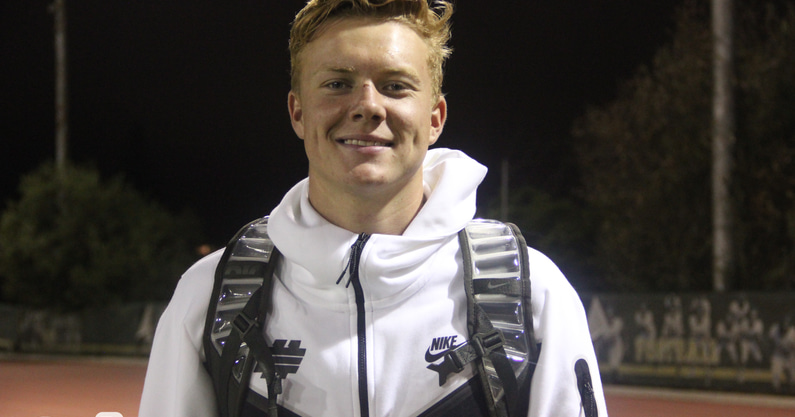 MANHATTAN BEACH, Calif. – The Elite 11 Finals were back in the Golden State this year. Twenty top rising senior signal-callers made their way to Los Angeles to take part in the nation's premier quarterback event. Spanning four days, the event included a drill session, pro day and 7-on-7 play. 
The Elite 11 is ultimately just one of several data points in a top quarterback's evaluation process. The event can provide keen insight into a quarterback's physical tools, arm talent and level of development. It is important to take a macro view as it relates to projectable skills rather than thin-slicing camp minutiae. Physical upside and what a quarterback does on Friday nights will always take precedent in On3 evaluations. 
With that said, here are our top performers from the week on the west coast. 
USC commit Devin Brown shines at Elite 11 Finals
On3 MVP: Devin Brown, USC commit
Brown was our top overall performer at the Elite 11 Finals. The USC commit was consistently good over the event's four days. Brown was the biggest revelation on Day 1. The Arizona native flashed a quick throwing motion and was able to generate considerable zip on his passes to all levels. The ball came out of his hand quick and hot. Brown also consistently spun the ball the best of the group on Day 1, making for a strong first impression.
The one area where he was a bit behind a few of the other top performers on the first day was in his ability to layer passes. Brown often resorted to throwing fastballs, which he certainly can. He was also a top performer on Day 2, catching fire in his Pro Day session. 
While some of the quarterbacks saw their play dip in 7-on-7, Brown continued to show well and was among the best in that setting. Brown's throws cut through the air – he spins the ball very well on a throw-to-throw basis with little wobble. He also showed some ball-handling and footwork skills while operating from under center.
Brown is set to play his senior season at one of Utah's top high school programs, Corner Canyon. We'll be looking forward to tracking his progress throughout the fall. 
Here's how we would rank the next ten Elite 11 Finalists.
2. Drew Allar, Penn State
We came away feeling that Drew Allar has the best natural arm talent at the Elite 11 Finals. The Ohio native was throwing easy heat with no strain during the Day 1 workout. He effortlessly drives the ball downfield with consistency but also showed the ability to change speed and layer his throws.
On Day 2 the Nittany Lion pledge had one of the better showings in the Pro Day portion of the event. The velocity on his throws being evident from our press box view. He had a rougher Day 3, struggling with conditioning a bit and didn't see a ton of first-team reps in 7-on-7. Allar has a pliable, dexterous arm and can deliver from multiple arm slots. He will need to work to optimize his conditioning and maximize his athleticism, but the natural tools were readily apparent when throwing head-to-head with the nation's best.
3. Quinn Ewers, Ohio State
It took Quinn Ewers a bit to get going on Day 1, he but showed what makes him perhaps the top quarterback in the 2022 cycle. He has the unique ability to locate the football. Ewers' accuracy is special both within the context of a live game and in a camp setting. This applies even when he isn't throwing to familiar targets. Ewers is able to auto-adjust to his receivers with an innate ability to read their speed and deliver passes in stride.
On Day 2, Ewers was among the better showings during the Pro Day portion, getting hot towards the end. We charted Ewers as on target for his last 12 passes. He had an up-and-down 3rd and 4th days of 7-on-7 play with some highlight deep passes and some decisions he'd want back.
It's also worth noting that Ewers may have hit a bit of a physical plateau. He's added some weight over the past year and is still not back to his prior athletic form after having surgery to correct a hernia during the 2020 season. Ewers came into the Elite 11 Finals with lofty and perhaps unreasonable expectations. Despite that, he still turned in one of the better showings over the week.
4. Conner Weigman, Texas A&M
Conner Weigman finished Day 1 of the Elite 11 Finals on a high note, winning the Cover 2 Hole Shot challenge. The two-sport standout delivered several high-difficulty passes with proper trajectory and good velocity. He had a bit of an up-and-down day prior to the finale. This isn't really Weigman's ideal setting – he's more of a live 11-on-11 player at this point. It's apparent that he has a few mechanical areas to improve. He plays on his toes at times and would generate more force in his throws by keeping his cleats in the ground throughout the throwing motion.
Despite that, the Houston area product had a strong overall showing and got better as the week progressed. Weigman heated up on the final day of the event, nearly leading a comeback in the 7-on-7 tournament's championship game. He made several tight-window throws, showing strong anticipation and processing skills. We didn't get an even snapshot of all quarterbacks in 7-on-7 as games took plays on two fields concurrently. From the snapshot we saw, Weigman appeared to process and get the ball out the best of the finalists.
5. Cade Klubnik, Clemson
Cade Klubnik is a strong athlete and was at his best when throwing on the run during Day 1 of the Elite 11 Finals. He had a number of nice throws while rolling out to his right and throws a catchable ball. Klubnik also has a vibrant personality and energy level that was evident throughout the course of the week. While his pure arm talent is not among the top group of the Elite 11 finalists, Klubnik was accurate and steady on a day-to-day basis. Klubnik Walker Howard led their 7-on-7 team to the tournament title on Saturday. At the tournament's conclusion, Klubnik was named MVP of the event by the Elite 11 counselors, which combines on and off-field performance from the week.
6. Walker Howard, LSU
Walker Howard was a standout in the Cover 2 Hole Shot competition portion at the end of the first day of the Elite 11 Finals. He consistently delivering what we felt were several of the best throws of that session. His ability to throw with proper trajectory and velocity stood out in the competition. Howard has some spring in his movements and displayed an above-average arm. He doesn't have one of the quicker releases on hand and does tend to roll the ball off his palm at times.
Howard was a bit over-amped to start his Pro Day session, causing him to miss high on a few throws but settled in and finished off hot, connecting on a number of nice passes. Howard checked down often on the first day of 7-on-7 play but let it rip a little more on the final day of action, leading multiple touchdown drives. On the final day, Howard helped his team win the 7-on-7 tournament.
7. Katin Houser, Michigan State
Katin Houser entered as one of the less-heralded finalists but showed he belongs on this stage. The St. John Bosco product was steady over the course of the week. He was among the more accurate passers on a day-to-day basis. Houser throws a catchable ball and is at his best when operating in a rhythm. The Spartan pledge won't blow you away with his velocity, but the ball comes out of his hand cleanly. He wasn't quite as good throwing on the run as operating with structure. Overall, it was a "stock up" showing for Houser.
8. AJ Duffy, Florida State
AJ Duffy throws an easy, catchable ball and was able to deliver with accuracy to the short and intermediate levels. He doesn't have one of the stronger arms among the finalists. However, Duffy did have his moments on some vertical shots including a strong throw in the Hole Shot competition.
The Seminole commit also showed off an advanced feel for live action during 7-on-7 play. He made easy work of the opposing defenses in games we watched. Several others struggled with the presence of defensive backs, but Duffy had no issues going through his reads and getting the ball out in a timely, consistent manner.
9. Ty Simpson, Alabama
Ty Simpson turned in a solid first session at the Elite 11 Finals. This would be a theme for his overall week. Simpson showed good accuracy and above-average arm strength, even if he didn't have the "wow" moments of some others. If the Alabama commit stood out in any category, it was with his movement. Simpson had some of the best footwork, showing the ability to get depth and explode out of his drops.
10. Nick Evers, Florida
For our money, Nick Evers had the quickest release at the Elite 11 Finals. The ball comes out very fast and there are no wasted movements within the throwing motion. Evers was outstanding throwing on the run both to his left and right in designed scramble drills. He showed the ability to quickly plant and fire a strike. Evers was solid on Day 2 during his Pro Day session but took a bit of a step back in 7-on-7 play with defensive backs added to the equation.
11. Nate Johnson, Utah
Nate Johnson showed he's more than just the best athlete at the Elite 11 Finals. The central California product has a concise throwing motion and showed some explosive qualities as a passer. He's fairly sound mechanically and is able to generate torque and velocity. While he was not the most accurate passer on hand, Johnson was also far from errant. It's worth noting he's only started a handful of games at the varsity level due to a shortened spring season in 2021. The physical tools more than stack up with the best in the nation and point to a high upside.