Elite '24 prospect Jason Asemota has Oregon, Kansas, Duke talking early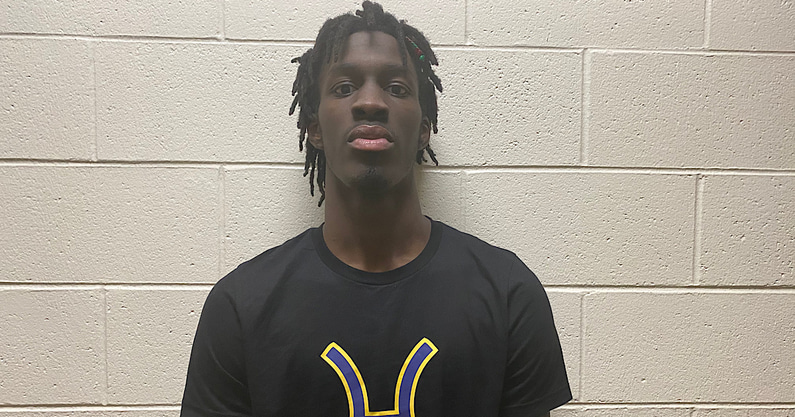 Jason Asemota is trending as one of the nation's top prospects in the 2024 class. The Phoenix (AZ) Hillcrest Prep sophomore showed exactly why as he averaged over 20 points per game in the recent Top Gun Shootout.
"My calling card is my shooting, on kick-outs and off the dribble," Asemota told On3 after a showcase win. "I am really confident in my shot. I have gotten better at getting to the rim or using my one-dribble pull-up. My handle is starting to become a strength, and at 6-foot-8, pushing 6-foot-9 is becoming a real threat for me. I watch a lot of Khris Middleton, his ability off the dribble and his silky-smooth way to get to the basket, and I try to model my game after him."
With consistent big performances, college programs have prioritized the 6-foot-8 wing. On3 caught up with Jason Asemota at the Top Gun Showcase and talked about who was prioritizing him.
"We are hearing a lot from Kansas and Oregon and a little bit from Duke," Asemota said. "Duke hasn't offered yet, but they have been picking it up lately."
Asemota talks recruiting
Kansas: "They are a winning program. They have been winning championships for the past forty years. I like to win, get out on the floor, and have fun. I feel like I could really stretch the floor at Kansas, shoot the ball, get to the rim, and just win."
Oregon: "Coach (Mike) Mennenga was one of the first coaches to come and watch me in practice. He liked how well I shot the ball. This year, they didn't have the greatest season, but everyone on their team can shoot the ball. I feel like their style and system would be a good fit for me."
Duke: "They want me to take a visit at some point after the tournament. Jon Scheyer tells us I can come in and make an impact."
Asemota's take
"My parents are from Nigeria, so I am first generation American," Asemota said. "They came over here to give me a better life, and I feel like I am doing the best job I can. I'm from the New England area, so I grew up watching UConn and Boston College. I talk to them both a good bit.
"I'll be looking for a place I can call home. A place that will be hard on me; they want me to be great just like I want to be great. When I visit, I will see if it is a great energy and the academics line up, and how the atmosphere is if the fans pop out every single game to support their team. To know the school loves basketball just as much as I do would be the best fit for me."
On3's take
Jason Asemota is trending as one of the top prospects in the 2024 class. The 6-foot-8 wing has beautiful form on his jump shot with a smooth release and confidence off the catch or the bounce. Asemota has improved putting the ball on the floor, and while he can still get into some off-balanced shots, the confidence is improving. He is a good athlete and can do some things in transition. Asemota has a good wing handle two and three dribbles. We would like to see him get things tighter in the half-court and with his reads. His on-court play suggests his recruitment should reach the highest level.