Five Biggest Stock Risers from The Premier Health Flyin' to the Hoop Invitational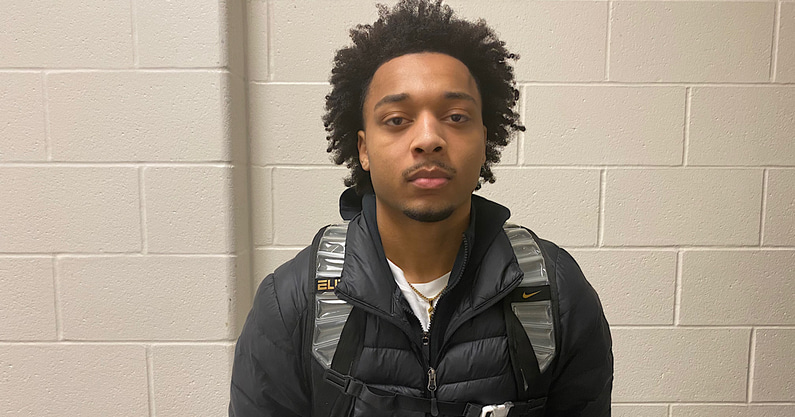 DAYTON, OHIO – The Premier Health Flyin' to the Hoop Invitational never disappoints. There was a great mixture of top national talent pairing off against some of the best players Ohio has to offer. 
Six inches of snow on the ground did not stop Trent Arena from selling out. There was an electric buzz throughout the building, all four days. 
On3's Jamie Shaw was on hand for the action, and here are the five biggest stock risers from the event. 
When Sharavjamts committed to Dayton in December, many were unaware of who he was. This summer, the 6-foot-7 wing at Willoughby (Ohio) ISA Academy played with the Midwest Basketball Club on Adidas' 3SSB circuit. 
Playing here, in the city where he will play his college ball, there was a buzz surrounding the Mongolian native. Sharavjamts did not disappoint onlookers as he averaged 17.5 points, shooting 57-percent from the field in his two games at Flyin' to the Hoop. 
In a 74-71 win over Shaker Heights (Ohio) High, Sharajamts displayed many of the skills that piqued Anthony Grant's interest. He was great in the pick and roll, making correct reads with what the defense gave him. Sharavjamts was comfortable with the pull-up jumper and was precise with his passing. He is a high-level athlete, a competitive defender, and a high-IQ playmaker. As he continues to add weight at Dayton, things could take off for him. Sharavjamts will be in the conversation to enter the rankings during the next update.
Recruitment: Sharavjamts is committed to Dayton
Will Maxwell
Maxwell picked up some low-major buzz coming off a good summer with the All-Ohio 15u team. The 6-foot-4 shooting guard from Dayton (Ohio) Oakwood High has a good frame with legit positional size, and watching him go through warm-ups, he carried some intrigue. 
The game started, and the switch turned on. Maxwell played with a toughness and a confidence that had him talking from start to finish. He was active on defense, crashed the boards on both ends, and wanted the ball on offense. 
Maxwell was an aggressive off-ball cutter, more than just a spot shooter – and yes, he was precise with that. He was good off two dribbles and showed good vertical pop when allowed to rise above the rim. With minimal expectations coming in, Maxwell should see a rise in recruitment moving forward. 
Recruitment: Carries offers from Akron, Toledo, Kent State, Ohio, and Radford. Davidson and Lipscomb have recently been in contact. 
Something is appealing about watching a player who simply plays the game the right way. Royal, a 6-foot-6 junior, falls into this category. There is nothing flashy about his game, but his production is off the charts. 
With long arms and broad, high set shoulders, the Pickerington (Ohio) Central High junior operated best out of the high post. He was a mismatch when he faced up, able to dribble, shoot, or pass. Royal finished with 27 points, making 13 of 14 free throws in his Flyin' to the Hoop performance. 
Royal will be in the conversation when we update our 2023 class rankings. 
Recruitment: Royal carries over 15 D-1 offers. He has taken two early official visits to Iowa State and Marquette. 
Rich Rolf
Rolf used its most significant stage to give us the event's top performance. In front of a sold-out crowd, in a top 25 matchup against Los Angeles (Calif.) So Cal Academy, Rolf exploded for 29 points, 12 rebounds (seven offensive), and four assists as he went 7 of 10 from three. 
Rolf is a high motor, mismatch four-man. He scored Centerville (Ohio) High's first 16 points in this game with a soft touch from beyond the arc with outstanding balance and a quick release off the catch. Centerville also did an excellent job of using Rolf as a secondary initiator. He was trusted to grab-and-go when the opportunity was there, and he lined up in the mid and high post to have some actions run off him. 
Rolf capped off his evening with a huge dunk that put an emphatic stamp on his performance. He recently de-committed from Drexel to go to a higher level and bet on himself. With this performance at Flyin' to the Hoop, his gamble will be taken seriously. 
Recruitment: Rolf recently de-committed from Drexel
Green has the unenviable task of directing traffic for one of the best teams in high school basketball. With that comes keeping a roster full of five-stars happy with their touches. The 5-foot-10 point guard at Brandon (Mo.) Link Academy has adapted well to this role, and then some. 
Green plays with toughness; it simply exudes from him on the floor. He is a good athlete and plays with a lot of pop. The junior's game has developed the most in his ability to run a team. Green has always been a noted scorer, able to manufacture clean looks off the bounce, but his transfer to Link Academy has shown he can run a team at the highest level and do so efficiently and effectively. 
Green's two wins at Flyin' to the Hoop moved his team to a 24-0 record on the season. He averaged 14 points, on 57.1-percent from three, with eight assists to two turnovers in Dayton. He will be in the conversation to enter the 2023 rankings when we update.
Recruitment: Green has taken an early official visit to Nebraska. He carries offers from Cincinnati, Virginia Tech, Boston College, UMass, Wichita State, Clemson, South Florida, and others.