Five-Star DL Daevin Hobbs narrows list, sets commitment date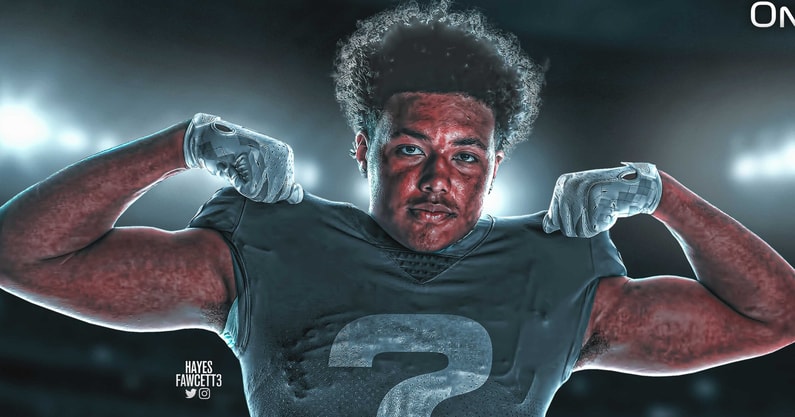 Five-star defensive lineman Daevin Hobbs of Concord (NC) Jay M Robinson High is down to six schools- Alabama, Georgia, Tennessee, Ohio State, Michigan, and North Carolina.
The 6-foot-4, 270 pounder will announce his college decision on November 25.
He quickly discussed his finalists with On3.
Alabama 
"They have one of the most known winning brands in all of college football."
Georgia
"They are arguably the most dominant team in college football this year." 
Tennessee
"They are moving the direction of their program around into a new and good direction." 
Ohio State
"They have a winning program that's doing good and winning."
Michigan
"I like the way they use their defensive ends in their schemes." 
North Carolina
"They are the in-state team, so I would be able to represent North Carolina on the highest level."
Daevin Hobbs Scouting Summary 
"Nimble jumbo athlete who makes big plays as a tight end and defensive end, likely projecting along the defensive line long-term," On3's Director of Scouting Charles Power wrote. "Has good size, measuring at 6-foot-4.5 and in the 250-pound range with a wing-span close to 6-foot-10. Shows dominant tendencies as a two-way star at the high school level. Finished with 20 tackles for loss and 8 sacks as a junior. Moves well at his size. Shows the athleticism to run down plays in pursuit. Has the closing speed to finish plays behind the line with authority. A big threat down the seam at tight end and is talented enough to play on offense in college. Extends and elevates to come down with grabs over the middle of the field. A long-strider in the open field with speed to score on long receptions."
"A very good high school basketball player who was the MVP of a state title team as a junior. Throws down emphatic dunks in transition. Unrefined technically as a defensive lineman and should see improvement on that front once he focuses on the position at the next level. May need to adjust to the level of competition coming from a lower classification in high school."
Hobbs ranks as the No. 80 player in the On3 Consensus, a complete and equally weighted industry-generated average that accounts for all four major recruiting sites. He also tabs in as the No. 8 defensive lineman and the No. 2 player in the state of North Carolina.