Senior season evaluations lead to updated On300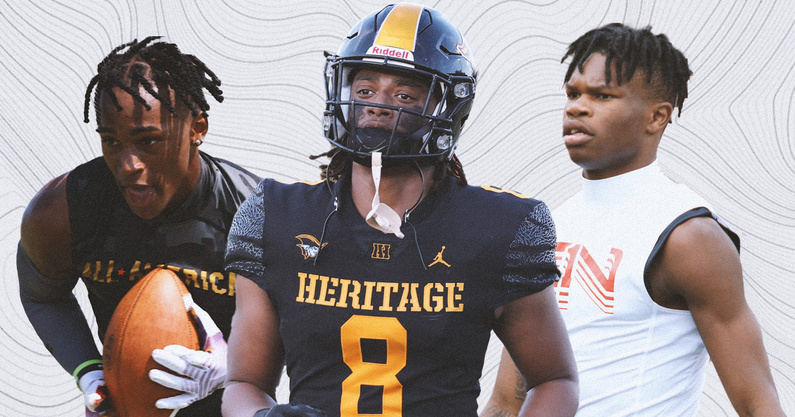 On3 has updated its football prospect rankings for the 2022 cycle. This rankings release marks the penultimate update and is heavily informed by senior season evaluations.
We heavily prioritize the senior season in our evaluation process as it has proven to be among the more predictive evaluation points over the course of a high school prospect's development. Prospects are in the playoffs or have already finished their season. We've had ample evaluation opportunities this fall as attention turns to playoffs and the upcoming all-star circuit.
Our goal is to assess a prospect's long-term potential in college football, as manifested by the NFL Draft. We now have 24 prospects rated as five-stars and will finish with 32 five-stars every cycle. 
Let's get into some of the storylines surrounding this update.
Race for No. 1 remains murky
The race for the No. 1 spot is as muddied as any we can recall, particularly for this late in the cycle. Several top prospects have turned in strong seasons, but nobody, especially at a premium position (quarterback, EDGE, offensive tackle) has made an emphatic case. All-star game showings, particularly all-star practices, may prove to be a deciding factor.
For now, our top three of EDGE Marvin Jones Jr. (No. 1) , Florida State athlete commit Travis Hunter (No. 2) and Oklahoma defensive line commit Gabriel Brownlow-Dindy (No. 3) remains unchanged.
Georgia defensive line commit Mykel Williams moves up one spot to No. 4. The 6-foot-5, 265-pounder continues to be one of the more productive big men in the cycle, with 20.5 tackles for loss and 12.5 sacks entering last week's game. Williams' combines that production with an outstanding frame and high-level coordination.
Uncommitted defensive lineman Shemar Stewart moves up to No. 5 from No. 11. The Opa Locka (Fla.) Monsignor Pace product has long been considered one of the top few prospects in the cycle, dating back to his freshman year. Stewart missed much of his junior season with an injury but has returned to form as a senior. The 6-foot-5, 270-pounder is a highly explosive presence off the edge and along the defensive front. He makes 'wow' plays at a high rate, with some eye-popping closing speed. Texas A&M and Georgia are in the mix for Stewart, who visited nearby Miami this weekend.
New Five-stars
This update adds four new five-star prospects, bringing the total to 24. We will finish with 32 total five-stars in each cycle.
Penn State quarterback commit Drew Allar adds a fifth star and moves up ten spots to No. 11. The Medina (Ohio) High product had a stellar senior season and remains the top-ranked quarterback.
Clemson cornerback commit Toriano Pride moves into the top 20, checking in at No. 14. Pride is now the third-ranked cornerback in what is a loaded crop at the position nationally. The 5-foot-11, 185-pounder has assembled some impressive senior video and has been a standout in some showcase games this fall.

Oregon offensive tackle commit Kelvin Banks adds his fifth star. He checks in at No. 19 overall and as the No. 2 offensive tackle. The Humble (Texas) Summer Creek product has shown some progression as a senior and impressed against top competition in both in-person and video evaluations. Banks is playing with a greater degree of physicality this fall.

Penn State running back commit Nick Singleton has distanced himself as the top running back in the cycle this fall and checks in at No. 20. The 6-foot, 210-pounder is having a dominant fall campaign for Reading (Pa.) Governor Mifflin.
Click here for a more in-depth breakdown of the new five-stars.
Breaking down the quarterbacks
There is some movement within the quarterback rankings behind Drew Allar.
Devin Brown moves up to No. 27 and is now the second-ranked quarterback after Allar. The 6-foot-3, 210-pounder wrapped up his senior season at Draper (Utah) Corner Canyon on Friday in a heart-breaking loss in the state title game. Brown transferred to Corner Canyon from the Phoenix area and thrived as a senior, building on a strong offseason. The USC commit broke the Utah single season passing yardage. He finished with 4,881 passing yards and 57 touchdowns with 14 interceptions. Brown hit a ton of high-difficulty downfield throws and averaged a gaudy 13.1 yards per attempt. He also showed some mobility, rushing for 430 yards and eight more scores.
Brown's recruitment remains up in the air despite his pledge to USC, who is without a permanent head coach. He's taken official visits to Ole Miss, Texas and was at Ohio State this weekend.

Alabama commit Ty Simpson is another quarterback who is enjoying a strong senior year. Simpson jumps up to the No. 32 spot, ranking as the No. 3 quarterback. Simpson is making improvisational, second-reaction plays at a high-rate while maintaining efficiency and taking care of the ball. The Crimson Tide pledge has led his Martin (Tenn.) Westview team to a 13-1 record and state semi-final appearance this weekend. Simpson has completed 65.6 percent of his passes for 37 touchdowns to just two interceptions. He's also proven to be one of the bigger run threats among his peers, rushing for 770 yards and 11 touchdowns.

Clemson commit Cade Klubnik sits a few spots behind Simpson at No. 35. Klubnik is earlier in his season than some others, as it's likely he and his powerhouse Austin Westlake squad will make another run to the state title. Klubnik missed a few games with an injured shoulder. We'll be watching him throughout the playoffs, especially as the competition level increases.

The biggest mover among the quarterbacks is Purdue commit Brady Allen, who rises from a four-star outside the On300 to No. 125. The 6-foot-4, 205-pounder has had a phenomenal season, completing over 70 percent of his passes for 3,855 yards and 53 touchdowns to just three interceptions. Allen has led his Fort Branch (Ind.) Southern Gibson team to this week's state championship game. The Boilermaker pledge is a big-armed passer who has continued to improve mechanically over the past year.
team in state final
Commit leaderboard
Many of college football's elite programs are unsurprisingly represented in the On300.
Georgia leads the way with 17 commitments within the On300. The Bulldogs were tied with Alabama at 16 until they landed top 50 cornerback Jaheim Singletary on Sunday. Notre Dame is third behind the SEC powers with 13 commitments in the On300. Clemson and Ohio State are tied for fourth with 11 commitments each. Texas A&M and Penn State round out programs with double-digit On300 commits with 10 apiece.
Click here for On3 Consensus Football Team Recruiting Rankings
New entrants into the On300
This update borders on an overhaul, particularly on the back end of the On300. We attribute much of this to an inordinate number of senior risers – likely in part due to disjointed junior seasons as a result of COVID-19 scheduling.
Forty prospects make their debut within the On300.
No. 91 OT Nikolas Hall, Austin (Texas) Akins- Kentucky commit
No. 120 OT Izaiah Reed, Jackson (Tenn.) North Side- Louisville commit
No. 125 QB Brady Allen, Fort Branch (Ind.) Gibson Southern- Purdue commit
No. 129 DT Kenneth Grant, Merrillville (Ind.) – Michigan commit
No. 154 LB Jimmy Rolder, Chicago Marist- Michigan commit
No. 160 WR Kaleb Webb, Powder Springs (Ga.) McEachern- East Carolina commit
No. 174 IOL Jacob Sexton, Edmond (Okla.) Deer Creek- Oklahoma commit
No. 183 DL Jamari Lyons, Melbourne (Fla.) Viera- Florida commit
No. 190 RB Justin Williams, Dallas (Ga.) East Paulding
No. 192 TE Cody Mladenka, The Woodlands (Texas) College Park- Baylor commit
No. 200 RB Kaytron Allen, Norfolk (Va.) IMG Academy- Penn State commit
No. 203 WR Wesley Grimes, Raleigh (N.C) Millbrook- Wake Forest commit
No. 206 LB Nick Emmanwori, Irmo (S.C.) High- South Carolina commit
No. 210 IOL Jacarrius Peak, Valdosta (Ga.) High
No. 211 TE Tommy McIntosh, Dewitt (Mich.) High- Wisconsin commit
No. 215 WR Justius Lowe, Lake Oswego (Ore.) High
No. 218 WR Germie Bernard, Henderson (Nev.) Liberty- Washington commit
No. 221 CB Khamari Terrell, Killeen (Texas) Shoemaker
No. 225 RB Kaleb Johnson, Hamilton (Ohio) High- Iowa commit
No. 229 TE Chris Petrucci, Park Ridge (Ill.) Maine South- Northwestern commit
No. 232 RB Ashton Jeanty, Frisco (Texas) Lone Star- Boise State commit
No. 245 DL Deone Walker, Detroit Cass Tech
No. 252 EDGE Kenny Fletcher, Delran (N.J) High- Rutgers commit
No. 254 TE C.J. Hawkins, Tampa Berkeley Prep- Stanford commit
No. 255 DL Chase Carter, Minneapolis (Minn.) Minnehana Academy- Michigan State commit
No. 261 RB Maurice Edwards, Gurnee (Ill.) Warren Township- Vanderbilt commit
No. 262 EDGE R. Mason Thomas, Fort Lauderdale (Fla.) Cardinal Gibbons- Iowa State commit
No. 269 CB Kody Jones, Germantown (Tenn.) High- Michigan commit
No. 274 LB DeAunte Hunter, Valdosta (Ga.) Lowndes
No. 278 OT Cameron Williams, Duncanville (Texas) High- Oregon commit
No. 279 LB Alex Afari, West Chester (Ohio) Lakota West- Kentucky commit
No. 280 S KJ Winston, Hyattsville (Md.) DeMatha Catholic- Penn State commit
No. 281 DL Joe Strickland, Indianapolis (Ind.) Brebeuf Jesuit- Purdue commit
No. 282 LB Devon Jackson, Omaha (Neb.) Burke- Oregon commit
No. 283 WR Antonio Gates Jr., Dearborn (Mich.) Fordson- Michigan State commit
No. 284 EDGE Avery Sledge, Brooklyn (Miss.) Forrest County Agricultural- Tulane commit
No. 286 WR Shaleak Knotts, Monroe (N.C.)- Maryland commit
No. 288 De'Nylon Morrisette, Kennesaw (Ga.) North Cobb- Georgia commit
No. 290 IOL Drew Bobo, Auburn (Ala.) High- Auburn commit
No. 292 TE Jake Taylor, Raleigh (N.C.) Cardinal Gibbons- Duke commit