Jim Mora takes shot at USC QB, defends USC decision on Clay Helton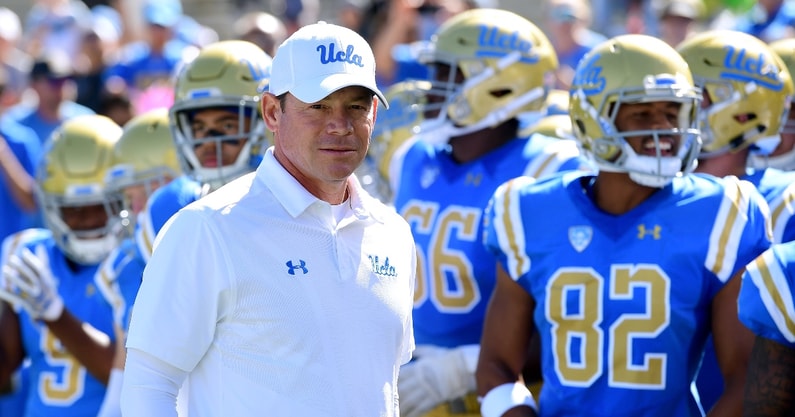 Former UCLA head coach Jim Mora sounded off on USC's decision to fire Clay Helton just two games into the 2021 season.
"As much as I love Clay, I think they (USC) made the right decision," Mora told Mark Packer on ESPNU Radio. "They need to give the fanbase hope, they need to find someone new to stand in front of those players and give them hope and inspire them. It gives them a chance to really take their time in their search."
Mora expanded, potentially citing personal experience from the end of his time at UCLA.
"I think sometimes there's a negative vibe that starts to permeate a fan base, maybe a team, the media as they're reporting on you," Mora said. "And I think we all felt that creeping in and more than anyone Clay knew the pressure was on."
Jim Mora described USC's performance in the Trojans' 48-28 loss to Stanford on Saturday as uninspired and undisciplined.
The former UCLA head coach also took a shot at USC starting quarterback Kedon Slovis.
"While I like Kedon Slovis, I think, and I've said this for two years now, I think he's overrated," Mora said. "I think he's a good quarterback but I don't think he's a difference-making quarterback."
Slovis has thrown for 479 yards and three touchdowns to one interception in USC's first two games, averaging a 65.4 completion percentage.
USC fired Helton on Monday
USC announced Monday night that Helton has been let go and will not finish his seventh season at the helm of the program. Athletic director Mike Bohn has tabbed Donte Williams as interim head coach.
The dismissal comes just days after Stanford walked into the Coliseum and handed USC a 48-28 loss. Helton finished with a 46-24 record at USC, but over the Trojans are 19-15 since 2018 and have not won the Pac-12 since 2017. 
Jim Mora history at UCLA, against USC
Jim Mora coached at UCLA from 2012-2017, posting a 46-30 record in six seasons. Mora led UCLA to four bowl game appearances, with wins in the Sun Bowl and the Alamo Bowl. Against crosstown rivals USC, Mora won his first three games against the Trojans but dropped the final three
Prior to his time at UCLA, Mora coached the Atlanta Falcons from 2004-2006, and spent one year as the head coach of the Seattle Seahawks in 2009.
Mora is currently an analyst for Sports Illustrated.