Four-Star OT Chase Bisontis names top 5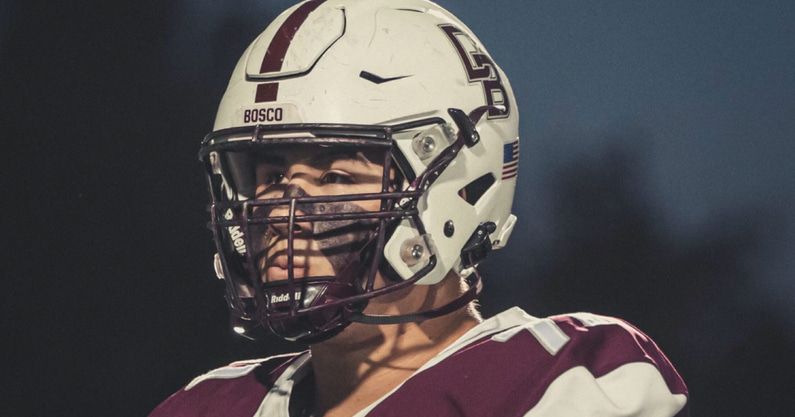 Four-star offensive tackle Chase Bisontis of Ramsey (NJ) Don Bosco Prep has narrowed his list to five schools—Texas A&M, Rutgers, LSU, Michigan State, and Georgia.
The 6-foot-5, 305 pounder went in-depth on his finalists.
Texas A&M
"I am interested in Texas A&M  because of my relationship with Coach Addazio," Bisontis said. "We've built a strong relationship recently. I believe their program is headed in the right direction. Texas A&M is the only school I am interested in that I have not visited yet, I plan on getting down there. That visit will have a huge impact on where I will stand with them."
Rutgers
"I've been recruited by coach Schiano and the staff for a long time now," Bisontis said. "Visiting Rutgers six times now, and all were great experiences. I've built very strong relationships there across the whole staff. Rutgers feels like home. I have a bunch of friends and former teammates currently on the Rutgers roster. Rutgers is only 45 mins away from me as well. I believe that Rutgers will soon be a top program and to go there and help that happen would be awesome."
LSU
"I am interested in LSU because of my relationships with Coach Kelly, and Coach Davis," Bisontis said. "I had an awesome visit in April. And I believe LSU is a great fit for me if I choose to be a tiger."
Michigan State
"I had a great visit earlier this year in March," Bisontis said. "I've built strong relationships with coach Tucker and coach Kapp since then. I believe MSU is working towards being one of the best teams in the Big10 very soon. I also have my former teammate Jalen Berger on the roster right now, and after talking with him I feel I could fit in perfectly at MSU."
Georgia
"I am interested in Georgia because of my relationship with coach Smart and coach Searels," Bisontis said. "I had an amazing visit in April, which really helped me sit down and connect with the staff, especially coach Searels. Coach Searels is known for producing offensive lineman, and Georgia is known as a winning program. To win a national championship in college would be a dream come true. I believe they will compete for another one."
Chase Bisontis ranks as the No. 52 player in the On3 Consensus, a complete and equally weighted industry-generated average that accounts for all four major recruiting sites. He also tabs in as the No. 5 offensive tackle and the top player in the state of New Jersey.