Four-star wing Brady Dunlap down to five schools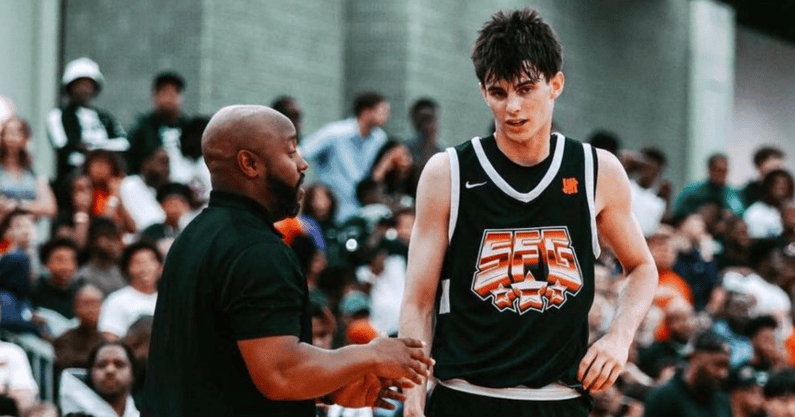 Brady Dunlap, a four-star small forward in the class of 2023, tells On3 he's down to five schools: Nebraska, North Carolina, Penn State, St. John's, and Villanova.
The 6-foot-7 senior out of Studio City (Calif.) Harvard-Westlake was previously signed with Notre Dame but reopened his recruitment after head coach Mike Brey stepped down.
Dunlap, the No. 86 overall prospect in the country per On3, discussed each of his finalists with On3.
Dunlap discusses his finalists
Nebraska: "Coach Hoiberg and Coach Ziegler along with the rest of the staff have been terrific with me. They've been around since my first commitment and have a plan of how they will use me in their offense. I believe in coach Hoiberg and I am excited to get up there this weekend and check out the campus."
North Carolina: "Coach Davis reached out to me and offered me a scholarship after a great talk over the phone. He and the staff have watched a lot of film on me and know my game well. Growing up in North Carolina I know all about the history of the program and it is very intriguing. April 30 visit date."
Penn State: "Coach Rhoades has been great. He has worked very hard and has made an impression on me and my family. The whole staff seems to be a family along with the a winning culture. The school itself is very enticing with the history of athletic success. I can't wait to visit."
St. John's: "Coach Massielo and I have bonded over the phone after they came to see me workout a couple weeks ago. I got on the phone with Coach Pitino and he offered me a scholarship. St. John's has a rich basketball history as well as coach Pitino. He is a winner and that's what I want to do. I'm looking forward to the 22nd for a visit."
Villanova: "Coach Neptune has been great with me. He is a big relationship coach. Villanova has had a tremendous amount of success in the last 10 years and their culture is great. I have even gotten fan love from their fan base that track recruiting which has been very cool. I'm hoping to get up there and check things out late April, early May."
Scouting Report
"Brady Dunlap is a shooter and a scorer. He has great positional size and range that extends well beyond the 3 point arc. He can shoot well off the bounce, most of which is stepping into a 3. His handle needs to develop more, but he's ok off 2 dribbles. He's really confidence from the elbows. He needs strength. Where does he guard? He's one that if he gets going can ring off a lot of points in a row." – On3's Jamie Shaw