Ohio State vs. Oregon dominate weekend TV ratings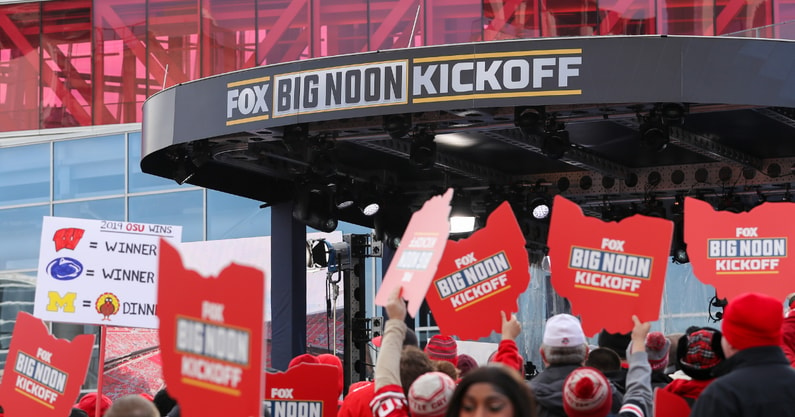 Saturday's Oregon vs. Ohio State matchup gave everything a national televised game needs. With two teams ranked in the top-15 that each have passionate fanbases, the ratings were going to be strong. But add in a huge upset, FOX arguably had the best game of the day and it showed in the ratings.
Per a FOX Sports public relations tweet, the Big Noon Saturday game was the top-rated event of the day across all networks with a 4.8/16 overnight rating, according to Nielsen Media Research. And in the Columbus TV market, it scored a 35.5/74 overnight rating.
No. 12 Oregon knocked off No. 3 Ohio State 35-28, shocking an Ohio Stadium of 100,482. The win marks the Ducks' first ever win against the Buckeyes and a huge statement for the Pac-12. Knocking off the reigning Big Ten champions and expected College Football Playoff participant, Oregon announced to the nation it should be considered in this year's edition of the playoff.
Ryan Day asked about controversial no-call in Ohio State loss to Oregon
Ryan Day saw targeting on the no-call late in the fourth quarter of Saturday's Ohio State vs. Oregon game. While Day thought Oregon linebacker Noah Sewell used the crown of his helmet to tackle Ohio State wide receiver Chris Olave, the officials on the field did not. 
The no-call forced the Buckeyes to punt on 4th-and-18, opposed to what would have been a gain of 15 yards. Unlike the officials in the booth who could have had the play reviewed for targeting, Day was forced to have his Buckeyes focus for fourth down. 
"I was told that it was reviewed and they made the decision that he turned his head right before," Day said in his postgame press conference. "Because it did look like [targeting] to me, but they saw it in slow motion upstairs and I didn't."
The no-call was one of a handful of plays that made the difference. Oregon running back C.J. Verdell had 195 rushing/receiving yards and three touchdowns, including a 77-yard touchdown run early in the second half.
Ducks quarterback Anthony Brown had a solid day, too, proving to be a reliable game manager. He was only 17-of-35 for 236 yards and two touchdowns. But he ran for 65 yards, and never made a costly mistake.