George Kliavkoff updates the Pac-12's status on new Grant of Rights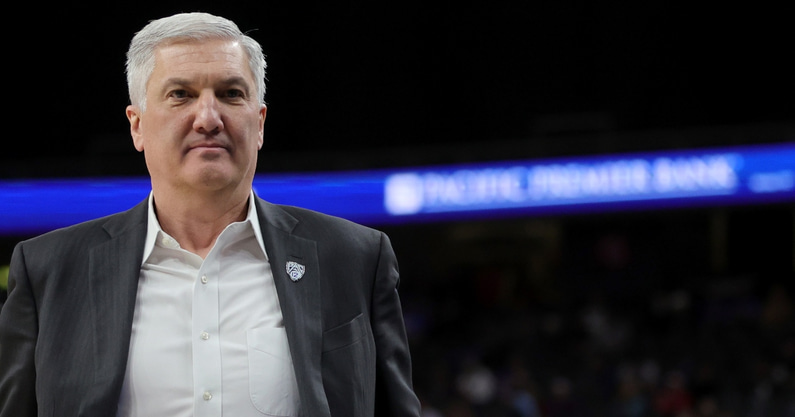 George Kliavkoff took over as the commissioner of the PAC-12 right before the sport went into turmoil with things like conference realignment and NIL changing the structure of the sport. Then, in the Summer of 2021, conference realignment came home and hurt the PAC-12. USC and UCLA announced they were leaving for the Big Ten.
Almost immediately afterward, rumors began to swirl about the future of the PAC-12. Oregon, reportedly, met with the Big Ten. Washington was also rumored as a potential school that could leave. Meanwhile, several others have been rumored as potential Big 12 expansion candidates. New Big 12 commissioner Brett Yormark said the conference is "open for business," to which George Kliavkoff replied, "We have not decided whether we're going shopping there or not."
"The tampering continues. … I have a big collection of those messages," George Kliavkoff told Brandon Marcello.
CLICK HERE to subscribe for FREE to the On3 YouTube channel
Ultimately, the PAC-12 decided to start renegotiating its media deal early. This came after the conference lost two of its marquee members, in large part, over the previous media deal. The new Big Ten media deal will payout $72 million per school, more than double what the PAC-12 does.
So, by opening negotiations early, the conference could fend off suitors for other schools. Hypothetically, they'll want to see what they can get by staying put first. About a month later, the Big 12 also entered early negotiations.
George Kliavkoff wants a Grant of Rights
A key part of the new media deal that George Kliavkoff wants to include is a Grant of Rights. This is something that many people wonder if the remaining PAC-12 schools would be willing to sign, but Kliavkoff is confident about.
"I think the 10 schools will sign a Grant of Rights agreement if we put the right agreement in front of them, which is why we're spending so much time focused on getting an agreement that will allow all of our schools not just to compete but to thrive," George Kliavkoff told The Athletic.
Essentially, a Grant of Rights is a clause or agreement in a media contract that transfers their media rights to the contract for a set period of time. That means that the conference would own any televised event on campus for the length of the contract. It kills the financial benefit of leaving one conference for another.
The ACC, now infamously, has a Grant of Rights that locks its programs financially into a bad media agreement until 2036. USC and UCLA are set to enter the Big Ten in 2024 because that's when the current PAC-12 Grant of Rights expires.