What we can take away from Clemson-Georgia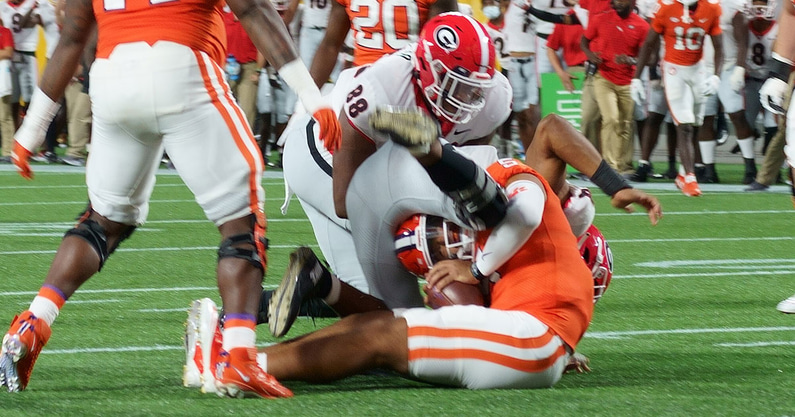 Saturday night's matchup between No. 3 Clemson and No. 5 Georgia was the rare Week One game with potential playoff implications. Played in Charlotte, the game was a low-scoring slobberknocker, with Georgia winning 10-3. The victory gives Georgia what should be among the more impressive wins in college football this season.
We tend to overreact to opening weekend results every season. A look back at past instant takeaways reveals the importance of sample size and the possibility of both improvement and regression.
That said, seeing elite programs such as Clemson and Georgia face off early in the season provides us with a litmus test for where they currently stand. We often don't see weaknesses exposed in playoff-tier teams until they face each other.
Saturday's game was stylistically different than most recent playoff or championship games. There were no offensive touchdowns. Clemson averaged a mere 3.0 yards per play. Georgia didn't do too much better with 4.2 yards per play. This was an old-school, hard-hitting, defensive struggle decided by small margins.
With the dust settled, what can we ultimately take away from this big game?
Clemson's new OL vs. Georgia's deep DL
This was a game that was played and ultimately won in the trenches. Casual observers could see Georgia's defensive line swarming Clemson quarterback D.J. Uiagalelei. He never looked comfortable and was sacked seven times. With sacks figured in, Clemson had 2 rushing yards.
This game reminded me of another early-season game involving Clemson – the Tigers' 14-6 win over Auburn in 2017. The Clemson defense sacked Auburn's Jarrett Stidham 11 times.
The Bulldogs dominated up front with depth and talent. Defensive linemen Jalen Carter, Devonte Wyatt and Jordan Davis played like early-round NFL talents. The group rotated with Travon Walker and Tramel Walthour along with Nolan Smith, Adam Anderson and Robert Beal off the edge. All are former blue-chippers.
That depth allowed Georgia to rotate its front, keeping the players fresh.
Conversely, Clemson trotted out an inexperienced offensive line. True freshman Marcus Tate started at left guard. Walker Parks made his first start at right tackle. Senior Matt Bockhorst has a ton of experience at guard, but was making his first start at center.
Parks, Tate and right guard Will Putnam were considered blue-chip recruits out of high school. Still, there's no question that protecting a young quarterback against a front like Georgia's was a tough task.
For as much as they've won in recent years, Clemson has not been a factory for NFL offensive linemen. The Tigers have had just one offensive lineman selected in the top-100 picks over the last six drafts. It's also worth pointing out that Clemson was a below-average rushing team in 2020 with Travis Etienne and Trevor Lawrence.
Like Auburn in 2017, this Clemson front has many more opportunities to improve. This group probably does have more high-end talent than previous Clemson lines, but they're certainly going to need some seasoning.
Georgia's offensive line holds up
The Bulldogs' front faced a ferocious Clemson defensive line that features second-year blue-chippers Myles Murphy and Bryan Bresee.
Like Clemson, Georgia had a first-time starter at center in Sedrick Van Pran-Granger. He held up well in his first start. The Bulldogs also lost right guard Tate Ratledge to a season-ending injury mid-game. Ratledge was replaced by Warren Ericson, who is coming off a broken hand.
Clemson's front was not as deep as usual, with starting defensive tackle Tyler Davis unavailable.
While it wasn't easy sailing, the Georgia line held up for the most part and only allowed one sack. They opened a few holes in the run game, as well.
Passing game improvement needed
It's evident that both teams' passing games were well behind the opposing defense. Both quarterbacks averaged under 5.0 yards per attempt.
With Uiagalelei flustered by the pass rush, Clemson was unable to consistently take advantage of Georgia's inexperience at corner – perhaps the lone relative soft spot in the Bulldogs' defense.
This game is sure to be a learning experience for Uiagalelei. He typically enjoyed clean pockets in high school while playing at powerhouse Bellflower (Calif.) St. John Bosco. He's also less of an improvisational quarterback than Deshaun Watson or even Trevor Lawrence. It will be interesting to see if Clemson accounts for this in its scheme over the course of the season.
The long-awaited emergence of junior receiver Joe Ngata was perhaps the lone offensive bright spot for Clemson. Ngata flashed the physical traits that have had Tigers fans eager for his breakout. Ngata, a 6-foot-3, 220-pounder, was able to use his size and quickness to box out and body the Georgia defensive backs.
Georgia kept things close to the vest by design. Quarterback JT Daniels was 22-of-30 for just 135 yards. Georgia is inexperienced at receiver because of missed time in camp and injuries to George Pickens and Dominick Blaylock. Tight end Darnell Washington is also out.
Most of Daniels' passes went to tight ends and running backs rather than receivers. We should see Daniels build more of a rapport with the young Georgia receivers over the course of the season.
Two freshman standouts
Georgia tight end Brock Bowers and Clemson safety Andrew Mukuba both started and were among the better players on the field Saturday.
Bowers finished as Georgia's leading receiver with six receptions for 43 yards. He was a five-star prospect and On3's top tight end in the 2021 cycle. Bowers, from Napa, Calif., is highly athletic with the ability to create mismatches in the passing game and after the catch. He's also shown some toughness and physicality as a blocker.
Mukuba got the start at safety for Clemson in his first game – no small feat playing in Brent Venables' defense. He finished with three solo tackles and five assists, including a big hit.
Mukuba, a 6-foot, 185-pounder from Austin, Texas, brings versatility, physicality, athleticism and smarts to the table. He's capable of playing any position in Clemson's secondary. Mukuba can cover like a corner and hits like a safety. He's whip-smart and should be a significant part of Clemson's secondary for years. Mukuba ranked No. 43 overall in the 2021 On300.
Bowers and Mukuba made On3's Preseason True Freshman All-America Team. They looked the part on Saturday.