Heisman Hot Board Week 6: Matt Corral moves down, Bijan Robinson moves up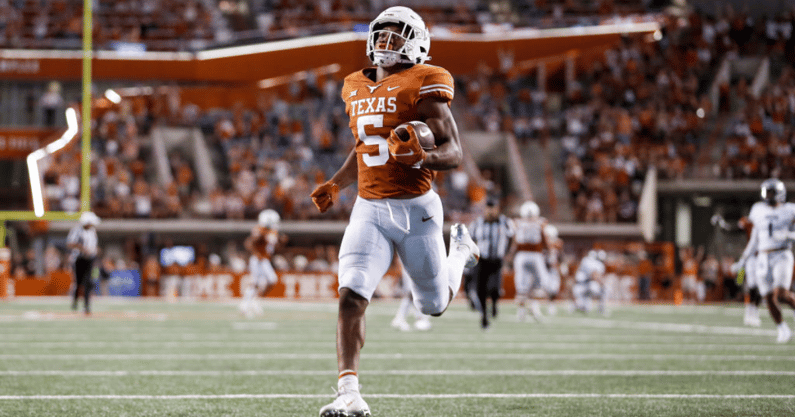 Entering the sixth week of the season, multiple names continue to trickle into conversation around potential Heisman winners. Following Ole Miss' loss to Alabama last weekend, Matt Corral has fallen down the Heisman hopeful list. Bryce Young still leads the way.
Matt Zenitz and Charles Power break down their picks for this week's Heisman Hot Board:
Matt Zenitz's list
QB Bryce Young, Alabama
In three games against top-15 opponents — wins over Miami, Florida and Ole Miss — Young has thrown for 825 yards with nine touchdown passes and only one interception. Behind Young, Alabama scored an average of 39 points in those three games.
RB Bijan Robinson, Texas
Robinson ranks second nationally in scrimmage yards (163.8 per game) and is tied for fourth with nine touchdowns. During Texas' three-game winning streak — wins over Rice, Texas Tech and TCU — Robinson has produced 570 scrimmage yards (190 per game) and five touchdowns. That includes 238 yards (216 rushing, 22 receiving) and two touchdowns in the Longhorns' 32-27 Week 5 win over TCU.
RB Kenneth Walker, Michigan State
Walker has rushed for at least 125 yards in three of Michigan State's first four games against FBS teams, including 126 yards and three touchdowns during a 48-31 win over Western Kentucky last week.
QB Kenny Pickett, Pittsburgh
Only one quarterback nationally has thrown more than 12 touchdown passes and fewer than two interceptions. It's Pickett, who has 19 TD passes, just one interception and an average of 346 passing yards per game (which is second-best in the ACC). Pickett has thrown 15 touchdown passes in Pitt's last three games.
WR Jahan Dotson, Penn State
Dotson has seven more catches than anyone else in the Big Ten (35) and is up to a conference-best six touchdown catches after securing two during Penn State's 24-0 win over Indiana last week.
WR Wan'Dale Robinson
In 11 games last season, Kentucky didn't have a single player with more than 473 receiving yards. Robinson, a Nebraska transfer, has almost eclipsed that already (with 469 receiving yards in the Wildcats' first five games) to go along with 78 rushing yards and three touchdowns. His average of 109 scrimmage yards per game ranks first among SEC wide receivers. In Kentucky's 20-13 upset of then-No. 10 Florida, Robinson had four of the Wildcats' seven catches, including an early 41-yard touchdown.
Charles Power's list
QB Bryce Young, Alabama
We entered Saturday's Alabama-Ole Miss game thinking the winning quarterback would likely have assume the top spot moving forward. That's the case, with Young completing 20 of 26 passes for 241 yards and two touchdowns with one interception in an easy win over the Rebels. The former No. 1 prospect's career is off to a fast start. He's completing 73 percent of his passes for 17 touchdowns and just two interceptions with the fourth-best passer efficiency rating nationally. Statistically, Young's start is slightly better than that of Tua Tagovailoa, Mac Jones or Jalen Hurts – and his targets are not at the same talent level as recent Alabama teams.
RB Bijan Robinson, Texas
Robinson had a Heisman-level showing on Saturday in a tight win over TCU, carrying the ball 35 times for 216 yards and 2 scores. Steve Sarkisian leaned heavily on the former five-star prospect in the second half. Robinson answered the bell repeatedly, showing high level vision, quickness and contact balance. One of the highlight plays came on a crucial 3rd and 6 to all but ice the game. Robinson took the handoff, forced two Horned Frog defenders and dragged a few more for the first down. The win was a big one for the Longhorns as it was their first in Fort Worth since 2013.
RB Kenneth Walker III, Michigan State
Walker had another strong day at the office with 126 yards and three touchdowns in a high-scoring win over an explosive Western Kentucky offense. The Wake Forest commit remains the nation's rushing leader with a 28 yard advantage over Bijan Robinson. He'll look to keep it rolling as the undefeated Spartans travel to New Jersey to take on Rutgers this week.
QB Desmond Ridder, Cincinnati
Ridder may not have the gaudy production of some other quarterbacks, but he's making key plays while leading the strongest Group of Five playoff contender we've seen to date. The fifth-year senior continued his steady play on Saturday in a huge road win at Notre Dame. Ridder made some big throws and added a touchdown run in the 24-13 win over the Irish.
QB Matt Corral, Ole Miss
Corral dips with the Rebels' loss at Alabama. While the Ole Miss offense couldn't get going, it wasn't like Corral had a terrible day. He continues to play cleanly with exception of a strip sack on Saturday. Corral has many more opportunities, as this was Ole Miss' SEC opener. There's also a showcase game against Liberty and Malik Willis on the docket.
EDGE Will Anderson, Alabama
This last spot is up for grabs. Ohio State's offense has potential contenders in running back TreVeyon Henderson and quarterback CJ Stroud. Pitt quarterback Kenny Pickett is playing at a high level and putting up big numbers. The same goes for Liberty's Malik Willis. With that said, we'll go with Anderson here. The sophomore leads the country in tackles for loss with 11. He's averaging three tackles for loss over the last three games and was in the backfield constantly against Ole Miss with 2.5 tackles for loss, a sack and 2 quarterback hurries. The former five-star has also been very strong as a run defender.