High-majors are noticing 6-11 '22 Jorge Diaz fits the modern game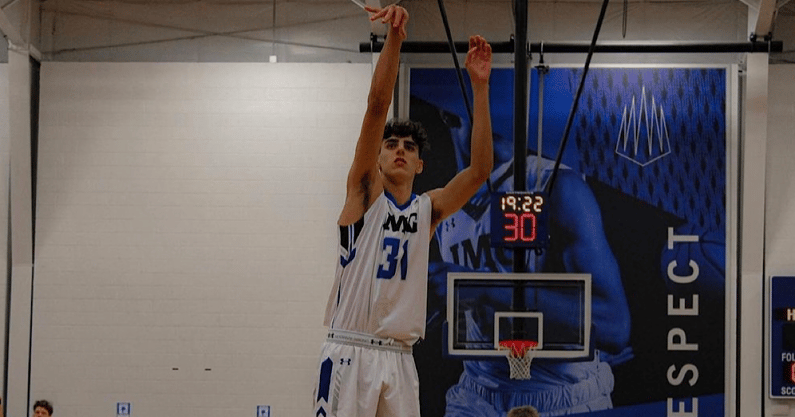 Jorge Diaz is a 6-foot-11 wing forward. Despite that description fitting today's game, somehow, On3's No. 143 player in the 2022 class is still floating under the radar.
On3 caught up with Diaz as he walked off the floor after putting up 33 points on seven made threes. His recruitment is fascinating because it is not like he is hiding at a small institution; he is at Bradenton (FL) IMG Academy. Over 150 college coaches came into their gym before the high school season started.
However, at that time, Diaz and his brother Guillermo had just arrived in the United States, straight from the Canary Islands in Spain. Neither had any college buzz, which meant most college coaches walked past their courts to watch what they knew. Unfortunately, fluid seven-footers who are 40-percent three-point shooters and can create off the bounce are not intriguing if they are unknown.
Diaz had 33 points on seven threes
Fast-forward to February. On3 was in Hartford, Connecticut, and just witnessed Jorge Diaz drop 33 points on seven made threes in the Prep National Championships. This viewing was not On3's first of Diaz, but it had been a couple of months. Our last viewing was enough to get Diaz in On3's 2022 150, but this viewing made it seem like we went a little low.
"For my height, I play like a big guard because I can shoot, pass, and handle," Diaz told On3. "I like to play on the perimeter like a wing, attack the basket, and shoot the ball. Since coming to IMG, I have improved my speed, we do work every day here, and I have put on 20-pounds with more speed and agility."
It was no surprise to look along the baseline of Diaz's next game in the February event and see coaches from Pittsburgh, Georgia Tech, and Louisville in the stands. Diaz scored another 22 in that game, accumulating 55 total points in his two games in the event.
"Having Jorge this season has allowed us to play so openly and free," IMG Academic head coach Jim Carr told On3. "We are averaging over 90 points per game. His versatility is an important part of that, with his ability to make threes and create for others. I think Jorge is a three in college, to be honest with you."
Diaz is a 'three in college'
Jim Carr is a former college coach. He had stints at both Rutgers and Rhode Island. He then took a job at Fort Lauderdale (FL) NSU University School, where he coached Vernon Carey, Scottie Barnes, Jett Howard, and a host of others.
"The way he can shoot it, the way he moves," Carr continued. "The way he handles and creates his shot, I think he is a three in college. Defensively, he moves his feet well enough, and with his length, I think he can team defend the position too."
Carr has been around a large contingent of high-level and professional players. Diaz's upside tells Carr he could have a very long career playing basketball.
"I think we are just scratching the surface with Jorge," Carr said. "I mean, he is going to make some money playing basketball. I think he could play ten years professionally, and I would not be surprised if he could make an NBA roster one day. The way the game is played, with their skill set at around 7-foot, there are so many tools to work with."
Back to the colleges
Jorge came to the United States this year with his 7-foot twin Guillermo. Guillermo is the No. 68 player in On3's 2022 rankings and spent his summer playing with Spain in the FIBA U18s. Jorge has played in the shadow of Guillermo many times but has been IMG Academic's leading scorer all season.
But with a 7-footer who started for the Spanish national team this summer and his 6-11 twin who is playing better this season, he cannot get college coaches to go in with them. They are fluid and move their feet. They can both play inside and out; Guillermo is more of a five/four, and Jorge is more of a three/four, but college coaches are worried about them playing together, but they are not opposed to going to separate situations.
"I am waiting on my parents to come over to the United States in March/April to go on visits to schools," Diaz said. "We would like to play together, but we are fine playing separately. We both want to go where we best fit and if that is apart, so be it."
Diaz continued, "Right now, we both have offers from Fordham, George Washington, and Weber State. My brother has an offer from Utah too."
So, here we are
IMG Academy has a pair of 7-foot twins who can both handle, shoot, and pass at a high level. Their upside is through the roof, but their in-game production is already high. Yet, college coaches seem to be hesitant.
Jorge Diaz is 6-11 and 209 pounds. He is the No. 143 player in On3's 2022 class.
"Jorge shoots the three at such a high level, where he has improved since he has gotten to IMG is he is attacking the rim," Carr said. "The added weight has given him more confidence off the bounce. Offensively, he is such a gifted kid already, and there is still so much upside as he continues growing into his body."
With the way basketball is played, one would think a 6-11 wing forward shooting over 40-percent from three would have his choice of high major programs to choose. His parents are coming to the United States in March/April to take visits. There is still time.