Houston Texans QB Davis Mills taking note of NIL, PAC 12 shake-up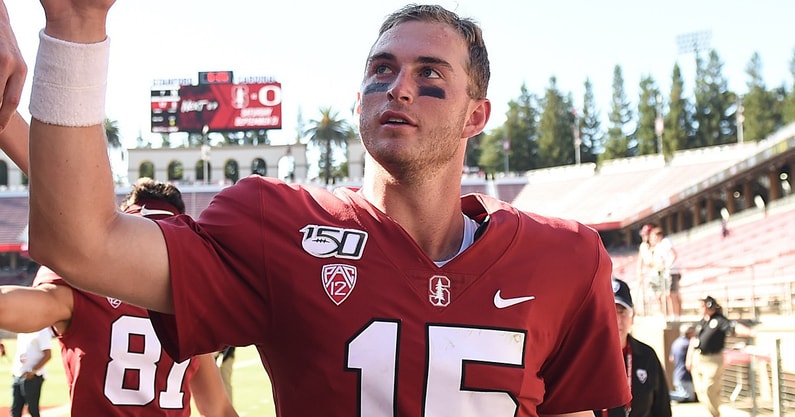 Houston Texas quarterback Davis Mills is a long-time viewer and lover of college sports. He has been through a lot of what that level has to offer. There are changes to college sports taking place that have made national headlines around the country.
Mills had the chance to work with a group of 24 middle school quarterbacks at his own camp in the Atlanta area last week.
The group went through quarterback drills on the field. The world that the young signal-callers are entering is much different than the one Mills entered as the top-ranked quarterback out of high school.
Name Image and Likeness is something that has been at the head of the changes in the college football landscape. Mills' advice is to think long-term.
Stanford won him over because of the networking opportunities that came after he graduated. Mills believes he'd have made the same decision if he played in today's climate.
"Only a small percentage of guys actually make it to the next level and I think guys still need to understand that rather than looking for the short-term monetary benefits," Mills said. "Making decisions solely based on money is never going to be the right thing. I think that happens in football and in the real world. If you're going to find a job based on money and you're not doing something you love, things will fall apart eventually."
Now that NIL money and opportunities are available, Mills feels players need to be taught to manage their earnings.
"When you give someone money at a young age, you need to make sure that they have a good financial advisor," Millis said. "Someone needs to be telling them and teaching them about taxes and how to take care of their money so that they can treat it as generational money and take care of the future rather than buying all the glitz and glamor, which is probably what I would have done myself in college."
The main thing is still the main thing
Mills has been a five-star recruit. He's been a backup. He has been a starter. There were few differences in how he worked. It was the perception of those around him and on the outside that changed based on where he was on the depth chart.
"You start off as a recruit and they treat you like the most important person in the world," Mills said. "Then you get on campus, if you're not the starter they don't really care about you until you earn that job. You have to put your head down and get to work. Then you get respect from the coaches and your teammates when you earn that spot and show you can play for that team. You have to focus on yourself. You focus on what you can do for that team. Don't focus too much on what people are telling you. You have to make sure that you're making the best decision for yourself."
Pac 12 shake-up hits close to home for Davis Mills
Mills grew up watching BigTen football and basketball. His household followed the conference closely. Mills' father went to college at Michigan State.
He played high school football in Georgia. Mills played collegiately in the PAC 12 at Stanford. Those things aren't all that different anymore. California is now Big Ten country. USC and UCLA are heading to the Big Ten in 2024.
"It's weird," Mills said. "I grew up watching the Big Ten. The only time they really venture out to the west coast is when they lose to Stanford in the Rose Bowl. It'll be weird. I'm sure they'll adjust to things."