Daily briefing: On Jim Harbaugh, Tennessee's 2nd season under Josh Heupel and the nation's top assistants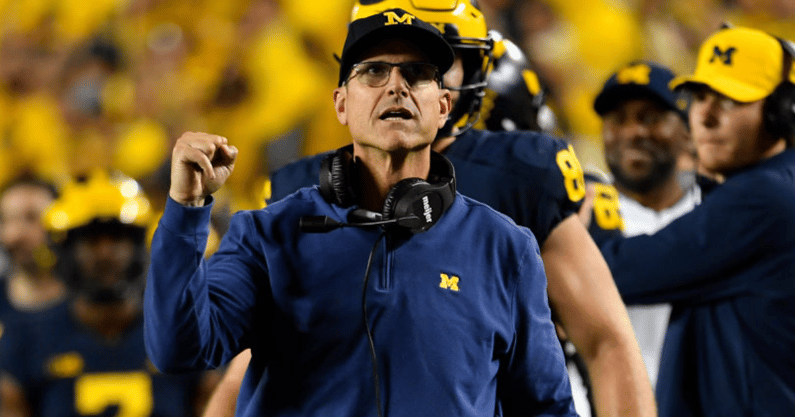 Ivan Maisel's "Daily Briefing" for On3:
Jim Harbaugh and 'Heisman habits'
You could teach a college-level class on the singular elocutions of Jim Harbaugh. At his news conference Monday previewing The Game against No. 2 Ohio State, the coach of No. 3 Michigan described the matchup as follows. "They got great players. We got great players. They have great coaches. We have great coaches. They have players with Heisman habits. We have players with Heisman habits." Heisman habits? I suppose one Heisman habit is handing the ball to the striped shirt in the end zone. The only other one I can think of is making a habit of winning the Heisman. The only guy to do that wore scarlet and gray. Over four seasons, in which he became the only player to win two Heismans, Ohio State running back Archie Griffin rushed for 395 yards and one touchdown on 91 carries against Michigan. More important, Griffin still hasn't lost to the Wolverines. In his four seasons (1972-75), the Buckeyes went 3-0-1 against their biggest rival.
Sooners-Vols symmetry ended Saturday night
Before Saturday night, the symmetry between Josh Heupel's two seasons as Tennessee coach and his two seasons (1999-2000) as Oklahoma quarterback made the Vols' stunning ride to the national championship seem preordained. When Bob Stoops arrived in Norman and led the Sooners out of disarray with Heupel as his quarterback, they went 7-5 in his first season, then 13-0 while winning the national championship in his second. When Heupel arrived in Knoxville and led the Vols out of disarray, they went 7-6 in his first season and, at 9-1, had a great chance of making the four-team playoff field in his second. And then came whatever that was that happened in South Carolina. The defense gave up nine touchdowns in 10 possessions. Quarterback Hendon Hooker suffered a torn ACL. So much for symmetry. Tennessee can't let falling short of the biggest prize override what has been a magical season. If the Vols do, they'll keep falling. 
Broyles Award semifinalists named
Several of the 15 Broyles Award semifinalists announced Monday have been there before. Defensive coordinators Phil Parker of Iowa and Jim Knowles of Ohio State made the list for the second consecutive season (Knowles did so last year at Oklahoma State). North Carolina offensive coordinator Phil Longo made the list in 2020. Manny Diaz of Penn State made the list as Miami defensive coordinator in 2017, got two head-coaching jobs (Temple and Miami), went back to being a defensive coordinator and got honored again. The cool thing about looking through the history of the Broyles are the names that became big, like 2017 semifinalist Brian Daboll of Alabama, or the 2015 winner, offensive coordinator Lincoln Riley of Oklahoma. Riley won at age 32. His younger brother Garrett, the offensive coordinator of No. 4 TCU, is a semifinalist (so far) this season at age 33.