Daily briefing: On Ohio State's scintillating starts, Will Levis vs. Ole Miss' pass rush and the 'Academic Heisman'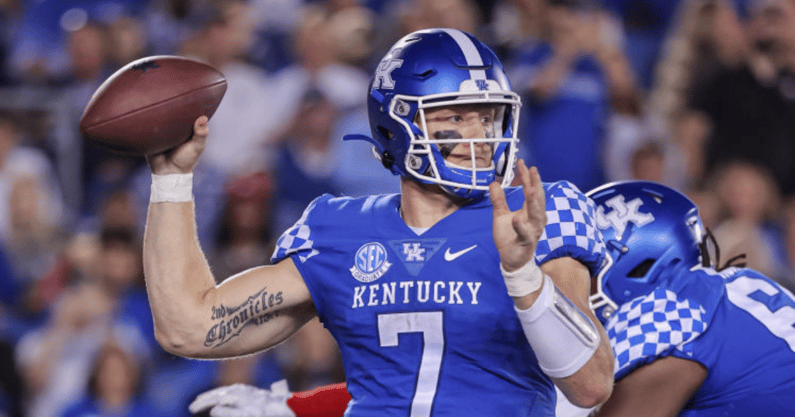 Ivan Maisel's "Daily Briefing" for On3:
Ohio State has been super-charged in first quarter
Nobody is coming out of the locker room faster than No. 3 Ohio State, which has scored 10 of its 27 touchdowns in the first quarter. In their past three games, the Buckeyes have scored a touchdown on all nine first-quarter possessions. On the two possessions that spilled into the second quarter, the Buckeyes scored a field goal and a touchdown. C.J. Stroud has a first-quarter efficiency rating (32-of-41, 553 yards, seven touchdowns, no interceptions, 247.69 efficiency rating) far exceeding his numbers for the rest of the game (47-of-71, 669 yards, nine touchdowns, one pick, 184.36). Just one more thing for Rutgers coach Greg Schiano to worry about this week.
Can Kentucky handle Ole Miss' pass rush?
No. 14 Ole Miss is second in the SEC with 13 sacks and 12 Rebels have had a hand in them. That tells you that the defense run by Maurice Crum and Chris Partridge has depth and plays downhill. The Rebels will have to play smart Saturday because quarterback Will Levis of seventh-ranked Kentucky ascends the NFL draft list every time he takes a snap. Levis is 6 feet 3, 235 pounds, and not afraid of contact. which is a good thing this season because the Wildcats' offensive line has had trouble protecting him. Only three teams nationally have allowed more than the four sacks a game Kentucky is giving up. It's hard to go 4-0 when your quarterback is on his back.
Semifinalists announced for Campbell Trophy
Iowa linebacker Jack Campbell, Texas running back Roschon Johnson, Washington State defensive end Brennan Jackson and Kansas State quarterback Adrian Martinez are among the 156 semifinalists from all divisions announced Wednesday for the Campbell Trophy, also known as the Academic Heisman. The National Football Foundation, which sponsors the trophy, will announce a dozen finalists in late October, each of whom will receive an $18,000 postgraduate scholarship. The winner, announced in December will receive $25,000 for postgrad work. This is one of my favorite awards because it pays homage to the old-fashioned notion that athletes use college football to get a degree. That said, in this age of the pandemic-extended career, with some semifinalists such as Syracuse offensive lineman Dakota Davis in their sixth year of eligibility, how many more classes do they want to take?