Daily briefing: On Pitt, the Pac-12 South race and Alabama's play-calling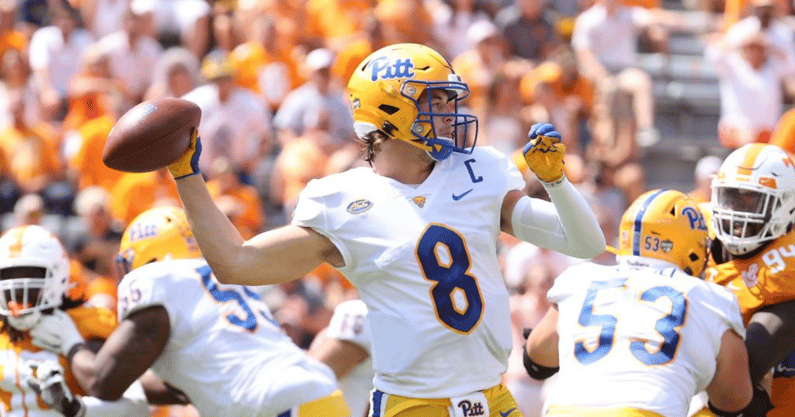 Ivan Maisel's "Daily Briefing" for On3:
Some Pitt history
The Pitt-Virginia Tech rivalry has tilted toward the Panthers since the two former Big East members reconnected in the ACC. Per Phil Steele, Pitt has covered in 12 of 13 ACC games against the Hokies, and six of those were outright upsets. The Panthers (4-1, 1-0) are five-point road favorites against the Hokies (3-2, 1-0) on Saturday. History may or may not have an impact on this rivalry. But this much is true: The Hokies are coming off an emotional, not to mention physical, 32-29 loss to Notre Dame, while the Panthers were off this past weekend. Pitt is rested, and Pitt has quarterback Kenny Pickett, whose numbers in his fifth college season are otherworldly (72.0 completion percentage, 10.3 yards per attempt, 19 touchdowns, one pick).
Utah should have emotion on its side
No. 11 Kentucky's visit to No. 1 Georgia isn't the only game this week that could, for all intents and purposes, decide a division race. If No. 18 Arizona State wins at Utah on Saturday night, the Sun Devils not only will be the last unbeaten team in Pac-12 play but they will have beaten the top two division contenders (Utah and UCLA). That's the math. The reality, though, is the Utes will be playing their first home game since the murder last month of cornerback Aaron Lowe. This past Saturday, in its first game since Lowe's death, Utah overran USC 42-26. Monday, the entire team and coaching staff attended Lowe's funeral in Texas. The Utes are a team that has come together. 
Alabama in the red zone
Alabama's red zone offense sputtered badly Saturday night — two touchdowns in six trips — and it would be great to know why play-caller Bill O'Brien, on 10 snaps inside Texas A&M's 15, called two runs (they gained 3 yards) and eight passes (3-of-7, 15 yards, one touchdown, one interception, one sack). The Aggies exposed issues that the Crimson Tide has had all season, especially running the ball in that enclosed space. On 24 snaps at the 5 or closer, the Tide has scored seven touchdowns, and five of those came from the 1. That tells you the line is not opening holes, which just may explain why O'Brien is throwing so much down there.