4-star Jalen Haralson talks visits; Michigan, Indiana, Michigan State, etc.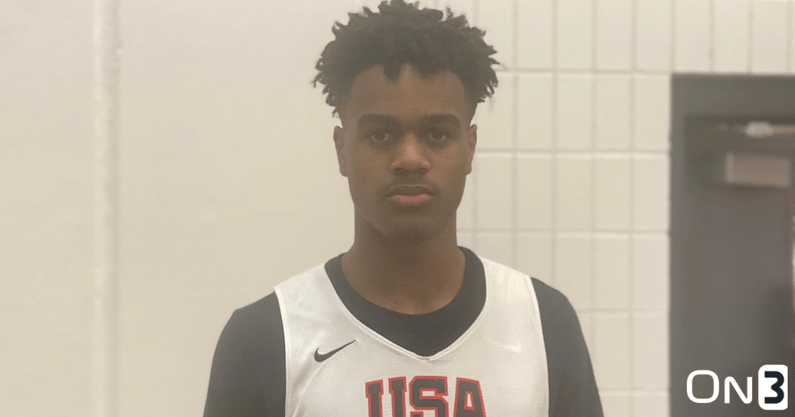 Jalan Haralson is the No. 9 player in the 2025 On3 50. He is a 6-foot-7 wing at Fishers (IN) High and played this summer with the Indy Heat program on the Nike EYBL 15u Circuit.
"I'm a big guard that can play most positions on the court," Haralson told On3. "I can defend at a high level, and I get my teammates involved at a high level too. I watch a lot of Cade Cunningham and LeBron (James), just big guards that can create and defend too."
Haralson was invited to the October USA Basketball training camp, his first experience with the junior national team program.
"I just want to ask a lot of questions," Haralson said. "Just learning and bringing it back home with me. I still have to prove myself, you know; it's a lot of older people here, so I really am out here just learning and competing."
College coaches started to take notice of the 6-foot-7 wing while averaging 16.0 points and shooting 54 percent from the field as a freshman last season. On3 caught up with Jalen Haralson recently to talk with him about his recruitment.
"I've taken visits to Indiana, Purdue, Ohio State, Michigan, and Michigan State," Haralson said.
Haralson talks recruitment
Indiana: "Seeing the culture they have there up close. Coach (Mike) Woodson is a great coach; he has NBA experience. He's big on the pick and roll, I think that's where I play my best. Coach Kenya (Hunter) is the one we are in contact with the most.
Purdue: "Seeing the academics and interacting with the coaching staff really stood out. Just talking to the players who are there and asking them about their experience."
Ohio State: "It's a football school, but with the basketball coach, he's doing a great, great job with the basketball program. I haven't been to a practice yet with this year's team, but I know Coach (Chris) Holtmann is tough with defense."
Michigan State: "My biggest takeaway from that visit was really just how much Coach (Tom) Izzo wants me, and that was big. He's big on IQ, he loves players with IQ."
Michigan: "Juwan (Howard) is a good dude. I love the way they play; he wants to get up and down."
In Haralson's words
"Growing up in Indiana, IU is the big school," Jalen Haralson said. "But, you know, since I've been getting recruiting and stuff, that's changed, I'm not really a fan of anyone.
"I'll be looking at the coaching staff and how I would fit in the program. I see how they will get me to where I want to go, the NBA. I like playing in a pick-and-roll-type offense because it's an offense I can think in and make decisions.
"My dad, Authur Haralson (editor's note – Arthur Haralson was a 6-5 wing who averaged 18.1 points, 8.1 rebounds, and shot 38.1% 3P as a senior) played at Nicholls State and then overseas."