Jared Casey talks Kansas Jayhawks football and his huge Applebees NIL deal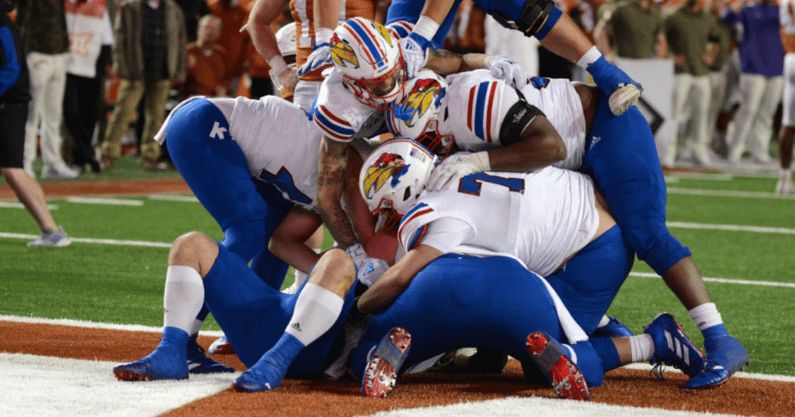 Grant Frerking caught up with Jared Casey about how one single play changed his NIL journey. After a successful game-winning, two-point conversion in the Jayhawks' matchup against Texas, Casey was a school hero and a NIL superstar. Applebees reach out to secure a deal with Casey (because you always gotta go for two).
Below is the transcript of Frerking and Casey's talk.
---
First question has got to be, and I know you've probably gotten it 200 times, but walk through that moment against Texas, the leading up to the play, the play, and right after, how it got set up and just kind of relive that experience for us? 
Jared Casey: So during the second quarter, one of our other tight ends went down and I was the next up and like many people probably know, I played the second quarter through the end of the game. Then we battled and battled and got into overtime. They scored first, kicked a PAT, and we came back and scored right away. There was no question we were going for two, so we called time out and drew up a play. The other tight ends and I  were both on the field. We were in 12 personnel and we switched our routes actually right before the play happened. 
Was that supposed to happen?
Jared Casey: We just called upstairs real quick, asked who was gonna run which one and decided to put me on the shallow route. 
How many times have you ran that play in practice before in which you actually caught it?
Jared Casey: That route doesn't catch the ball on that play. To be honest, I've ran it multiple times during practice, but it doesn't happen often where that route comes open. So usually the linebackers latch on, but like going back to the play, I just came across our quarterback scramble out and I saw the linebackers blitz. Obviously with the quarterback scrambling out there going after him and everything. So I put my hands up real wide and they found me and caught it. Took a big shot.And then that was that
Man right place, right time, I love it, brother. I want you to talk a little bit on how you ended up at Kansas, obviously, you and I talked about both of us being walk-on's, explain your journey as a walk-on so far, what that was like going through the recruiting process and then what eventually led to you being a Jayhawk?
Jared Casey: Yeah, so I was a big KU fan growing up. My whole life I went to numerous games, and was in Lawrence a lot of weekends. I had a lot of D2 and JUCO offers out of high school. I played linebacker and running back in high school. So when I went on my visit to KU, they asked me if I wanted to play fullback, I originally wanted to play linebacker, but Coach Miles at the time, wanted me to play fullback. So I did, and then obviously the new coaching staff came in and we really didn't have a fullback in the offense anymore. So we all kind of were just tight end bodies, which I mean, it's all the same type of body, just tight end's obviously are about five to six inches taller than the fullbacks are. So yeah, that's how it happened. That was my only D1 opportunity. So, I wanted to take it and I cashed in on it early. 
There's no doubt about that. The 24-48 hours after that Texas game, what was it like? You know, it was an away game, right? 
Jared Casey: Yeah.
So coming back to Lawrence, that night, the next day, the Monday after the game, I think is when the Applebee's stuff started, right? 
Jared Casey: Yeah. 
What was that period like from coming back to campus and enjoying that, you know I'm a college student, so I know how it is on campus after games, especially after a win like that you know, so Sunday into Monday and then kind of where we're at now, what has that period been like for you?
Jared Casey: Um, it was really hectic at the time. Obviously, we still had two more games on the schedule, but talking about the night. I mean we probably stayed longer than we should have been, but yeah, just celebrating in the locker room, everything like that. We ended up flying back in and we got home at about 4:15 AM, so I mean I was really tired at the time. I just wanted to go home and go to bed. My phone was blowing up, I turned it off and just got up the next day and went into the facility, just did my regular stuff really. But life outside of football was still like pretty normal besides all the texts, the calls, everything like that. So yeah, it was really hectic. It was a really hectic week. I had a lot of interviews, a  lot of different things. Then like I said, the Applebee's commercial, I think that happened on Monday or Tuesday after the Texas game. So yeah, it happened really fast, but I was still trying to prepare for the TCU game at the time. So yeah, it was really fast.
What was the dynamic of that Applebee's deal? Did they just DM you and say, "Hey man, we'd love to work with you now that you did x,y,z or do you know someone there that was like man, we gotta work on something now?"
Jared Casey: Yeah, it was a funny story actually. So the weekend before we were supposed to have a NIL meeting with Sixth Man Strategies, which just signed me here around that time.  I didn't plan on going to the meeting until it got canceled until it got postponed after the Texas game. Then they said, yeah, we need you to come. So I went to that meeting and they already had something set up with Applebee's. So I went to that meeting and then it happened in the next couple of days. So yeah, it happened really fast and next thing I knew, I was shooting a commercial.
What was the deal?
Jared Casey: I just had to shoot a commercial and I got $1,000 in gift cards and $800 in cash.
Holy cow, man. So you've been eating some good Applebee's recently? That's awesome. Since then, I've been following along and you've added a couple more deals since Applebee's, what does that look like right now?
Jared Casey: Yeah, so the first one was actually just an interview. I got some money for doing Kansas City Sports Network after the Chiefs game, the night after the Texas game. Then I recently just got a new car from Lewis Automotive Group. We still haven't done anything for it yet, but in the contract, there is a commercial, a photoshoot, got to sign some autographs, and go to a dinner here and there. So yeah, I got the car and then that's what I got to do for it.
Man, a new ride just in time for Christmas. How about that? So wanted to give you a final opportunity to just talk about what the Jared Casey brand and the NIL world looks like going forward. I touched on it in the open, you're a freshman, so have years ahead of you, what is it going to look like? What's your strategy going into the off-season and next year and then the rest of your time in Lawrence?
Jared Casey: Yeah, really as long as I keep being successful, I'm assuming a lot of people may reach out for certain deals that they may want to do. I've had talks about other deals as well. So, really it just is about success and keep doing me. I'm not letting it really get in the way of playing, you know what I'm saying, so just playing and being successful will help me land more deals. I know there's hopefully some shirts and some jerseys and they're making them not only for me but for a lot of college athletes as well. So, that's hopefully what it's going to be here in the near future.
That is fantastic, and Jared, I just want to take the opportunity to applaud you. I talk all the time about athletes capitalizing on an opportunity and when they're in the spotlight when they have a huge play, when they win the game for their team, using that moment to also showcase their brand. I don't think there's been any doubt that you took full advantage of that. So I applaud you, and I continue to encourage all athletes out there to take advantage of all the opportunities presented to them, and when the time comes, that you go out and now monetize on it. So well done, Jared, thank you so much for joining us today, man. Merry Christmas to you and your family.
Jared Casey: Thank you. Merry Christmas.