Jay Bilas hammers NCAA over Joe Bamisile ruling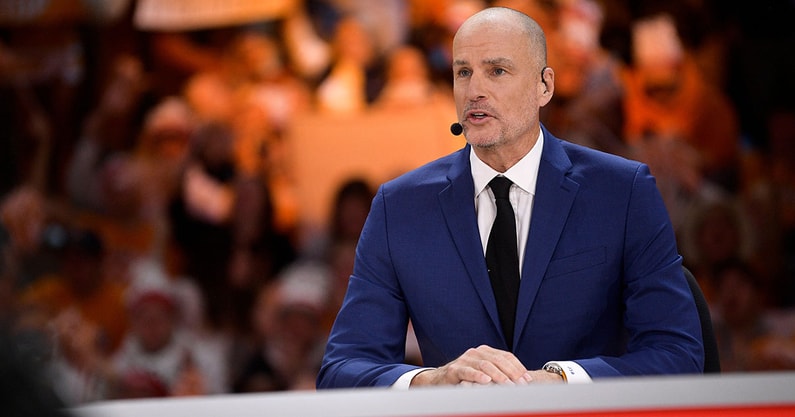 ESPN's Jay Bilas has been highly critical of the NCAA throughout much of his broadcasting career with the network. While his main focus is commentating on college basketball, Bilas recently heard of the NCAA's ruling on North Carolina wide receiver Tez Walker and blasted them for denying his waiver.
On Wednesday afternoon, the college basketball analyst was once again roasting the NCAA after they denied the transfer waiver of Joe Bamisile.
Bamisile was attempting to transfer to VCU for one final year of college basketball after his father had open heart surgery, but they denied his waiver. Last season, the NCAA approved his waiver to play at Oklahoma, because he dealt with severe anxiety and self-isolation at George Washington.
Here's what Bilas had to say on his Twitter page on Wednesday afternoon: "There is no legitimate reason to deny this transfer. Bamisile lives eight miles from VCU. Does the NCAA believe his father is faking his illness and Bamisile is faking his mental health issues? The NCAA should not be in this business."
With the Sooners, Bamisile averaged 4.0 points, 2.3 rebounds, and 0.5 assists per game. He also played with Virginia Tech, averaging 3.5 points and 1.5 rebounds per game in the 2020-2021 season. His best season came with George Washington in 2021-2022, where he averaged 16.3 points and 5.0 rebounds per game.
Bamisile played his high school basketball at Montverde Academy, where he was rated as the No. 87 overall prospect in the country and a four-star recruit in the 2020 cycle, according to the On3 Industry Rankings.
It's simply yet another puzzling decision from the NCAA. Bilas also recently shared his thoughts on Tez Walker.
Jay Bilas sounded off on the Tez Walker ruling recently
"The NCAA's decision in the Tez Walker case is senseless, it's wrong, and frankly, shameful. Tez Walker is a football player at the University of North Carolina. He started his career at North Carolina Central, when Central cancelled their season due to Covid. He transferred to Kent State, where he played two seasons. He lost his head coach and his offensive coordinator. And he decided for mental health reasons and to be closer to a family member who's ill, to transfer to the University of North Carolina," Bilas said in the video.
"After transferring, he was notified by the NCAA that they changed their transfer policy. Both North Carolina Central and Kent State supported his transfer waiver and yet the NCAA has still denied it. It is wrong. And when the NCAA says student athlete welfare, that's pretty far down the list, behind money and behind what they think is their reputation. And it's not a question of trying to establish credibility because the NCAA has none in this area," Bilas continued.
"And new NCAA president Charlie Baker, instead of petitioning Congress for an antitrust exemption and to try to get a federal law to pre-empt all the state NIL laws, what he should do is step in here and make Tez Walker immediately eligible. Especially when you have all these two-time transfers. Some who have transferred three and four times who have played six years. This makes no sense and it's wrong. Tez Walker should be eligible right away and I wouldn't blame him and his lawyers if they stepped into federal court tomorrow and filed suit against the NCAA. That's how wrong this decision is," Bilas said.