Jim Harbaugh back to the NFL? The Michigan head coach's 'one-time thing' promise is about to be put to the test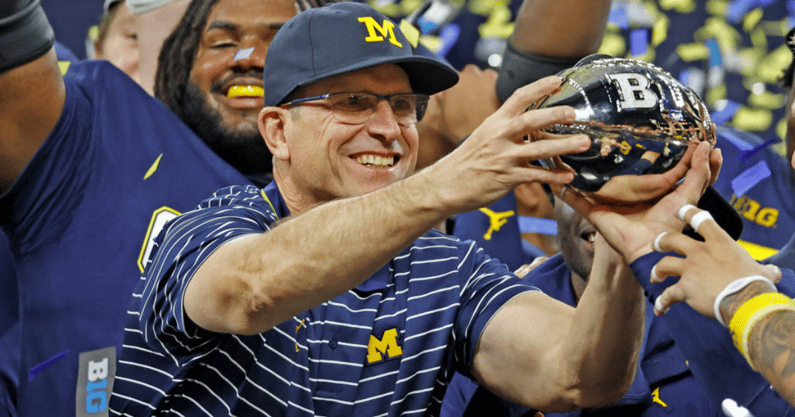 Every January, Michigan's season ends and the Jim Harbaugh-to-the-NFL rumor mill heats up. At this point, it ought to be a holiday on the calendar like President's Day or Tax Day. 
Michigan was upset by TCU 51-45 in a thrilling Fiesta Bowl on Saturday, spoiling the Wolverines' 2022 revenge tour. The showdown with the plucky Horned Frogs was supposed to be just Michigan's next coronation. Instead, the Wolverines' season is over and the program — from the players to the assistant coaches to the administration — has to go through this dog and pony show again with Harbaugh. 
The Denver Broncos are reportedly very interested. Same for the Indianapolis Colts, where Harbaugh had his most success as an NFL quarterback. Other teams with looming openings are "doing homework" on Harbaugh, too. 
It could mean nothing. It might mean something. We don't know, and that's exactly how Harbaugh seems to prefer it. 
Right now, the latest rumors are just that. Noise. Chatter. 
But that was the notion last year, too, until Harbaugh was interviewing for the Minnesota Vikings job, notably a better job than any of the current NFL openings, on National Signing Day. 
This time last year, Harbaugh was in a postgame press conference rehashing a loss in the College Football Playoff Semifinal talking about "a new beginning for this team."
"To me, this feels like a start," he said after Michigan lost to Georgia. 
"It feels like a beginning."
If he had it his way, though, it would've been the end. 
A month later, Harbaugh was in Minneapolis pitching his vision for the Vikings. He was never offered the gig, though, so he returned to Michigan and told AD Warde Manual, "This will not be a reoccurring theme every year. This was a one-time thing."
We're going to find out if that's true. 
Does Jim Harbaugh still have that itch to win a Super Bowl? Or is he content with trying to deliver his alma mater its first championship in the 21st Century?
It made sense a year ago that Harbaugh could bounce for the NFL. The window was open. 
He'd bet on himself after Michigan's terrible 2020 season, refiguring his coaching staff and altering the team's identity. Michigan then went out and had one of its best seasons in school history last fall. It snapped its losing streak to Ohio State. It won the Big Ten for the first time in two decades. It made the CFP for the first time. 
Harbaugh delivered what he'd promised. But when his exit strategy didn't work, Harbaugh returned to Ann Arbor and made Michigan better. He hired two new coordinators. He benched his starting quarterback and led the Wolverines to their best season in 25 years. 
This is a program with a strong foundational identity. It's positioned to compete for titles every year, and so it would be very strange — and telling about Harbaugh's future intentions — if he does truly engage with the NFL again. 
The Wolverines were 13-1 in 2022, winning a second-straight Big Ten title and beating Ohio State in consecutive seasons for the first time in 20 years. The season didn't end according to the fairytale script so many Maize & Blue fans had dreamed, but it rarely does. 
Still, the Wolverines are poised to return the bones of this year's roster, including quarterback JJ McCarthy, tailback Donovan Edwards and some nice, young defensive pieces. Michigan's offensive line needs reinforcements, but Harbaugh hit the transfer portal hard in December — adding five potential starters at key positions (edge rusher, DL, tight end, OL).
Michigan, not Ohio State, is the class of the Big Ten right now. 
Is Jim Harbaugh really going to walk away from that for rebuilding jobs in Denver or Indy?
"I think no man knows the future," Harbaugh said back in the first week of December. 
"But I think that people that think we've done a good job and are pleased with the job that we've done here at Michigan, they're going to be very happy to learn that we will be back enthusiastically coaching the Wolverines in 2023. And for those people that don't approve of the job we've done or would rather see somebody else coaching here, I think they'll be most likely disappointed to learn we'll be back coaching the Wolverines and in 2023."
But that was in December. And in the same media session, Harbaugh also said, "It's really biblical, no man knows the future. I can't make vows of what's going to happen or what's not going to happen."
Well, with the NFL coaching carousel officially spinning now, Harbaugh's "one-time thing" promise is about to be put to the test.