Joe Lunardi releases way-too-early 2023 NCAA Tournament Bracketology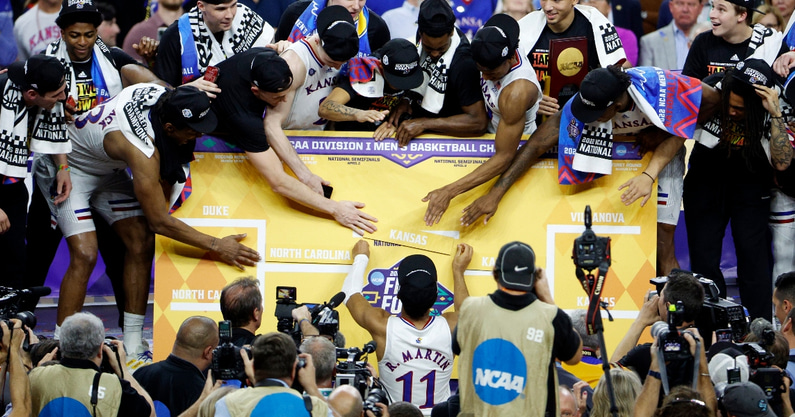 Joe Lunardi and his NCAA Tournament Bracketology never takes a day off. While there's plenty of time before college basketball tips-off once again, Lunardi dropped his way-too-early 2022 NCAA Tournament Bracketology, making his predictions for next season's tournament.
"Will the Kansas Jayhawks become the first repeat champion in men's college basketball since Florida in 2006-07?," wondered Lunardi. "That's among the questions to consider in the offseason prelude to the 2022-23 season, a period that will include a frenzy of transfer movement and the usual spate of NBA draft decisions.
"When the dust settles, Division I's 350+ teams will begin considering the march to the 2023 NCAA tournament, a journey that will end at Houston's NRG Stadium for the Final Four on April 1 and 3."
In Lunardi's way-too-early edition for next season, he believes the Kentucky Wildcats will be the No. 1 overall seed entering the tournament. It was a disappointing end to last season's iteration of the event for John Calipari's squad, as the Wildcats fell to upstart No. 15 seed Saint Peter's. However, Kentucky received a huge boost on Wednesday, as star center Oscar Tshiebwe announced he would be returning to the program next season.
Here's Joe Lunardi's full 68-team field, as featured in his way-too-early 2023 NCAA Tournament Bracketology.
NCAA Tournament Bracketology: Last four in/first four out
Last four in (with byes): Wyoming, Providence, Virginia Tech, Florida State
Last four in: Colorado, Saint Mary's, Notre Dame, Florida
First four out: Washington State, Marquette, Wisconsin, Iowa State
Next four out: Mississippi State, Clemson, Loyola Chicago, St. John's
West Region
1) UCLA vs. 16) Norfolk State
8) San Diego State vs. 9) Saint Louis
5) Alabama vs. 12) Missouri State
4) Creighton vs. 13) New Mexico State
6) Texas vs. 11) Virginia Tech
3) Michigan vs. 14) Yale
7) USC vs. 10) Providence
2) Gonzaga vs. 15) Oakland
East Region
1) Baylor vs. 16) Longwood
8) Virginia vs. 9) Memphis
5) Michigan State vs. 12) UAB
4) Tennessee vs. 13) UC Irvine
6) Dayton vs. 11) Florida State
3) Villanova vs. 14) Iona
7) Ohio State vs. 10) Oklahoma
2) North Carolina vs. 15) Vermont
South Region
1) Kentucky vs. 16) SIU Edwardsville/Texas Southern
8) Iowa vs. 9) Colorado State
5) TCU vs. 12) Toledo
4) Purdue vs. 13) Towson
6) Texas A&M vs. 11) Colorado/Saint Mary's
3) Duke vs. 14) Liberty
7) Xavier vs. 10) Wyoming
2) Kansas vs. 15) Colgate
Midwest Region
1) Houston vs. 16) Texas A&M CC/Mount St. Mary's
8) Oklahoma State vs. 9) Oregon
5) Auburn vs. 12) Chattanooga
4) Illinois vs. 13) South Dakota State
6) Indiana vs. 11) Notre Dame/Florida
3) Arizona vs. 14) Montana State
7) Texas Tech vs. 10) Connecticut
2) Arkansas vs. 15) Louisiana