2026 SG Jordan Smith introduces his recruitment and talks schools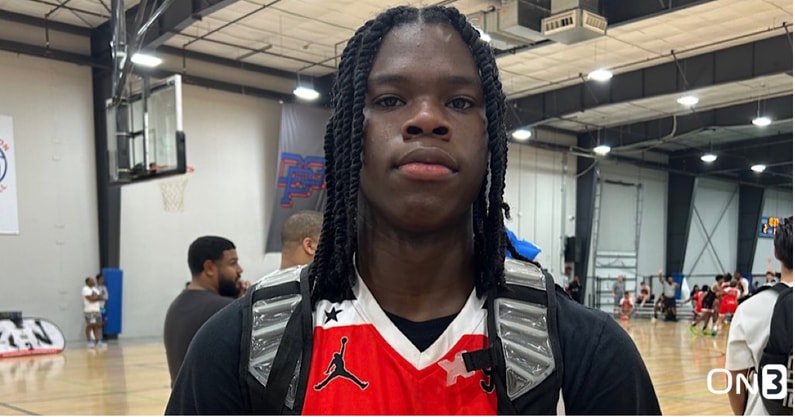 Jordan Smith is quickly carving out his niche as one of the best on-ball defenders in his class. The 6-foot-3 guard played up in age this summer with the Team Takeover program on Nike's EYBL 16U Circuit. Smith, a class of 2026 guard, averaged 9.9 points and 5.9 rebounds while shooting 60.9 percent from the field during the regular season.
"I play hard, and I play aggressive," Smith told On3. "I honestly play to win, whatever it takes. This summer, I've been working on my guard skills, and you can see my confidence has really developed there. I like to watch a lot of Kawhi Leonard with his mentality, and Russell Westbrook, just his game and athleticism."
On3 caught up with Jordan Smith, a sophomore at Fairfax (VA) Paul VI, after a recent live viewing to get an update on his recruitment.
Smith talks recruitment
"Right now, I have offers from Villanova, Georgetown, Kansas State, Virginia Tech, Maryland, and a couple more," Smith said.
Georgetown: "They let me know how interested in me they are. Pretty much every time we talk, or they talk with us, they let me know they want to get me on campus soon. I know a lot about their history with Allen Iverson and Patrick Ewing. I think Ed Cooley is a really good coach, so I hope to get on a visit soon."
Villanova: "One of my old teammates is up there now, and he is doing a good job of recruiting me; and telling me all about the program and the school."
Kansas State: "My teammate, Patrick Ngongba, is a big factor in their recruitment. So while they are recruiting him, they're also recruiting me. I've been able to see a lot of good things with their program; they've been winning and all."
Virginia Tech: "I don't know too much about Virginia Tech right now, but I hope to get to learn more about them soon."
Maryland: "I'm trying to get up to see them later this month, maybe early next month. My former teammate, Deshawn Harris-Smith, just went there. Their assistant coach, Mike Jones, is a big part of my recruitment too. They're bringing in a lot of hometown kids; that plays a factor, too."
In Smith's words
"I'm looking for a good community," Smith said. "A relationship with the coaches, my teammates, all that. I'll be looking at the playstyle too. I want to play fast and play hard. So, a program that has grit and toughness with a run-and-gun system."