4-star Juke Harris sets 1st two official visits; goes in-depth on recruitment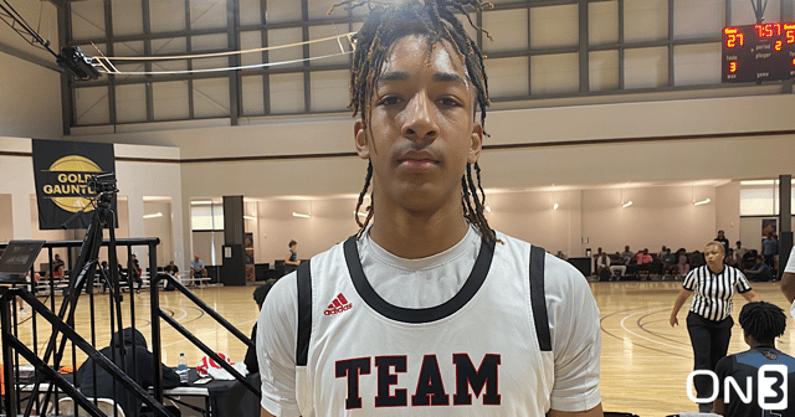 Four-star Juke Harris' first offer did not come until May of this year; he now claims 25. He averaged 23.1 points and led his Salisbury (NC) High team to the third round of the state playoffs last season.
"I feel like I can score at all three levels," Harris told On3. "I can play defense and control the pace of the game with my ball handling. I'll watch a lot of Devin Booker, his ability to hit tough shots and get to his spots on the floor."
 On3 was the first to rank the 6-foot-6 shooting guard a couple of months ago, and he is now the No. 53 player in the industry standard 2024 On3 Consensus. On3 caught up with Juke Harris at an open gym this week to talk about his recruitment.
"I have my first official visit set to Houston on October 8," Harris said. "I have an official visit to Tennessee on October 14."
Harris sets visits
Houston: "They always stay in contact with me. They make sure that I know I'm the main guy they want, their top guy in the 2024 class. They play free; they let their guys make plays. If I go there, I feel I can do what I do."
Tennessee: "They make sure I know I'm their top priority in 2024. Coach (Rick) Barnes and Coach (Justin) Gainey always call me on Zoom calls and Facetime calls, checking in on me; seeing how school and workouts are going.
Harris talks possible visits
"I'm also talking a lot with Wake Forest, Virginia, Virginia Tech, and South Florida," Harris said. "Those are the main schools I'm talking with about official and unofficial visits."
Virginia: "Coach (Tony) Bennett just came by last week to watch me work out. He is telling me I'm one of the main guys and I fit their game. They let me know how their organization runs."
Virginia Tech: "I went on an unofficial visit, and they showed me then how they play and how they saw me playing in their system. They have a nice campus; I had never seen it before. Their strength coach stood out to me as well."
Wake Forest: "Coach (Steve) Forbes has been by a couple of times already. He texts me on the daily, checking in. He thinks I fit perfectly in their system and with what they do."
USF: "Coach (Larry) Dixon came by early in the morning last week. He says at South Florida; there is nothing to do but get better."
Hopefully, Arkansas and Florida State offer soon," Harris said. "Those are really the main two I've been talking to who haven't offered yet."
Harris' take
"I want to play," Harris said. "I know I am going to have to come in and earn my spot, but I want to opportunity to come in and play. Winning games is going to matter to me, too, I want to play for a hard coach who will hold me accountable, and I know I will get better.
"I'm going to look closely at the academic side. I want to major in Sports Medicine or something like that, so I want to make sure the academic side works when I'm on these visits.
"Location won't matter as long as my people and my family are able to watch me play
On3's take
Juke Harris is a legitimate big guard. He is at least 6-foot-6, with long arms and broad shoulders, giving him a projectable frame moving forward. Harris is comfortable on the ball, handling and creating in the half-court. He is also a smooth shooter, with confidence from beyond the arc. We would like to see him elevate his release point on his jumper, especially off the catch, but the form and release are good with this minor tweak. Harris is a good athlete, but he is not super bursty. His IQ and feel allow him to get to his spots off the bounce. He is a good team defender and understands angles and footwork on that end of the floor. With his frame and natural skill set, there is a pretty high ceiling for what he could continue to grow into.