4-star Keanu Dawes talks upcoming Utah, BYU, Texas A&M, Oklahoma State visits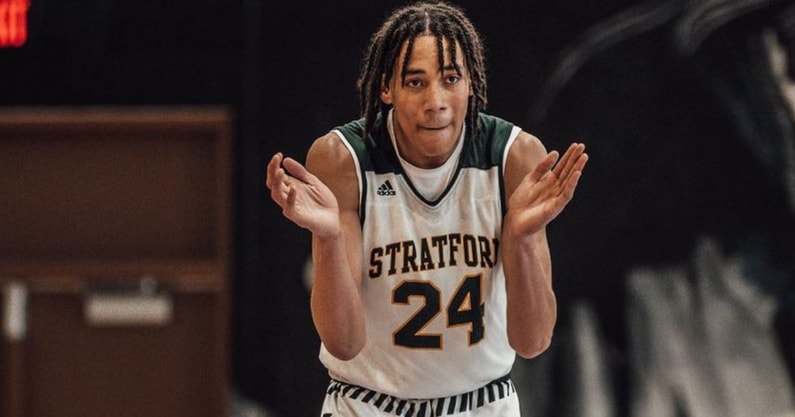 Keanu Dawes is the 2023 On3 Consensus No. 111 prospect. Rewind 12 months, and the 6-foot-8 forward did not have a single D-I offer. Sam Houston State was first on September 12, in the year since Dawes added 17 offers.
"I consider myself a very versatile player," Dawes told On3. "I can play multiple positions, and I feel like my shooting, ball handling, and passing for my size is what really separates me. I'll watch a lot of Brandon Boston and Jayson Tatum; I try to have a similar play style to them, just how they impact the game and can score from anywhere."
The four-star has set his five senior year official visits. His visits started on August 26 with Rice. On3 caught up with Keanu Dawes to talk about each school he is visiting.
Dawes talks visits
Rice: "My favorite part was really just spending time with the players. We instantly had chemistry; it felt like I had known them for years, even though I had never really met them before. The coaches say I fit the play style well, and since they are going higher in conference, they need someone like me."
Texas A&M: "Coach (Lyle) Wolf is my lead recruiter. They were the first high major to offer me, so it showed how much they believed in me, so we have just had a really strong relationship over time." He will visit on 9/16.
Oklahoma State: "Coach (Terrence) Rencher is my lead recruiter. They started recruiting me somewhat late, but they have been super consistent and really have a good vision with being able to play multiple positions." He will visit 10/21.
Utah: "Coach (Chris) Burgess is my lead recruiter. That's my hometown, so it would be cool to accomplish my dreams where I grew up." He will visit on 10/13.
BYU: "Coach (Cody) Fueger is my lead recruiter. Coach (Mark) Pope is a great guy, and I really like the energy he has. He also played in the league, so he knows what it takes to get there." He will visit on 9/29.
**Keanu Dawes's uncle Derek Dawes played at BYU. He graduated in 2006.
In his words
"I'm going to look at how well I fit in with the team," Dawes said. "Just what the overall vibe of the program is. I feel like the deciding factor will be a majority of how well I fit in with the offense.
"The style of play is a major thing for me, and the same with player development. I feel like a very spaced system where multiple positions can each do many things."