Kirk Herbstreit names top performing teams from college football's Week 2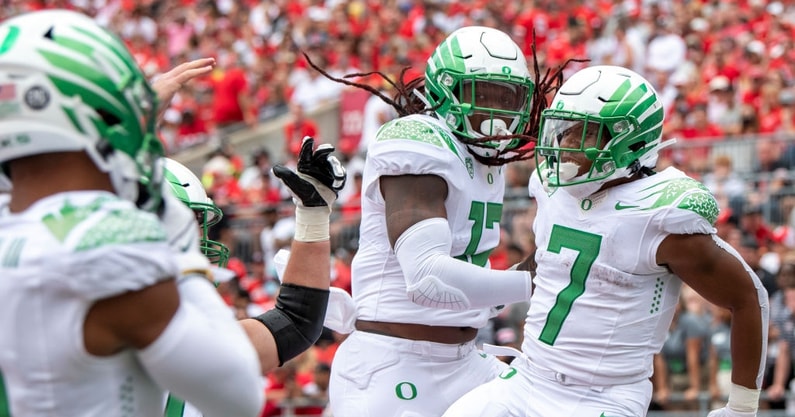 ESPN analyst Kirk Herbstreit has named his top performing teams of the second week of college football, featuring the Oregon Ducks after their big win.
In a week marked by major early season upsets, each team on Herbstreit's list beat their opponents in impressive fashion. Kirk Herbstreit's list of top performing teams this week features 4 schools that entered the second week of college football outside of the AP top 25 list.
Oregon Ducks: In the biggest game of the week, Oregon made the most of their shot at the previously ranked No. 3 Ohio State Buckeyes. Oregon toppled Ohio State 35-28 in a shocking upset despite Oregon being ranked No. 12 in the nation themselves. Now sitting at 2-0 on the season with a major victory under their belt, Oregon jumped up the AP poll to No. 4.
Iowa Hawkeyes: Iowa made an appearance on Herbstreit's first top performing teams list last week, and showed a dominant performance against Iowa State in the week's only top-10 matchup. The Hawkeyes defense continued to look superb as they beat Iowa State 27-17, and after their opening week victory against Indiana the Hawkeyes have risen to No. 5 in the AP poll.
Arkansas Razorbacks: In a victory SEC and Big 12 fans alike used to mock Texas, the Razorbacks beat the Longhorns 40-21 in dominant fashion. Coming into the week unranked against No. 15 Texas, Arkansas has earned themselves the No. 20 ranking as Texas slides to unranked. After playing GA Southern on Sep. 18, Arkansas' next four games are against nationally ranked SEC rivals.
Stanford Cardinals: Stanford's win over USC was so impressive that the fallout from their win had lasting effects on the college football season. In a 42-28 win, the Cardinals were winning by 22 points entering the fourth quarter. USC dismissed their head coach on Monday following the disappointing loss, and Stanford's efforts earned them votes on the AP poll despite not breaking into the top 25 teams. Stanford plays Vanderbilt next, then will host home games against UCLA and Oregon.
BYU Cougars: The Cougars won a huge game for their program by knocking off No. 21 Utah to snap a nine-game losing streak against Utah. The win prevented Utah from making history in their storied rivalry dating back to 1896, as a 10-win streak would have been the longest ever in that time. BYU's wins against Arizona and Utah pushed the Cougars into the top 25 rankings at No. 23, as Utah fell from national rankings.
JSU Gamecocks: In a major upset win, JSU defeated Florida State on a hail mary pass with time expiring. Trailing by three with six seconds remaining on a fourth down play, the Gamecocks let if fly deep to receiver Damond Philyaw–Johnson who caught the ball around defenders on about the 20-yard line. After giving the defenders a move, he ran it into the endzone for the stunning upset. In what may be the biggest win in school history, JSU players planted their school's flag at midfield in the FSU stadium following their win.