4-star Labaron Philon sets Auburn, Kansas, Arkansas visits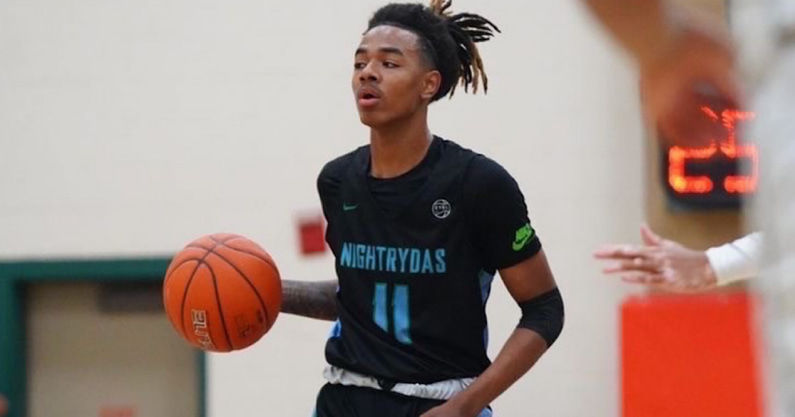 Labaron Philon is the 2024 On3 Consensus No. 39 player. The 6-foot-3 guard averaged 24.7 points his sophomore year at Mobile (AL) Baker High.
"I like to model my game after Devin Booker and Bradley Beal," Philon told On3. "Mostly because those guys have good finishing tools and play both guard positions. In July, I really feel like my game got better because I became one of the best two-way players I could be."
College programs have taken notice and started to prioritize him. On3 caught up with Labaron Philon to talk about upcoming visits.
"My recruiting been the same, really," Philon said. "I'm visiting Auburn, Kansas, and Arkansas soon."
Philon talks visits
Auburn: "With Auburn, it's like they have this type of family feeling everytime I talk with them. Every conversation we have is about everything and not just basketball."
Arkansas: "Arkansas is a school high on my list. I have a great relationship with Coach (Eric) Musselman. One of my best friends (Barry Dunning) plays there and highly recommends it."
Kansas: "Coach (Jeremy) Case from Kanas has been one of my favorite coaches so far. He wants to know how you're doing in school but also wants you to grind everyday and put the work in."
Philon's take
"I will be looking into how the staff and people around campus welcome me," Philon said. "Like when I go on the visit and the people walking around the campus greet me and say hey.
"I'll look at each school's style of play because I like to play freely. I feel like it doesn't matter where the location is, as long as it's a good fit."
On3's take
Labaron Philon is a quick on quick lead guard. He has long arms and a projectable frame with wide shoulders. Philon has a quick handle that gets him into the paint. He can knock down a jump shot with three-point range and consistency. There is a confidence and a competitiveness with Philon. He needs to add strength as he has a slight frame. There is upside on the defensive end; he can move his feet guarding the ball and is quick to get into the passing lanes. There is a natural smoothness he has on the ball with an upside to continue getting better.