Live updates from Alabama-Mississippi All-Star practices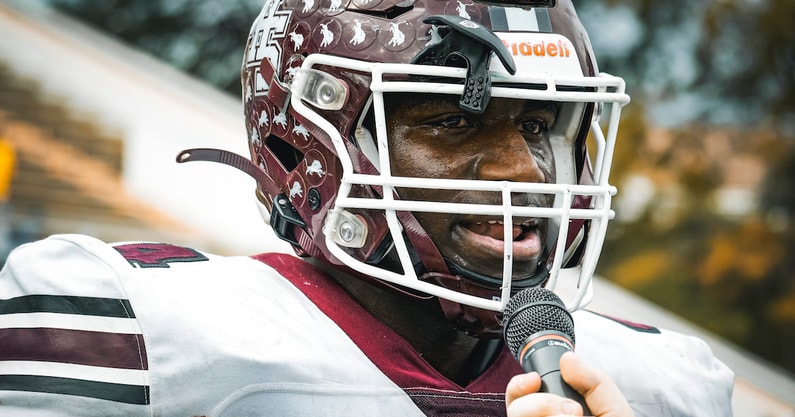 MOBILE, Ala. – A number of top 2023 prospects from Alabama and Mississippi will make their way to Mobile, Alabama to take part in the 36th annual Alabama-Mississippi All-Star Game.
The game will be played on Saturday, December 10 at South Alabama's Hancock Whitney Stadium. Practices commence on Tuesday. On3 is on hand for the action.
The Alabama team features a number On300 prospects including Alabama EDGE commit Yhonzae Pierre (No. 34), Alabama corner commit Jahlil Hurley (No. 41), Clemson defensive line commit Peter Woods (No. 48), Alabama offensive tackle commit Wilkin Formby (No. 51), Clemson quarterback commit Christopher Vizzina (No. 60), Florida State EDGE commit Keldric Faulk (No. 101), Florida defensive line commit Kelby Collins (No. 133), Alabama defensive line commit Hunter Osborne (No. 163), Auburn running back commit Jeremiah Cobb (No. 167), Tennessee corner commit Rickey Gibson (No. 178) and Michigan State offensive tackle commit Stanton Ramil (No. 297).
The Mississippi team is headlined by Ole Miss linebacker commit Suntarine Perkins (No. 78), Ole Miss defensive line commit Jamarious Brown (No. 110), Ole Miss receiver pledge Ayden Williams (No. 190), Oregon running back commit Dante Dowdell (No. 209) and uncommitted safety prospect Isaac Smith (No. 300).
A number of additional Power Five commits are slated to play. The Alabama team also features Tennessee commit Khalifa Keith and Wake Forest commit Drew Pickett at running back. The Alabama receivers are headlined by Arkansas four-star commit Davion Dozier. In addition to Formby and Ramil, the Alabama offensive line includes Crimson Tide pledge Ryqueze McElderry, Tennessee commit Vysen Lang and Auburn commit Bradyn Joiner. Tennessee commit Sylvester Smith, Penn State commit DaKaari Nelson, Auburn commit Jacorious Hart, and Arkansas commits Dallas Young and TJ Metcalf join Hurley and Gibson in the Alabama secondary.
Alabama safety commit Bray Hubbard will work as a quarterback for the Mississippi team. Uncommitted four-star defensive lineman Caleb Bryant and Mississippi State commit Gabriel Moore join Jamarius Brown on the Mississippi defensive line. Mississippi State commits Tabias Hinton and Ty Jones along with Arkansas pledge Alex Sanford in the Mississippi linebacker corps. Mississippi State commit Zay Alexander headlines the Mississippi offensive line. Tennessee commit John Slaughter, Mississippi State commit Jaylen Aborom (listed as an athlete), Florida State pledge Quindarrius Jones and Mississippi State commit Kelley Jones are some other names to watch in the Mississippi secondary.
Stay tuned for live updates from Alabama-Mississippi practices.
Practice 1 Alabama-Mississippi All-Star Game updates
10:00 p.m. ET: Two standouts for Mississippi within the team session. Top 100 linebacker Ole Miss committed Suntarine Perkins had a sack and tackle for loss off the edge in the first three plays. I think there's an argument to be made he's been the most impressive player on either team at least early on in these two snippets of practice I've caught. Mississippi State DB commit Kelley Jones lined up at corner and had interception in team drills as well and he has also stood out.
9:43 p.m. ET: Another very strong rep in 1on1's from Ole Miss commit Jamarious Brown winning with a quick swim move.
9:40 p.m. ET: Ole Miss defensive line commit Jamarious Brown shows off his high end athleticism in one on ones. He beat the center badly with a swim move. You can see why he was carrying the ball at the high school level as a running back despite being around 6-foot-2, 270 pounds
9:34 p.m. ET: Southern Miss receiver commit Javieon Butler stands out among the Mississippi receivers. Looks to be a good 6-foot-5 and has tangible burst running downfield routes. I think this is a fantastic steal for Southern Miss to get to get a player like this. He had a very good senior season as well, highly productive. I believe he had around 1300 yards, 15 touchdowns, and you can kind of see that out here at practice.
9:27 p.m. ET: Mississippi State defensive back commit Kelley Jones has an outstanding frame and looks good in position drills. He was a multi positional do-it-all player in high school but looks like a natural fit on defense.
9:19 p.m. ET: Uncommitted offensive tackle Amari Smith looks very intriguing with projectable size and length. No surprise to see he's getting SEC interest.
9:10 p.m. ET: Ole Miss commit Suntarine Perkins certainly passes the eye test. He's working and linebacker and looks to have an ideal frame and length.
9:08 p.m. ET: Watching WR/DB 1on1's at the Mississippi practice and On300 Ole Miss WR commit Ayden Williams is a tough matchup for the DB's. Williams is smooth, coordinated and showing some hiring separating downfield.
9:01 p.m. ET: Heading over to Mississippi practice
9:00 p.m. ET: I just watched the one on ones for the Alabama team. A few standouts among the group. Clemson commit Peter Woods showed a very nice first step, quick bursts off the ball and fast hands. He's not one who's going to win with his length necessarily, but has the skill set to be a gap shooter and gave the offensive lineman problems in that one on one setting.
Also Florida State edge commit Keldric Faulk stood out. He looks to have the biggest frame and most length among the group. Maybe a little less refined than some of the others from a technical perspective, but was able to beat some pretty talented offensive tackles just with his his natural gifts. Shows a pretty good bend and flexibility around the edges well.
Vanderbilt offensive tackle committee Anthony Miles is a big framed lineman and has some tools to work with and fared pretty well. Held up held his own against a very strong defensive line group.
Michigan State offensive line commit Stanton Ramil some nice technique and held his own as well. I think it's worth noting, Alabama edge commit Yhonzae Pierre was working with the linebackers and pass skill. So we didn't get to see him go through that session.
8:45 p.m. ET: Vizzina is flashing his arm strength in 1on1's. Quarterback play can be spotty in some of these regional all-star games over the years, so it's fairly obvious when a true national signal caller is on hand.
8:43 p.m. ET: Vizzina drops in a pretty deep ball in 1on1's but the receiver can't come down with it.
Tough break as Arkansas cornerback commit Dallas Young goes down with an apparent lower body injury.
8:34 p.m. ET: Penn State safety commit DaKaari Nelson draws praise from the coaching staff for his effort in a pursuit drill. He's got very good size and length and looks natural in chasing ball carriers.
Auburn commit Jeremiah Cobb sticks out among the running backs with his fluidity as a pass catcher. Not surprising, as Cobb has been a dangerous target out of the backfield on Friday Nights.
8:27 p.m. ET: Arkansas WR commit Davion Dozier is a physically impressive pass catcher who had a big senior season. He just elevated to come down with a pass from top 100 Clemson quarterback commit Christopher Vizzina. Strong hands and catch radius from Dozier.
We saw Vizzina throw a bunch in the off-season, but he has some nice zip on his passes early on.
8:21 p.m. ET: Very strong DL group for Alabama, headlined by Peter Woods, Keldric Faulk, Kelby Collins and Hunter Osborne. Faulk's size sticks out. You can see Peter Woods' technical polish and strong hands in bag drills early on.
8:13 p.m. ET: Alabama EDGE commit Yhonzae Pierre is warming up with the linebackers. Looking forward to seeing him in action up close for the first time.
The Alabama team has some big offensive linemen. Vanderbilt commit Anthony Miles sticks out with his stature and length. Michigan State commit Stanton Ramil also has very good size among the group.
8:03 p.m. ET: Here at South Alabama for the first practice of AL-MS week. I expect tonight's practice to be more of a lighter session. Players are in shoulder pads and shorts.
The Alabama team is practicing at the indoor facility while the Mississippi team is at the practice fields. I'm starting with Alabama before heading over to Mississippi.