LOOK: Bret Bielema takes creative shot at officiating over controversial missed call vs Michigan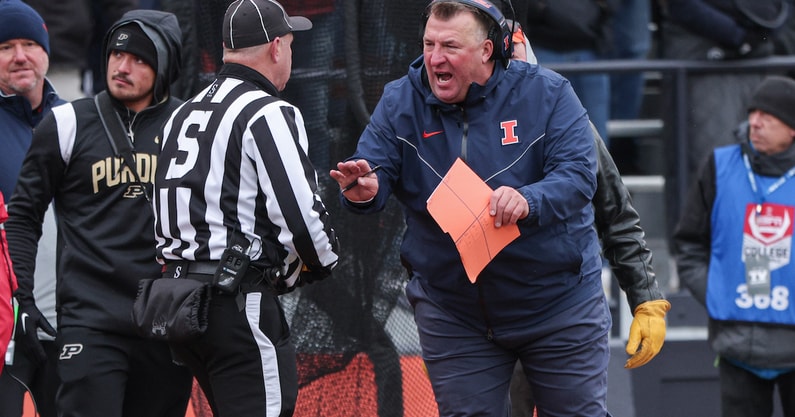 About two hours after Michigan escaped with a 19-17 win over Illinois, Illini head coach Bret Bielema was clearly still stewing about a late game injustice. The second-year head coach took to Twitter to air his frustrations.
Sarcasm-to-text doesn't always land, but Bielema layed it on thick with his message on a video he shared showing a missed pass interference call against Michigan late in the game. Facing a fourth down that it had to convert to stay alive, Michigan completed a swing pass to the boundary to the running back with a tight end running a clearout. Except the tight end in this case — Michigan freshman Colston Loveland — effectively blocked the pair of Illini defenders out of the play.
"To all #ILL players, coaches and especially for our fans…. We will work all week in practice to defend this play especially on 4th down #famILLy," Bielema wrote, his whole message dripping with sarcasm.
Had the refs called a penalty on that play, Michigan would've been backed up and still faced a fourth down. It's not a guarantee that a pass interference would win the game for Illinois, but Michigan had to convert and against the Illinois defense, 4th and very long is not a likely conversion.
Bielema probably has a fair gripe, but like most gripes, tweeting about it probably won't change things.
Bielema apparently had some issue with the tunnel at halftime
ABC's Molly McGrath had the report at halftime that Illinois coach Bret Bielema was frustrated and yelling at officials over the delayed exit by the Wolverines heading into the second half. Take it from McGrath, who had the scoop on the incident on the ABC broadcast of the game:
"There was another issue in the Michigan tunnel at halftime. Bret Bielema came out of the locker room and was yelling that Michigan was running late and yelled for all of the different officials to hold Michigan back. But they let Michigan go while Illinois was held back and entered the field late. So some issues in that tunnel. They added two minutes onto the clock because Illinois had to come out late because of it."