LSU's COVID decision could serve as blueprint for other schools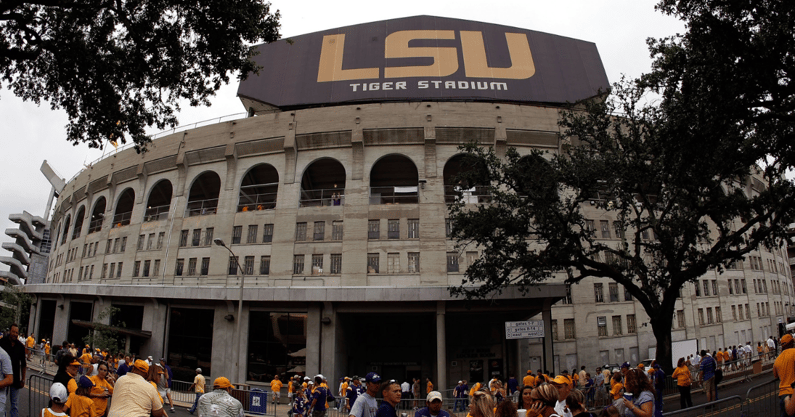 The attention-grabbing news that LSU will require either proof of a COVID vaccine or proof of a negative test result within 72 hours of kickoff to attend a Tigers home football game reflects the increasing level of alarm university and conference leaders have about rising COVID-19 infection rates. It also could serve as a blueprint for protocols other schools throughout the South and beyond may implement.
Tuesday's announcement came one day after the Food and Drug Administration's approval of the Pfizer-BioNTech vaccine for those 16 and older, a long-awaited move that medical officials hope engenders more confidence in the vaccines and enables more universities to make vaccinations mandatory for students and staff.
While Oregon and Oregon State unveiled similar protocols last week, the ones announced by LSU president William Tate (including that students need to be vaccinated) are especially noteworthy because, while cases have spiked throughout the South, COVID-19 vaccines and protective masks continue to represent one of the most polarizing issues of our time.
A source in the ticketing industry whose company partners with high-profile schools said Tuesday in a text message that he wasn't so sure other schools in the South would follow LSU's lead in lock-step, adding that he sees infection rates at least starting to plateau in the worst regions and "I think this will be behind us soon. It just doesn't feel that way in this moment."
If some schools return to social-distancing measures in seating configurations, it will have a significant impact on gate receipts for cash-strapped athletic departments.
Tulane was the first FBS school to require either a vaccine or a negative test result to attend its sporting events. Hawaii announced late last week that fans would not be allowed to attend its home sporting events at least in the early part of the 2021-22 academic year. Oregon and Oregon State followed with their mandates.
COVID protocols from state health departments?
One conference commissioner who has been increasingly engaged in COVID-related discussions with either presidents and chancellors or athletic directors from member schools told On3 that the concern about the more contagious Delta variant disrupting fall sports is top of mind for every administrator.
"There is going to be that concern," said the commissioner, who asked to remain anonymous. "It's going to be about whether we even get through the fall. It's going to be continuous weekly check-ins. The Delta variant is one thing, and then you have the Lambda variant out there.
"It is crazy that we are managing this right now again. Everybody was hopeful that the numbers would stay low, and it wouldn't have a spike. I think that's where these numbers are all going gangbusters, because everybody went back and started doing the normal thing in July and August. We're not necessarily back where we were last fall, but …"
The source didn't finish the thought, but there is an ominous tenor with the football season kicking off Saturday. The New York Times reported only 40 percent of adults in Louisiana are fully vaccinated, which aligns roughly with figures throughout the SEC footprint and segments of Texas and Florida.
A prominent longtime voice in college athletics said Tuesday that state health departments perhaps may amplify their voices on recommended protocols now that the FDA has approved the Pfizer vaccine.
Dr. Zach Binney, a noted epidemiologist at Emory University, told On3 that his advice to administrators at schools in communities with the highest rates of spread would be to consider reducing the attendance capacity threshold to 75 percent and/or issuing a mask mandate for fans (ideally, both safety measures, he said). He also made clear his recommendations to schools would vary based on COVID data in the respective communities.
Another athletic director who wished to remain anonymous told On3 last week, "We're hoping the vast majority at our events will be vaccinated. What I don't want to do is penalize those that have done everything we've asked them to do — get vaccinated and wear masks. By saying, 'We're not going to have fans or we're going to limit fans,' I feel like I'm punishing the ones that have done the things we've asked them to do."