Memphis transfer Emoni Bates talks top 6, pro route, and timeline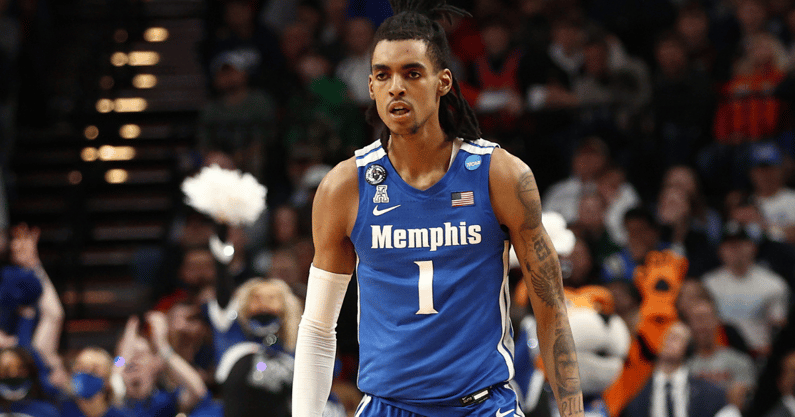 Memphis transfer Emoni Bates tells On3 he's down to six schools: Michigan, Arkansas, Seton Hall, DePaul, Louisville, and Eastern Michigan.
The former No. 1 overall prospect sat down with On3 to discuss each of his finalists, and much more.
---
What was it like for you when your name officially hit the transfer portal, and coaches were able to contact you?
Really, my head was in a free space. It was like I started all over again, before college, when I was still in high school. It's a whole new process again, going through recruitment, hearing from different colleges. It's a blessing. This decision is one of the best decisions of my life so I just have to take my time with it. 
What's this whole recruiting process been like for you so far?
I've been enjoying it, for sure. For the schools recruiting me to even call my phone and offer me a scholarship, it's always a blessing. I've been enjoying the process and just staying in the gym. 
What would you say you're looking for in your future school?
I look forward to having a bond with my coaches, teammates and staff. Being positive and having the mindset of getting better every day. Just help my teammates get better and just build off each other. And I really want to win. That's the main goal. That's what I'm looking into for where I go next. 
Michigan is one of your top schools. What's your relationship like with Juwan Howard?
I've been knowing Juwan since I was in the eighth or ninth grade. That's when I really met him. He's always been a cool person. He's cool with some of my family on my dad's side. I've been knowing of him since he won the championship in Miami. Just watching him play at Michigan, go on to the NBA, it was special. 
Did Juwan Howard recruit you to Michigan while you were still in high school?
He was, but it wasn't how Michigan State was at the time. Michigan State was recruiting me harder. But this is when Juwan first got the job. So when Juwan got the job at Michigan…Michigan State had already been recruiting me heavy. So when Juwan came in, he had to figure out his whole team, he had a bunch of stuff going on. 
You grew up in Michigan, so you know all about the rivalry between Michigan and Michigan State. What's it like?
It's really intense. It's like a battle seriously! Michigan-Michigan State, the fanbases, they don't like each other at all. I was able to experience some games between them, like when Miles (Bridges) and Cassius (Winston) were at Michigan State…I would watch those guys play against Michigan. And sometimes they would get the best of Michigan, and sometimes Michigan would get the best of them. 
You grew up cheering for Michigan State, but time's have now changed and you're considering the rival school, Michigan. What do you think about that?
I'm not really going to let it faze me. The way I look at it, I'm just going to go to college wherever I feel is best for me. No matter which school it is. 
Arkansas has been doing really well recently on the recruiting trail while also making runs in March. How much do you know about their program?
I'm not going to lie to you, when I watched Arkansas play Kentucky, that was the first time I've ever seen Arkansas play. But I like their game. They have an NBA style of play, especially with the coaches they have on their staff, former NBA guys. So they're able to really help players with their game and skillset so they can reach their full potential. 
Seton Hall just hired Shaheen Holloway after he lead Saint Peter's in a historic run during the NCAA tournament. Have you been able to chat with him at all, and what's your thoughts on the Seton Hall program?
I just talked to coach (Holloway) a couple of days ago and I like his energy. He's serious about the game, and he loves the game. It's always good to be around someone that's really passionate about the game. He really wants to see his players develop and grow. You can tell he's got a lot of grit to him for sure, and I feel like me and him could relate in that area. I know a little bit about Seton Hall. I know Myles Powell went there. My guy, Trey Jackson, goes there right now. He's from Michigan. I grew up with him kinda. I for sure want to take a visit out there and see what it's like. 
What schools would you like to visit before you make a decision?
Probably all of the schools on my list, to be honest. But nothing is set up right now. 
With DePaul, I know a lot of people in your circle are connected with Chicago. What are your thoughts on them? 
DePaul just got a new coach, Tony Stubblefield, and this past season was his first year. So I've been talking to him and he's been checking in on me, seeing how I'm doing. They just got my homeboy, Da'Sean Nelson, he just signed there from JUCO. Me and him are really close. I grew up with him, and I've known him since I was in middle school. They've also got JT (Jalen Terry) over there, he's from Flint, Michigan. So they got guys that I know. 
Eastern Michigan is the local school for you. What would it be like for you to transfer back home?
People probably look at me crazy because I'm considering Eastern. But if I went there, I would be like the neighborhood hero. I used to play at Eastern during my high school games when I was at Lincoln, and we used to pack it out every time. That would be crazy for me to be able to bring love to the city.
One of your good friends, Rocket Watts, is in the portal right now too. I know Eastern Michigan is a school that you two have in common. What would it be like for you to team up with him?
It would be a blessing. That's like my big brother. I've been working out with him and have been around him since I was in middle school. It would be crazy if we could team up in college. We never got to play with each other in high school. That would be lit. Rocket is my dog. 
Last but not least is Louisville. They just hired Kenny Payne. What's your relationship like with him?
I talked to coach KP (Kenny Payne) yesterday actually. I've known him since I was in seventh grade. I took a visit to Kentucky when I was a kid and me and him had a bond and we were always really close. He would always talk to my dad as well. KP is someone I would really love to learn from. He's got a lot of experience with the game and he would make sure that I would get to where I want to go. He would invest in me and make sure I'm getting better, on and off the court, every day. 
Will you be looking at the pro route at all, or is going to college next year the plan for you?
I'm going to school, for sure. 
Any timetable for a decision? 
After I take all my visits and talk with my family, then we can decide.
My take
It's difficult to pick an early leader based solely on the phone call conversation I had with Emoni, but if I had to take an educated guess, Louisville might stand the chance of landing him. His long-time relationship with Kenny Payne might win out on this one.